Unless you are an alien in performance arts, it would not be strange that an actor with a BSc in Psychology would be such a great performer on set. In most cases where they did not formally train to become actors in a Performing Arts and Cinematography program in the university, acting runs in the blood. That is the case with Lilian Mbeng Nkemasong, now the famous Caro of Capees Comedy World. It took the Capees Comedy World initiative to beam Lilian's acting prowess to the world, something her immediate film industry sluggishly struggled on. It was rough in the past, as she made frantic efforts in building her film acting, a passion held and still does in exceedingly high esteem. Even when the University of Buea graduate who hails from the South West Region made it from town to town to pick movie roles, these trips only resulted to poor pay and at times, zero franc. Giving up had never been an option, so the talented actress pressed on and consistently showed up for assignments, defying all odds.

Through her acting exploits which went underway in 2016, Lilian has used her brilliant performance in telling stories in films including Three Wives (TV series on CRTV), Tears in Pain, Efeyo, Little Sam, Big Sam, A Pluses, Maestro (TV series – upcoming), BIBI La Fleur, Agony and When-It-Ends.

While the Buea-based actress crisscrossed movie sets to tell stories via what she knows best, Lilian's comedy endowment laid low in a resting place, hoping for an opportunity to arise until Capees Comedy World showed up to ring the waking bell 12 months ago. Cloned to an acting mate, the famous Lovert Lambe aka Copees, Lilian's outpour of talent became comparable only to the waves of water from a punctured dam. Today, the first daughter in a family of five children, is a force to reckon with when it comes to comedy performance.




Lilian, Caro, and Lovert, Copees, run what is now described as the most successful comedy project in Cameroon, Capees Comey World which produced weekly skits, released every Friday. They work with a big team of people comprising actors and technicians, but their biggest asset is the 16,000 subscribers on their YouTube channel.

Over the months Caro and Copees have entertained their audience with mouth-watering pieces such Kwacoco Go Sweet So?, Over Know, Poke-Nose, Electric Bill, Cleaners, Long Hand, Repentance, Cunny, Njangi, Marriage Counsellors, Public Tap, etc.



Last Updated on Sunday, 30 May 2021 17:58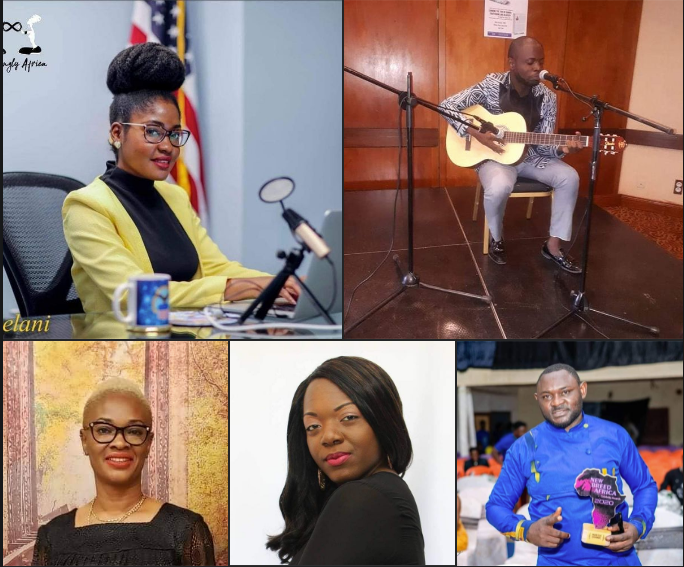 The journey of a global traveler is only complete when they have visited Africa. The continent's rich cultural heritage is second to none, it has been tested and proven. This week Africans abroad joined their counterparts back on the continent to celebrate African Day. This gave us a reason to boast about the continent one more time AMAZINGLY AFRICA's Linda Foinding returns on radio to provide another bright painting of her beloved continent, just at a time JUST LIKE YOU is putting smiles of the faces of young girls in and around Buea. JLU's founder, Lizzie Bronte explains the mission of the organization whose impact is being hugely felt in the community. What the BFH may be doing differently from JLU, is building the acting skills of performing artists, but both organizations are contributing to development. The Bamenda Film Hub pulls aspiring and already-established movie actors to a workshop on June 4 but is ready to talk about it on radio before then. Tikum Titus Akuro picks up that assignment while Bei Matey and Junior P send signals of good music down our spines. The gospel artists talk about their new tracks, NEW DAWN, set for release on June 5. These people will be guests on the 179th edition of African Fiesta this Saturday, May 29, 2021. The show starts at 9am EST (2pm gmt+1).
Join us:
Mail : This e-mail address is being protected from spambots. You need JavaScript enabled to view it

The sommy story of comedy has never been told until the coming of Capees Comedy World. Today, Caro and Copees are the irresistible aroma generally known to provide the best laughing pleasure to a community that counts on entertainment as its main therapeutic program. As the duo fetes its first anniversary this Sunday, May 30, 2021, Apex 1 Radio trails Caro and Copees in a LIVE coverage of a much-anticipated event to that effect.
Join us:
Web : www.apex1radio.com
Mail : This e-mail address is being protected from spambots. You need JavaScript enabled to view it
Fb: https://m.facebook.com/Apex-1-Radio-wwwapex1radiocom-1594720084183001/
Tunein App: http://tun.in/sfljl
Radio Garden: http://radio.garden/listen/apex-1-radio/ZPGiJ9KM
Last Updated on Monday, 31 May 2021 15:07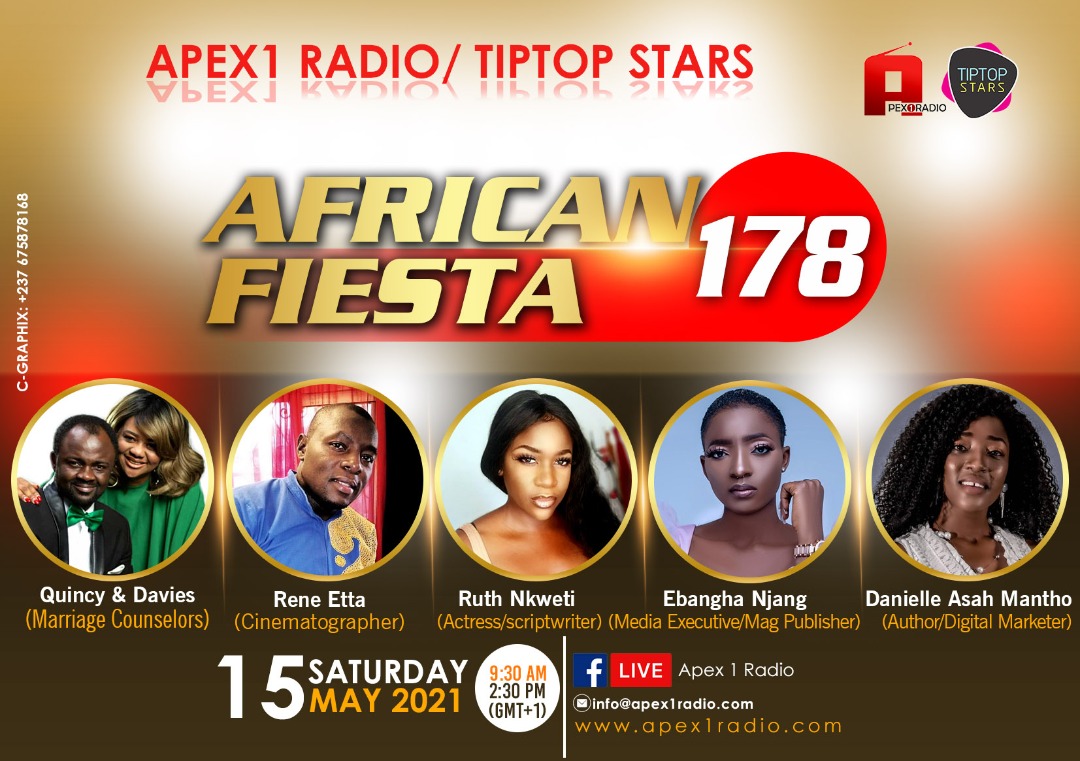 The now news-making Cameroonian presence of NETFLIX goes beyond the faces of actors, performing in the movies. It is also about some of the stories, written by Cameroonians. A fortnight ago, Ruth Nkweti hit her first scriptwriting credit on the internationally acclaimed online movie streamer through SEVEN. If you have watched that movie, then, know it was written by the Cameroonian who is also a talented actress and a producer. But how did this come about and how does she feel having a story she wrote, beamed to the world via NETFLIX? Ruth Nkweti tells us on radio this Saturday, the same day Rene Etta will be explaining how he got on the MALAMBA movie project to be filmed in Johannesburg soon. Etta's camera skills speak volumes, like Danielle Asah Mantho whose skills in digital marketing put her at the top of her game. In Buea last week however, Danielle who doubles as a motivational book author preferred to let women see their worth during this COVID-19 pandemic. She throws more light on the seminar this Saturday on radio. While Danielle was drilling women on how to make use of their potentials, Ebangha Njang was spotlighting one of their kind in the latest edition of SA MAJESTE magazine. The publisher presents this new issue of the now leading women's magazine. From Essen in Germany, Quincy and Davies take us on a ride across the world of marriage and attempt an answer to whether a couple needs a counsellor, whereas civil status officials usually caution against bringing in a third party to interfere in marital issues. These brilliant Africans will be guests in the 178th edition of African Fiesta this Saturday, May 15, 2021 as from 9:30am EST (2:30pm gmt+1).
Join us:
Web : www.apex1radio.com
Mail : This e-mail address is being protected from spambots. You need JavaScript enabled to view it
Fb: https://m.facebook.com/Apex-1-Radio-wwwapex1radiocom-1594720084183001/
Tunein App: http://tun.in/sfljl
Radio Garden: http://radio.garden/listen/apex-1-radio/ZPGiJ9KM