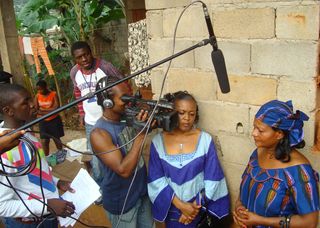 It is now clear that the film industry in Cameroon is making great strides. Stakeholders have not been sleeping. They have been meeting in several forums to chart a way forward. They have also been seeking ways and means of making partnership with cinema giants such as Nollywood. That has been the basis of the two days workshop that ended in Bamenda yesterday, organised and sponsored by the German Cultural Center (Goethe Institute). The workshop brought together film makers from French/English-speaking Cameroon and Nigeria .
After brain storming and deliberations, participants at the Bamenda workshop came out with several recommendations. Some include:
1- INVESTMENT
A) SPONSORSHIP
- Product/Advert placement in films
- Branding opportunities
- Government / NGO support
B) LOANS
C) ADVANCE PAYMENT
2- MARKETING
A) Educate producers not to use branded products without written contracts
B) Aggressive marketing via internet, radio, TV and road shows
C) Press briefings before and after the production
D) Branding and product placement
3- DISTRIBUTION
1 - Create a commercial company whose mission will be:
A) Putting in place a network to distribute films all over towns in Cameroon
B) Establishment of projection centers in all towns in Cameroon to view films before their release
C) Work in collaboration with distribution structures such as Culture MBOA, FOTTY ART ...
D) Encrypt DVD to prevent piracy
More recommendations from the Bamenda workshop will be yours in subsequent updates. Participants at the workshop included Nigeria Ace's film director Teco Benson and Kunle Afolayan .FromCameroon, we had Isidore Modjo, Cyrille Masso, Lambert Ndzana, Zigoto Tchaya Tchameni, Itambi Delphine, Odette Fanfon, Ketsia Olive Fodjon etc
According to Marc-Andre Scgmachtel of the Goethe Institute, several of such workshops will come up in a bid to establish a good working relationship between Cameroon and Nigeria as far as film making is concerned. Marc-Andre looks forward in encouraging a more collaborative French/English-speaking Cameroon filmmaking. It should be noted that the Goethe Institute has initiated monthly film critique sessions aimed at spurring young film makers to attach great importance to quality production. The sessions are coordinated by Mollo Olinga, one of Africa 's best film critics.