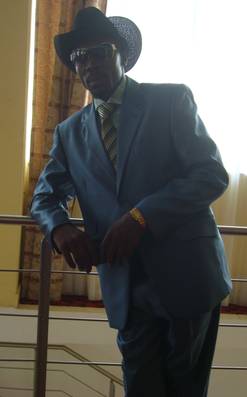 Cameroon is gradually getting used to a new name in the world of reggae. Rooty Dobby has sprang. His posters have flooded street walls of Cameroon's capital city Yaounde announcing his maiden album, launched on Saturday 30 April amidst bonfires.
At a recent press conference to introduce Harambe, the said album, journalists discovered a hidden talent who had spent numerous years interpreting at conferences, a job for which he is formally trained than singing, his God-given skill. It was high time he emerged and Rooty believed he had done it in grand style.
Rooty's 8-track album spans across themes such as love, oneness, hypocrisy, neo-colonialism and pan Africanism. But from all indications, the artiste who is a civil servant deployed to the Ministry of Territorial Administration and Decentralization of Cameroon has a heart that beats more towards pan Africanism.
The idea of unity on which Europe via EU now thrives was borrowed from Nkrummah, an illustrious son of Africa, Rooty propounded at the press conference. He furthered lamented that Africa, endowed by natural wealth was still dependent on foreign aide from the West. That is not all. ''Politically, we're still in chains and controlled by them,'' he went on. He blasted the West for fostering slavery right at our back yards even when they have tapped so much from Africa.
Faced with this, Africa has no other option than to unite and walk out of the oblivious situation that has crippled her for more than half a century, the reggae singer argued. That is Rooty's key message which he vehicles in his music.
Inspired by the legendary Bob Marley, Peter Tosh, Jimmy Cliff, Lucky Dube and other reggae icons, Rooty Dobby has composed countless songs, eight of which are picked to form his first album – Harambe (U.S of Africa), Hypocrites, We are One, Reggae Jam Party, Put Back My Love, Not 4 the Swift, Love 2 Love U, Same Rhythm. Featuring in the album is Yaounde-based reggae old hand RAS I Mackinzeh whose contribution to Rooty's Harambe is an added impetus. The songs were recorded in a Yaounde studio and
Rooty Dobby who insists his real names are Felix Dobgima is a graduate of the University of Yaounde (1985), where he was member of YUM, the famous band that has been UNIYAO's hallmark over the years. He equally studied at the Advanced School of Interpreters and Translators (ASTI) of the University of Buea and taught in schools. An exclusive interview with Rooty will be yours in subsequent updates.