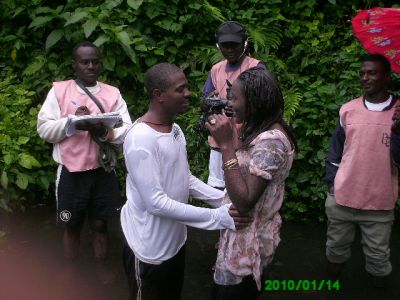 One of Cameroon's most renowned film producers, Chi Anthony Gunz has been breathing new air in the United States of America. Chi travelled earlier last week for a respite in the country that hosts the world biggest film industry. The young producer is reportedly doing fine at his California home from where Chi is expected to rest, amass more inspiration before returning home to resume film activities. "For several years, I worked tirelessly in a bid to contribute my own quota in the development of the industry. I need to take a break before bouncing back," he told this reporter before leaving Cameroon.
At a send-off gathering, the producer of Crazy Enterprise, a yet-to-be completed serial assured friends; fans and colleagues that he would not settle in the US as many would have been suspecting. "I gave up big things in my life just to be able to concentrate on filmmaking and invest in the industry. I cannot give up all of that, reason why I'm returning to this country in seven weeks," he said. And added: "The reason I invited all of you is to clear the air during my absence, so let no one think Chi Anthony is gone for good."
Before travelling, Chi had been working on the Crazy Enterprise project. He has also produced Ancestral Wrath a yet-to-be completed serial and Social Slot, screen on CRTV's Hello. Chi is also a talented actor and doubles as Public Relations Officer of the Yaounde branch of the Cameroon Film Industry, CFI. He is a member of the two-year old Producers Guild of Cameroon.