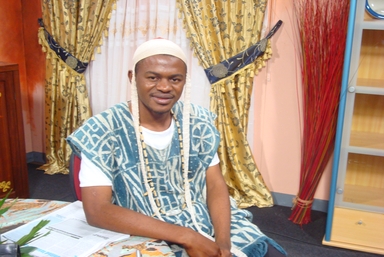 Numerous trips to West Africa might have inspired the young journalist, but it is more of Njie Mbonde Albert's zeal to sell the rich culture of his country that accounts for his extraordinary spectacular look on TV. He has unarguably become Cameroon's foremost traditional outfit ambassador via television. If only the talented "Hello" presenter knew how many viewers get attracted to the show because of his outfit!
"I felt a huge vacuum between youths and culture and thought it was time I filed it," he tells us. Mbonde goes on: "I also opted to move away from the stereotypical formal attire on TV and settle on with something more indigenous or let me say Cameroonian." That is why for over three years on the popular breakfast show, watched even beyond the country, the creative broadcaster has displayed the entire traditional outfit Cameroon can boast of. If on a "Hello" Tuesday he is not in a Sawa sandja, Mbonde is either clad in a Sahelian gandoura or Obom from the East region. Then on Thursday, see how he glitters in either a Banyangi Jumpa or the North West toughe. On other "Hello" days, the presenter goes west and is either celebrating the rich Bamoun culture or flying in the beautiful Bamileke outfit. In fact, Mbonde wears Cameroon.
"Unlike many young Cameroonians who hate to consume Cameroonian," he remarks."Curiously, those outfit are so beautiful and attractive, so I really don't know why youths dread putting them on," he continues. Probably, because they live in a modern world and the "Hip-Hop age" where "baggies" are in vogue... "Does that mean we are going to ignore our roots?" Mbonde questions rhetorically?
Mbonde's look on TV has not left viewers indifferent." They call or write to me from all over the world to express their admiration and love for my choice of attire," he tells us. He has also been hailed by some traditional rulers including the Sultan of Foumban whom Mbonde quotes as saying, "I find it original and admirable." He adds: "Even the foreign community including diplomats have been moved and have made me a reference when it comes to Cameroonian traditional outfit".
But is it easy to acquire such outfit and be consistent in displaying them on TV? "Not at all," Mbonde says. "They are quite expensive- as expensive as 312,000FCFA, to talk about the Obom from the East for instance," he goes on. The young presenter had to travel all the way to the East region for it. "It's the one I admire most, so it was worth the pains," he reveals.
Mbonde urges youths to emulate him and contribute to the promotion of Cameroon's rich culture. "That's another way they could display their patriotism," he says.