Wednesday, 28 October 2009 18:04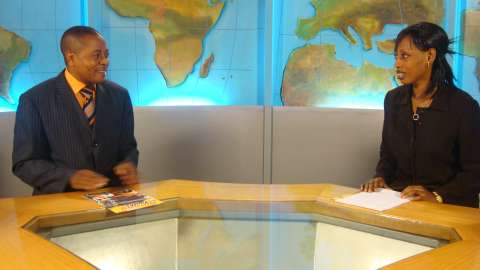 Just a couple of times listening to him on radio is enough to fall in love with CRTV's young and energetic Moki Edwin Kindzeka. One of the CNN best journalist awards aspirant's fans told us MEK, as she affectionately calls him, has inspired her. She and many others would love to become roving reporters on a show like "Hello", where their role model has displayed enormous talent. "He has won our hearts," Larissa, the UNIYAO I MEK fan confirmed. True, the St Augustine College, Nso old boy is a likeable journalist.
Moki says he is a proud Banso man, perhaps, the reason why he is so attached to his culture and society, the sources of his inspiration. With an eye of a seasoned investigative reporter, Moki has dug deep and brought out wonderful pieces. Either on "Luncheon Date" (then reporting from the Far North regional Station) or "Hello", his feature stories have held the audience spellbound. Perhaps, his style has also played the trick. He would colour his reports with soothing figurative language. "I compare his reports to soul-searching music, good for the ears and eyes," Quinta went on.


CNN was not indifferent to one of such feature reports. And even when the fair complexioned journalist, also a fantastic news anchor did not win the awards, the American media reference gave a positive verbal response.school days, he admired his uncle Fai Wo Tashiti Henry Fonye and Akwanka Joe Ndifor, all of blessed memories. His ambition to get into their shoes ferried the young reporter to the Catholic weekly, L'Effort Camerounaise and Channel Africa Radio. His dawn came when he expressed his willingness to work for CRTV to the Head of State, Paul Biya. "I was covering the visit of former (interim) Nigerian Presindent Abdou Salami Aboubakar at the Unity Palace when I did that," said Moki. His courage paid him off and the 1.72m-tall native of Kumbo was recruited.


Earlier, the "Humble Servant", as he calls himself had worked for Lagos' Concord Newspaper, during which time he benefited from the expertise of BBC's Shola Odumfa. He also wrote for The Herald, one of Cameroon's leading newspapers.
In his continuous quest for knowledge, Moki, holder of a Maitrise in Sociology form the University of Ngoundère is currently undergoing a Masters course in Jounalism in the University of Buea. He also holds a Higher Diploma in Journalism from the Nigerian Institute of Journalism.
If you visit him at his Yaounde Tam-Tam Weekend home, you will catch Moki, wife Pamela and son Precious savouring kati kati. It is a delicacy from Kom in the North West region. "That's my favourite meal, give it to me and you're my friend," he says.
Moki urges youths to stay away from all unholy means of having money. "They should have it genuinely and not through sex," he advises.
Last Updated on Thursday, 17 February 2011 02:53