If she use to underrate herself, gone are those days. Sara is a completely new individual after emerging victorious at the 2013 Belgium-run Miss Elegance beauty pageant, thanks to the contest. She now nurse greater ambitions amidst excitement and determination to work harder and harder. A few weeks after the contest ended, TIPTOPSTARS Belgium correspondent, Titus Banyoh went visiting the beauty queen to find out how she was settling with her new status. Amongst other things, Sara spoke of her plans to support the Miss Elegance Afrique initiative and her life away from modeling. Excerpts!

Titus Banyoh: Hello Sara, it's been weeks since you picked up the Miss Elegance 2013 crown. How has it been since then?

SB: It's been okay.

TB: For the interest of our readers, could you tell us who Sara is?

SB: Sara is a young lady following her dreams in life and trying to strike a balance between school, fun and her passion.

TB: How does it look like being the winner of miss Elegance Afrique 2013?

SB: Very exciting and inspirational. I never thought I would go far into the competition let alone winning. The struggle was real, but I gave it my all and it paid off. The whole experience was a learning one.

TB: Were you surprised when you were declared winner?

SB: Yes I was! I have never had my heart drop that hard. First of all the Thecla was keeping us in suspense for too long, and the last thought I had was what I was doing there. I even questioned myself if I thought I could win the contest. Behold, I heard my name pronounced - I was speechless.

TB: How was the road to this great achievement?

SB: It was very interesting. I got to know my inner self and what I'm really capable of doing - what my soft spots are and my flaws. Knowing what I was going in for, I had to make some changes and my mother made sure I understood that. Sometimes, I think we under estimate ourselves. I choose to let go of that fear because I knew what I wanted! I had a lot of support from my family and friends. They were there till the end.

TB: According to you, who is a beautiful woman?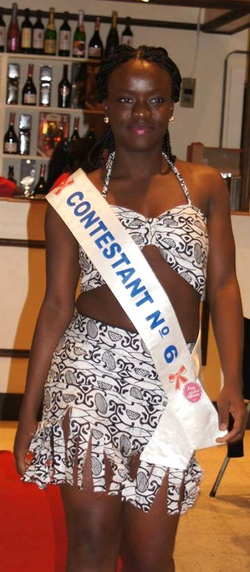 SB: A beautiful woman is a confident and strong woman who knows who she is and what she wants. She takes care of and loves herself with all her flaws. A woman's beauty is not always connected to her physical attractiveness. Regardless of what you look like on the outside, these qualities make your inner beauty shine outward. Her beauty radiates from her self-confidence and knowledge of her abilities, intelligence and how she interacts with others.



TB: You are crowned Miss Elegance 2013, what next?

SB: I have a whole future ahead of me. There are so many options, I'm still young and will do a lot of experimenting. Now that I have won this show my next goal is to help the initiator of the contest, Thecla with the project she had planned for this year.

TB: What is your stance on education?

SB: I'm in my last year of nurturing. Hopefully I will graduate this year so I can continue to study Nursing at the University. Yeah, struggling to get educated, I stand firm on the premise that every child in Africa and the world over has the right to education for, education is the key to success. I actually laud Thecla's efforts in the project she is currently carrying out in Cameroon.

TB: Apart from being a model, what else do you do? Do you have any special skill?

SB: I design clothes in African fabric for my friends and family. During my free time, I go to the gym. I love working out - at least three times a week and I eat very healthily too. I'm a very sociable person who loves to laugh and finds happiness in small things. I'm also very ambitious, always setting goals for and when I reach them, I set others.

TB: Your best Cameroonian traditional delicacy…

SB: Waterfufu and eru!

TB: It was a pleasure having you on TIPTOPSTARS...

SB: The pleasure was mine as well and thanks for thinking about me.