Monday, 13 August 2012 07:03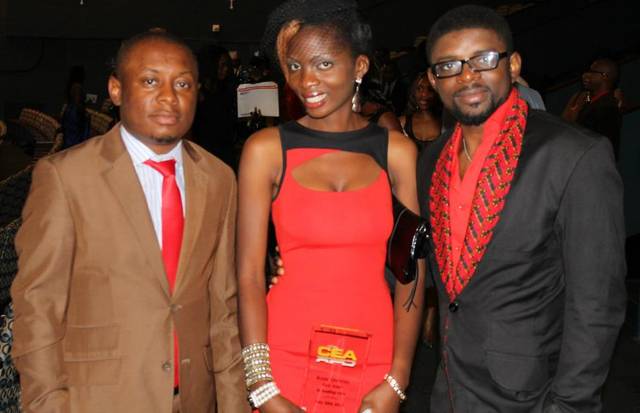 Renowned Cameroonian film producer Agbor Gilbert Ebot has been sojourning the USA. Agbor arrived in the US a fortnight ago for one of his annual visits there during which the producer engage in several activities including creating partnerships, beneficial for the industry back home.

During this current visit to the US, the producer of the award-winning Land of Shadows has shuttled between Maryland and Ohio. In Ohio, Agbor met and held talks with potential film producers who have expressed their interest in contributing to the growth of the Cameroonian film industry. The outcome of Agbor's Ohio visit will be topical in the coming months.

Meanwhile in Washington DC, the popular film producer attended the maiden edition of the Cameroon Entertainment Awards, CEA. His presence at the red-carpet event drew attention from anxious lovers of his movies, many of whom expressed frank excitement upon meeting the star. "What a pleasure meeting you at least," one of them exclaimed. Agbor has also been granting interviews on TV shows, some of which can be sorted on youtube.


Seven years since he produced his first film, Before the Sunrise starring Ivan Namme, Olu Jacob, Zack Orji and Dakore Egbuson, Agbor Gilbert has made several trips to the USA, some on invitation to receive awards. In one of his American trips in 2008, he co-produced a film with an America filmmaker. He has since been in talking terms with potential marketers of Cameroonian movies and good helpers of the film industry back home.

Based in Buea but widely travelled, Agbor Gilbert is one of the top-rated film producers in Cameroon. He owns three big-seller movies circulation worldwide – Before the Sunrise, The Blues Kingdom (starring Ivan Namme, Zack Orji, Clarion Chukwurah, Quinta Eyong Ashu) and Land of Shadows (starring Solange Yijika, Moma Pascal aka Bob, Jim Iyke). "As soon as I'm back in Cameroon, I'll release Pink Poison," he told TIPTOPSTARS Editor in Columbus Ohio, Monday. Pink Poison is Agbor's latest movie, shot in Limbe and starring Jim Iyke and Solange Ojong.


Last Updated on Monday, 13 August 2012 08:32