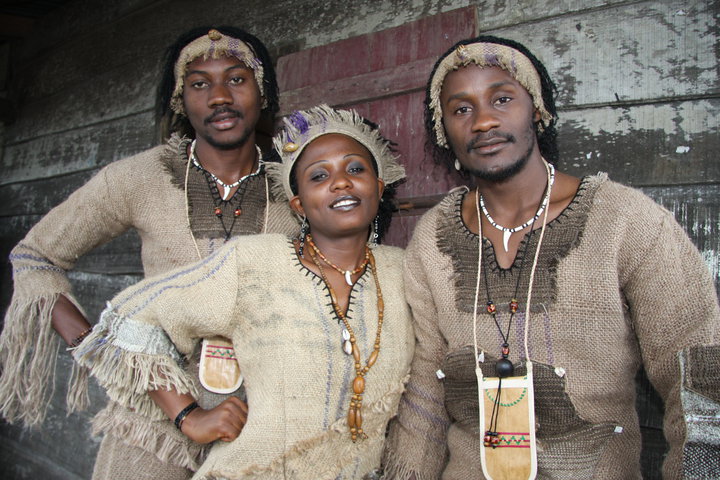 Fans are now relieved! They had longed for another great compilation from Bright Phase after t3he last edition of KORA Awards where the group served Cameroon with a laudable performance. It required a lot of careful planning and meticulous search for quality sound and commendable lyrics to package the piece of good art the Bright Phase trio have now emerged with. The new album is therefore released.
Made up of 12 tracks, Celebration, as the album has been baptized is recorded in more than two studios to ensure a tasteful musical pudding – M1 in Molyko Buea, So Sound Records in Douala and Treasure World Records in Nigeria.
Celebration is work commenced long before Bright Phase's 2008 KORA adventure. "We halted as soon as we had the KORA nomination and since KORA was a long journey, work only resumed on the album in 2010," Sylva Bright told TIPTOPSTARS. He added: "After several months in the studio, I think we are satisfied with the sound quality of the tracks. We however leave the public to judge."
Songs in Celebration include; Oshelege, Why, Celebration, Alele, Change, I Go Work, I Made It, Build the Nation, C'est le Bright Phase, Wake up Africa, Many Places and Oshelege Instrumental. These songs according to Bright Phase, exploit the themes of hard work and the fear of God. "There is no success without hard work and unless God is included in every project, success is not guaranteed," Sylva explained. That's our message to all who venture into life projects," he said further. The songs are sung in several languages including nkwen, bafaw, French, English, pidgin, pinying, bulu and Fulfulde. Featuring in the album is Zinnia, the popular award-winning song star.
Bright Phase hit the apex of popularity in 2008 when the group secured an enviable nomination in the prestigious Africa All Music Awards dubbed KORA. Following a series of thrilling performances staged in Nigeria, Benin and Burkina Faso, the group was selected to entertain Burkinabe leader Blaise Compaore at his Ouagadougou abort. Bright Phase had since attracted a lot of media as well as popular attention from music lovers throughout the globe.