Cameroonian born beauty, Miss Ghyslaine Tchouaga, fondly referred to as Gigi, was crowned Miss Africa USA 2011-12 recently in the crowded Hilton Hotel Ballroom in Silver Spring, Maryland, USA.
The new African queen is expected to represent the African continent in America during her reign as Miss Africa USA in the aforementioned years.
Tchouaga, a 22-year-old nursing student made her way to the spotlight in a mix of more than 150 African girls, who had registered for the pageant and auditioned to represent their respective countries. 16 finalists, representing 16 countries made the cut to the final, where the Cameroonian pearl distinguished herself. According to Tchouaga, all the finalists were amazing in their presentations and platforms for Africa. "We've all taken a commitment to change the world around us, with or without the crown," she added.
For the first time in the pageant's seven year history, a Cameroonian walked away with the crown, in an event that was a crowd puller.
Born in Yaoundé, Miss Tchouaga immigrated with her mother and siblings to the USA to pursue higher education and more opportunities for the family. A true Pan-Africanist, Tchouaga's priority as stated in her platform is to help save lives in the Horn of Africa. She recognises the emergency in Somalia and wants to immediately launch her campaign to 'Feed The Hungry' in Somalia. She says Cameroon is a very blessed country with enough food to feed even neighbouring countries. In an emotional appeal during platform presentations, Miss Somalia moved the audience by recognising Miss Cameroon's commitment to the crisis in Somalia. She could not believe another finalist could take interest in her country.
While the Cameroonian will focus on saving lives in Somalia, she is also interested in giving back to her native country, by organising a Medical Mission in Cameroon to help with medical supplies and equipment for hospitals in rural and underdeveloped areas as well as other humanitarian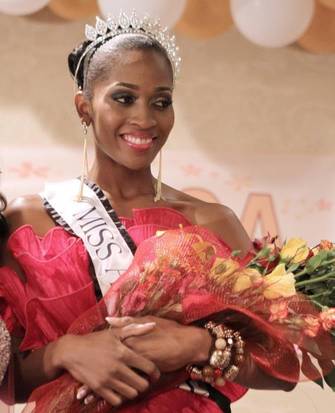 activities in Yaounde, Bafang, Buea, Bamenda and Limbe. "I will employ my position to advocate for orphans and sick children in Cameroon by working closely with the Leon H. Sullivan Foundation and the African Women's Development Foundation both registered non-profits in the USA, to achieve my dreams as a Goodwill Ambassador. Just remember that while we enjoy delicious meals every day, millions are dying of starvation in Somalia. Join me, Miss Africa USA in 'FEEDING THE HUNGRY" she said.
After a series of competition in platform presentations, public speaking, talent, fashion, traditional girl appearance, the top 10 countries were announced. These included; Sierra Leone, DR Congo, Nigeria, Liberia, Kenya, Guinea-Conakry, Ghana, Ethiopia, Cape Verde and Cameroon.
The top 10 were able to compete in another round of fashion and style before the Judges elected the top five delegates. These were: Ghana in the 5th Place, Nigeria at the 4th, Guinea-Conakry in 3rd place with Miss Fatima Bokoum, Liberia 2nd place with Miss Hananatu Tunis while Cameroon walked home with the Crown.
While hailing the contestants for their strong passion in pursuing their respective causes, the Miss Africa USA Pageant team led by Kate Atabong Njeuma said they are working hand-in-glove with Leon Howard Sullivan Foundation to give the respective delegates an opportunity to pursue their passions as Goodwill Ambassadors via a special programme christened AFRIPOLITAN CLUBS.
The mission of the pageant is to empower young African girls as good will ambassadors for Africa, using their status to leverage support to help communities in need.