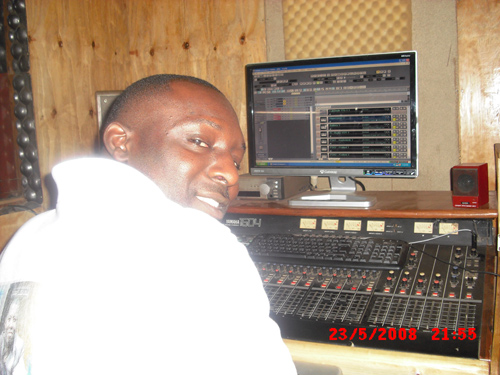 Emile Ngumbah is the name everyone in the entertainment industry in the Cameroon knows, at least for the success stories he has recorded this far. He is the proprietor of Buea's renowned M-One music studio, situated in the popular student residential neighbourhood, Molyko.  It is now obvious that wherever he places his fingers, good results come out. If we can only name these few - Bright Phase (KORA Awards), Achalle (Stars 2 Demain), BAAM (Nescafe International Song Competition 2001), Zinnia (National Song Competition 2009), we would not doubt his competence.
The young Buea-based sound engineer is far from stopping there. His exploits continue. Ngumbah is on the way to hit a mark once again. This time, he is manning the sound in one of the most ambitious music projects in Cameroon in 2010, the Gospel Musical. For a couple of days now, he has been rattling the buttons of new audio consoles at a DRIMP Foundation modern studio in Yaounde, in a bid to give the band's maiden album a special touch.
When TIPTOPSTARS met Ngumbah on Day 5 of recording, he was busy but relaxed. Smartly dressed in a red T-shirt and jeans trousers, the dexterous sound engineer and master of M1 simply nodded his head and said, "It's my world, everything is in order." We sought to know how different was the experience from those he has had over the years. "You know, I'm working with this group for the first time and have to study them, understand and know what they can do to be able to guide them. That is what I've been doing these past days and I've discovered their skills," he explained. Ngumbah further told us he has been teaching the young singers, some of whom are experiencing professional studio recording for the first time. The sound technician acknowledged that all the singers were good and that made work move on smoothly and easy for him. "They are coming from different backgrounds and this makes the blend rather interesting.
But moving to a new environment and having to cope with new equipment is a major challenge... "Yes, but as a technician, you should be able to master every equipment you come across;" Ngumbah told us. He continued: "I've been doing this thing for quite a long time, so it's no big deal having to manipulate the buttons.  Rather, I find the consoles here much easier to manipulate since they have upgraded features. They are standard equipment and are more performant."
Ngumbah who has been entrusted with the audio component of the album is not only determined to meet the deadline of 15 December but is convinced the consumers are going to get the best of sound quality. "They can be sure about that," he concluded.