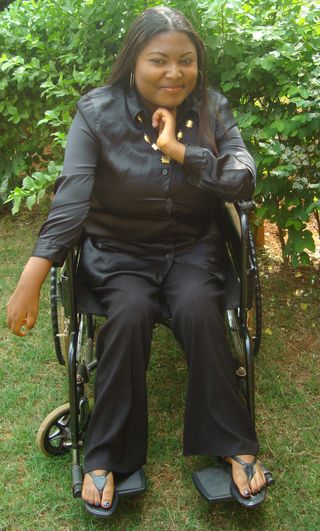 Bih Hilda is synonymous to hope. Each time little Tercy listens to her voice on Luncheon Date (LD), the daily network magazine programme on the National Station, she renews her dreams of becoming a broadcaster as talented as Hilda. The little girl had watched Hilda on a TV show, explaining how she has overcome physical disability and is now showcasing her ability. "Since then, I've always been inspired each time I get her soul-searching voice on radio," said Tercy, 9, a pupil of PNEU Yaounde.
Like Tercy, Hilda would have inspired several other young people, not only because she is a journalist, working for the state radio, but also because she has unarguably turned out to be an exceptionally talented broadcaster. Hilda, physical disability aside, was meant for one noble profession or the other. If weak limbs obstructed her intellectual capacity to become a medical doctor or pilot, as she had dreamt, they could not stand on her journalism path. She was transferred from the newsroom because of her disability which hampered her ability to go on news coverage. Of course, she tells more interesting stories on LD. The young LD mistress has thus risen above the odds and is today shining like a bright star.
"This has been thanks to my spirit of determination and positive thinking," she explains. "But, I must also credit my success to my family that has always stood with me and most especially God for his blessings."
Upon graduation from the University of Buea where she read Journalism and Mass Communication, Hilda worked for four years as a broadcaster with the Cameroon Baptist Convention (CBC) Radio. She got into CRTV in 2006 through a recruitment test alongside Pochi Tamba, Ayi Mbile Bennen Buma Gana and Fonka Mutah.