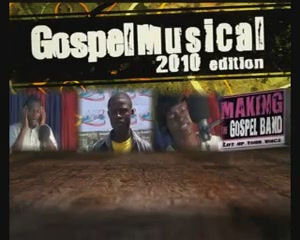 That Cameroon is the new nursery for potential mega stars in gospel music is no longer news. Yet, it should not be taken with a pinch of salt, for, it goes beyond just producing big names and explosive albums. Rather, the Gospel Musical 2010, an initiative of the United Crusade Team for Jesus (UNITEJ) and Dream Foundation (civil society organization) is fixed on giving songs of praise a new twist.
The Gospel Musical 2010, a project aimed at selecting five young and talented singers which has been ongoing since September 2010 has entered its last phase with 20 candidates already drawn to camp in Yaounde. The ambitious youths are vying for five prestigious places in what is going to be one of Africa's most explosive Gospel Bands in recent years. The 20 are drawn from four regions of Cameroon (North West, South West, Littoral and Centre), after song contests organized in each of these places.
Now converged on Yaounde, the pre-selected candidates are bracing up for a TV contest from where their fans will be expected to vote them to victory. Recording of the TV reality show to be broadcast by State-run CRTV and other private channels is scheduled for Sunday 23 October in one of Yaounde's befitting hotels.
According to the coordinator of the Gospel Musical 2010 project, Papa Rolland Dipita, a maiden album with 15,000 CDs to hit the market will be produced. The proceeds will be channeled to the artistes who must find a livelihood from the wonderful gift God has embellished on them. Said Papa Rolland: "We think the time has come for young and talented gospel singers to be identified, projected and given the opportunity to use their God-given skills to put food on their table." Also speaking at a press conference to present Gospel Musical 2010 recently, the coordinator explained that the initiative was equally aimed at encouraging decency and faith in God among singers. "They must not think that to be successful musicians, they have to go on stage half-naked or dance indecently," he emphasized. Papa Rolland challenged potential singers when he mentioned Tony Braxton, Sisqo, R. Kelly and others whose background in the art is Christian.
To Odile Ngaska, the Board Chair of SOCAM, the Cameroonian corporation in charge of copyrights issues, the Gospel Band in gestation will come to add to what has been going on for quite some time now. Ngaska who doubles as a gospel music artiste prided that such an initiative was coming to add meaning to a genre (gospel music) often relegated to the background, perhaps because of ignorance. "Music was created by God for God," she said. Add asked: "Who therefore are you singing for if not for God?"
Back in camp, the young boys and girls have been nursing hopes of becoming the pioneers of this much-talked about band, said to be going international as soon as it sees the light of day. "My conviction brought me here. I'm quite convinced I'll make it and know that my soul-searching voice will lead me through," Philipo Samsino, representing the Centre Region told TIPTOPSTARS. The 26-year-old singer, a student of the University of Yaounde I said it was time to bring out what God had deposited in him and he was thankful to the organizers for such a wonderful opportunity. "It's a unique and exciting experience," the 1.75m-tall singer revealed.
To Achu Joan, 20, it was one of the big opportunities to praise God and even if she was not going to emerge among the top five, she was ready to pray for the project and those who would have won. "I have done back-up for several artistes, but do think my place is in gospel music," the 1.70m-tall University of Buea Accounting graduate told us further.The Limbe-based singer however hopes she will grab more votes from the public.
On her part, 22-year-old Jeanna Ebangha from the South West Region revealed that she didn't believe in herself until she qualified for the last phase of Gospel Musical 2010. "Now I know I can make and I'm quite confident," she said. To the University of Buea Law graduate, she is meant to sing and touch people's lives and would be very privileged to be part of the 'Golden Five' in the making.
Meanwhile, coach Achalle, has been having a new experience training budding singers for a challenging music project. ''It's really been exciting and I must say I enjoy doing it," the pioneer winner of the Stars de Demain song competition told journalists in Yaounde.
The Gospel Musical is going to be an annual event. It has brought on board experts in music and renowned production outfits including the Bright Phase, Emile Ngumba , Weg Muller Ikome, Njukeng George, Steve Micky and the Buea-based M1 and Blue Drops Studios.
Following the triumph of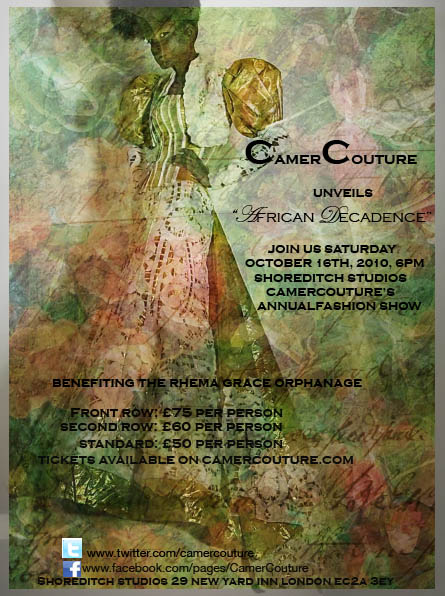 CamerCouture (CC) 2009, the critically acclaimed style fete returns with "African decadence"- a show themed around the continent's opulence

"We chose this theme because we want to portray Africa's unsurpassed beauty, its cultural richness and the way these aspects shine through fashion and art," explained show coordinator, Soraya Sone.
Set in London's trendy Shoreditch, CC is organised annually by Votre Avant Garde (VAG), a London-based PR and marketing company.
The 2009 CamerCouture showcase treated fashion followers to a delightful cream of Cameroonian talent as ' Afro-eccentric ', Anggy Haif and Cannes favourite, Olivia Ervi teamed up with exciting newcomers KiRette Couture, Bot I Lam, RoViSa Design and Ms Mi to style their nation onto the fashion map.
But this year, CC is going international.
"Last year, we gained a lot of interest from fashion enthusiasts and designers across and beyond Africa. So, this time, we are broadening the spectrum accordingly," explained Cynthia Anduhtabe, co-founder of VAG.
"Haute couturiers Yemi Osunkoya, Alain Martial Tapolo and Anna Ngann Yonn will join forces with ready to wear designers, Côté Minou, Eki Orleans and Deenola to redefine London's fashion scene," she added.
We are very proud and excited to present this stunning expression of our motherland's richness and global influence," the VAG executive noted.
With CamerCouture 2009 attracting coverage from prominent media including the BBC, Vox Africa TV as well as New African Woman and Amina magazines, the upcoming event's thrilling designer line-up and high powered guest list is set to cause even more frisson.
"There will be celebrities, fashion buyers, politicians and entrepreneurs among our diverse crowd of guests. Apart from a fabulous evening out, the show also presents an excellent networking opportunity," observed Anduhtabe.
It will also feature live performances from London-based, neo-soul songbird, Debra Debs and an auction to benefit the Rhema Grace Orphanage in Ombe, Cameroon.
"Like last year, CamerCouture 2010 will be at the Shoreditch Studios. But our guests will arrive to a transformed venue. Expect lush, sexy tones of red, black and gold. From the moment people arrive, through to the catwalk show and performances, it will be a one hundred percent classy experience," promised Sone.
Running from 6pm till midnight, the CamerCouture Fashion Showcase 2010 will take place at Shoreditch Studios, 29B New Inn Yard, Shoreditch, London EC2A 3EY.
Tickets cost:
£50 - standard.
£60 - second row.
£75 - front row.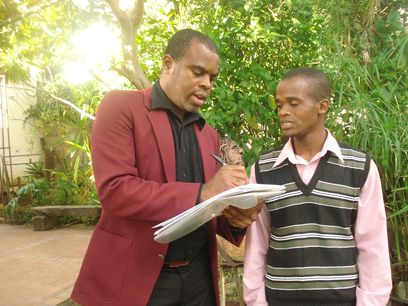 ''Zimbabweans are lousy readers.'' This is the quikest describtion you would hear when talking to a Zimbabwean publisher or writer. How severe is the problem... You can see from the volunms of books we published that the country harbours enthusiastic writers, but very few of these books get read,'' an official of Weaver Press told journalists in Harare recently. Weaver Press is one of Zimbabwe's leading publishers.
Zimbabwe's low reading culture has found it hard to thrive on the zeal of its writers, amongst them Lawrence Hoba. Young Hoba who is springing at an exemplary speed gives more consideration to his childhood passion and dream than to his people's reaction towards the book industry.
Having found Weaver as his publisher, Hoba can now settle to work on his numerous pieces, unperturbed. His next book will be succeeding The Trek and Other Stories, published in 2009 as Hoba's maiden book. However, his stories have been published in several other short stories collections, including Irene Staunton's Laughing Now and Writing Now.
In his stories, Hoba dares into his society's ambiguities, including the Agrerian Reforms that plunged Zimbabwe into an economic quagmire. "I duel on several other issues of great Importance,'' said the Harare-based writer, who has several role models. " I admire writers such as Shimmer Chinodya, Charles Mungoshi, Gabriel G. Marquez, Paulo Coelho, Pablo Neruda and Chenjerai Hove.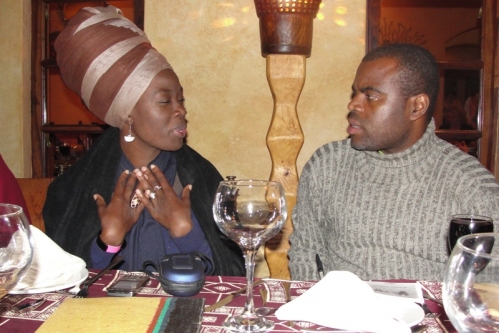 Zimbabwe's Afro-jazz goddess charms fans
Written by Ernest Kanjo
Doing back-up for Zimbabwe's leading jazz singer, Oliver Mtukudzi is undoutedly every young musicians' dream in that country. Ask her, Dudu won't waste a moment in telling you it is the best thing that ever happened to her career. In Bulawayo, the country's second biggest city where Mtukudzi is quite loved, Dudu is an illustrous daughter.
It is here that Dudu, today, Zimbabwe's most popular female Afro-jazz fusion artiste was born 29 years ago. Clearly, Bulawayo knew the little girl was destined for music, since the art ran in her family. But little did the talented ebony singer guess hers was going to be a huge success story until she hit the mark.
In Zimbabwe today, the mention of Dudu brings warmth to thousands of hearts. ''This is thanks, not only to my soul-searching voice, but also because of the human-related themes and the women's agenda I have pushed forth,'' she told TIPTOPSTARS after a brilliant performance at HIFA 2010.
With three albums circulating, Dudu champions the course of disadvantaged citizens, but at the same time drives down passionate emotions of sweet melodious beats in an irresistible manner. Such ingenuity has not gone unnoticed by welfare organisations and music researchers, who have seen in the 1.75m-tall artiste, resourcefulness.
The first privileged encounter came in early 2009 when Dudu was invited to feature in an ActionAIDS-sponsored African album, geared at combating hunger. ''I found that a great honour, coming together with other colleagues to support such a course,'' she said. ''Fight Against Hunger'' was going to open more doors for the Bulawayo girl, married to a nice husband, as she describes him.
A couple of months after, Norwegian exchange music teacher, Cecilie Giskemo could not hide her feelings anymore and without hesitation, broke the idea of a collaboration between a female vocal group in her country and a mainstream of Zimbabwean female artistes. Six months of working together yielded what has been described as a beautiful blend of dance and music that embraces jazz, African traditional, Norwegian folk, improvisation and the notion of womanhood.
At WoCalling's (as the project is called) maiden outing that happened during HIFA 2010, guests to Harare now understood why Dudu had been on every lip since they came to town. The charming vocalist, who stood out, thrilled hundreds, attracting thunderous applause. After HIFA 2010, Dudu has become even more popular. ''My latest album has been doing pretty well and many more people have fallen in love with the songs.''
When she thinks of her success story, Dudu always wants to look back at her school days when she sang in the College choir. ''I would stay back after classes for rehearsals and thereafter, dash to meet some older boys with whom we practised singing,'' the artiste recalled. ''That is how I got spotted by a music teacher who raised me professionally.'
But as she grew up singing, the Harare-based jazz icon nursed admiration for South Africa's Miriam Makeba aka Mama Africa and Zimbabwe's Dorothy Masuka. If her progress is anything to go by, then Dudu is up for the kind of strides her role models made. Then, that would not only be glory for Zimbabwe, but a source of pride for the entire continent.
Last Updated on Wednesday, 09 June 2010 14:44
If you are living in Yaounde, capital of Cameroon and want to get a feel of talent, go to the University of Yaounde I on Saturday afternoons. Follow the direction to where some beautiful sound is coming. Before you know it, you are in the small room that harbours YUM, the famous Yaounde University Music Club. Then, it may become difficult to leave until the rehearsals are over. Why? The answer is simple! YUM is spectacular.
Created in 1970, YUM is the oldest club on the UNIYAO I campus after UNESCO. It is made up of young prospective musicians with the aim of promoting the Cameroonian culture in the university milieu. The 87 members who make up YUM today meet every Wednesday, Friday and Saturday to train and sharpen their skills in singing and playing instruments. And, they do it so well, thanks to the ingenuity of young guitarists, pianists, percussionists and singers.
Apart from the annual University Games, YUM has performed at several events including the 2007 International Business Fair for Students and the 2008 National Festival of Arts and Culture (FENAC) in Maroua. The orchestra also performs at weddings and anniversaries.
But why can't YUM put an album in the market? "We would do that if we had adequate financial means," said a member of the band. Mouelle further told us some time ago that YUM receives little or no financial support from the university but would not forget the former Rector, Dorothy Njeuma's largesse who provided the orchestra with instruments. He however said YUM receives an annual subvention of 100,000FCFA from the Ministry of Higher Education which is grossly insufficient.
Fortunately, the lack of money has not distorted the beautiful sounds of their voices nor instruments. They still put up a wonderful show that makes YUM products, proud of now renowned musicians such as: Ateh Bazore, Donny Elwood, Majoie Ayi and the SG at the Cameroon Prime Minister's office, Jules Doret Ndongo.