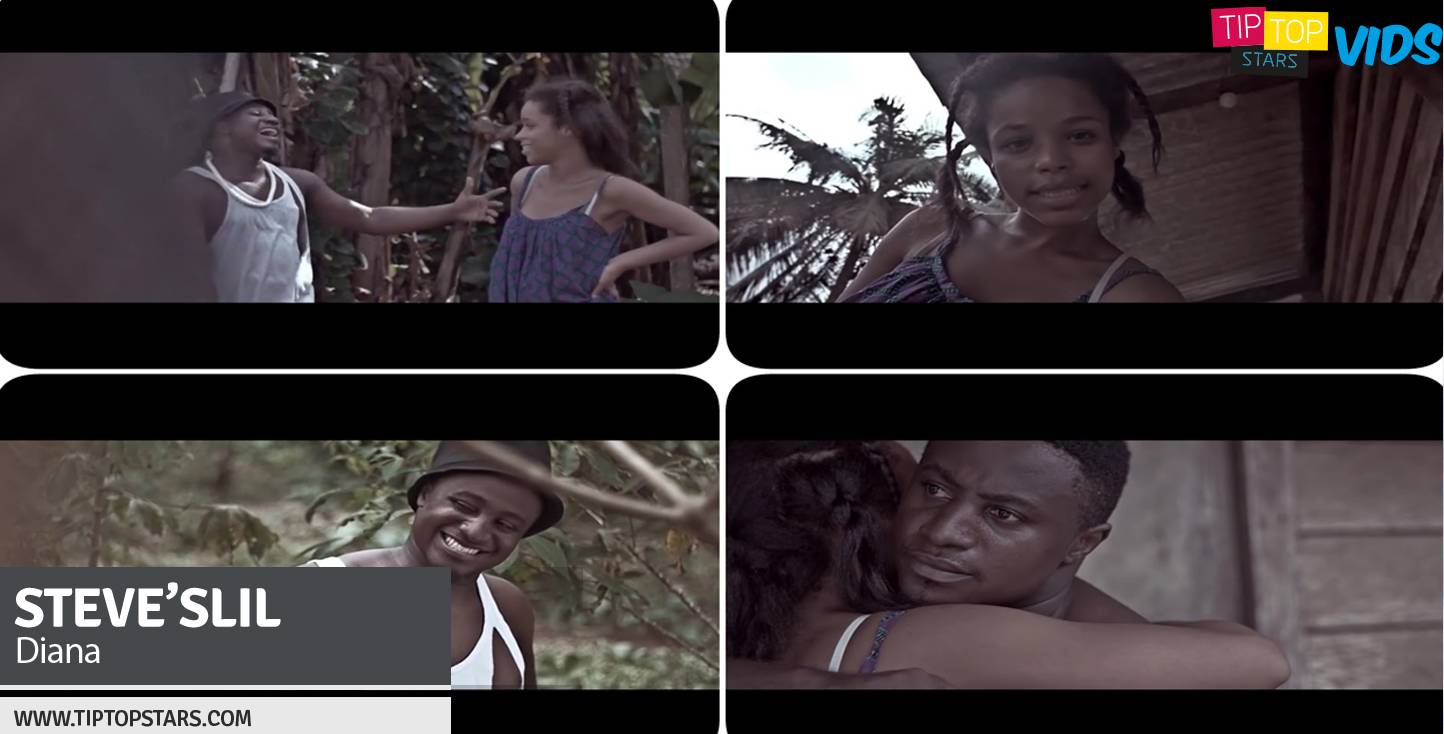 Steveslil is a musician whose tracks and videos you can easily be caught listening to or watching multiple times without any intension of stopping, once you have been exposed to them. Reason: the masterpieces are crafted such that they glue on the music taste bud. Every consumer of the Douala-based artist's music would present this impression with no reservation if they were asked to give an appraisal of the latter.
The just-released video of Diana, Steveslil's latest Single, squarely fits into this description of the young singer's music. It's simply a sublime! "I've been on it since it was released – what a beautifully made video!" Soreille, an Ohio-based Cameroonian fan of the artist told TIPTOPSTARS. "This is music you that permeates your soul with no remorse, I just love it immeasurably," she went further.
To Falton, Steveslil did what he is commonly known for doing once more time. Also speaking from the USA, the Atlanta-based Cameroonian explained that Diana is a video which demonstrates Cameroon's pleasant maturity in the art of music, an impression that has been trending of late. Speaking to TIPTOPSTARS, Falton said in French: "La video de Diana nous montre que le Cameroun avance vite dans l'art musicale."
Analyzing Diana from Johannesburg, South Africa, media personality, Solomon Atah who doubles are art and culture critic writes: "The use of red tones in the video and the allowance of uncertainty is indeed a careful artistic interpretation of how the director sees this future. Red maintains its presence announcing danger and presents necessity that helps expresses the passion, laden with danger when it comes to love. This shows that love and hope merge in tandem and it's in the air. Either way, the viewers goes away satisfied that the love relations stands a chance as we see towards end of film the use of camera lens blare and rays of light strong enough to allow for it to be noticed. It's a happy one."
Meantime, just three days after its release, Diana has attracted considerable attention on social media with 2,076 at press time. "Wow, my favourite song – this is how Camer should represent", "Super, super, my Nguti boy, ride on – love from Texas", "Very impressed I must say". These and more are some of the comments from viewers of Diana on YouTube.
Before Diana, Steveslil had spoiled his fans with two other sassy Singles – Ebangha and I Cut U Café which still occupy comfortable spots in the music their minds.
Directed by Didi Blaise, the 4.18-minutes long Afro-pop video is filmed by the indefatigable Dr Nkeng Stephens, known for his ingenuity in music videos. This is noticed in scores of other works in recent past. Diana is produced by Emile Ngumbah, one of the country's leading sound engineers who has brought scores of young English-speaking Cameroonian singers to the limelight including Achalle, Dr Sley, Adele Clarice, Bemo, Mabel, etc.