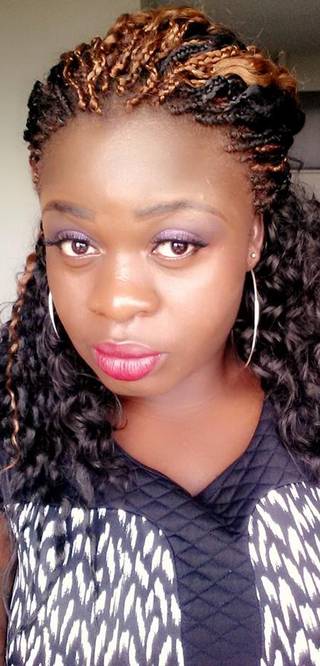 When TIPTOPSTARS' Marcel Adig, in a conversation with this writer, prior to this write-up said she is a social media sensation, it was just the most appropriate description one could have of Tebid Honorine aka Honorine Express. Honorine Express is undoubtedly a household name, at least as far as social media (Facebook, especially) is concerned. She is one of the most authoritative citizen journalism social critics of her times.

Based in the USA, Honorine Express, a young Cameroonian, has for the past couple of months engaged herself in addressing social issues we easily pretend to avoid talking about, in a bid to desist from hurting ourselves. Her main medium has been thought-provoking monologue-styled videos which Honorine regularly publishes on Facebook, social media's most popular meeting point.

Honorine Express videos have fast become an irresistible companion to regular consumers who have attested that they are worth spending time on. "I'm just realizing that I cannot do without Hororine Express videos anymore. I now await them with an inexplicable anxiety," Brunhilda told TIPTOPSTARS. The Ohio Honorine Express fan confessed that she watches the video religiously, not only because they are entertaining. "They are very educative, I must say," she stated.

To Mirabel, Honorine Express and her videos have had an indelible impact in her life since she started watching them. "I would be dishonest if I talk about a more reasonable perception I now have about life without crediting this lady and her videos," she said. She went on: "I take time, listen to what she says over and over and decodes and each time I have done that, I have realized she makes a lot of sense."

Like Brunhilda and Mirabel, scores of other Honorine Express fans have reacted positively to this social communication/communicator and have done so by commenting on the issues raised in the videos. Though negative comments (some of which question the speaker's qualification to handle certain topics) could be spotted, a significant number agree with Honorine Express' views/take. The videos are also known to attract acknowledgment 'likes' at an interestingly rapid pace.

For one thing, Honorine Express is unarguably a knowledgeable social critic, even if she is operating at a much more informal front. Her mastery of social issues, brilliance in the way she packages them, authority in delivery and flare in her language/choice of words, make her videos soothing for viewing. The points she boldly raises are so reasonable and the sincerity in which she puts them across does the trick. The speaker's occasional humoristic touch is an added impetus to Honorine Express' videos. That explains the firm attachment Honorine Express fans have for them. "I just like her style and courage," another enthusiastic fan simply mentioned.

Though the social critic's denounces (or rebukes as she herself would put it), Honorine Express educates, informs, lauds, pays tribute, encourages and most important, plays a vitally acclaimed advisory role, which is why many fans have indicated that the videos have impacted on them. In the process, the young and energetic social critic has addressed issues around several topics, including 'bushfalling' (Cameroonian coinage for immigration), home-coming by bushfallers, materialism, unhealthy competition, lies-telling, fake friendship, cross-generational amorous relationships, unruly attitude displayed by mothers-in-laws and daughters-in-law, giving with strings attached, denying one's roots and believing in the Lord. Each time she rounds off one episode, Honorine usually promises to be back with a follow-up or a fresh topic. This has kept her admirers always eagerly waiting for the next piece.