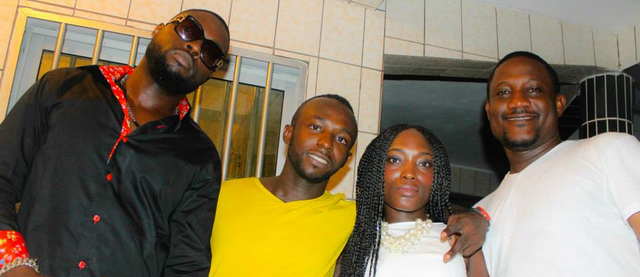 It was a starry Thursday night at the ModeMaison PR headoffice at AES Sonel in the hip quarters of Bonamoussadi when the communications, marketing and branding agency finally launched in Douala after making its appearance on the Cameroon market early this year .

Invited guests were representatives and the movers and shakers of the buzzing Cameroon showbiz scene including music artists Sophy Aiida, Steveslil and Mister Elad, music reps Jules Nya, Allen Munde and Estelle Ahanda, fashion designers Anrette Ngafor of Liiber London, Reneta Ndisang of Afroshic Clothing, Kristyne Nkwanyuo of EB Creations, documentary maker Alenne Menget, media reps, Kristelle Asek of STV, Brice Albin and Carole Leuwe of Nostalgie Radio, Bonas Duvalier of RTM Radio/LTM TV, Fidjil of Equinoxe TV/Radio, film makers as well as bloggers Leelipop and Franky Willy.

The guests sipped on Champagne bubbly and dined on canapés and fruits as the atmosphere evolved to that of networking, mingling – pure interaction. "We need such informal soirees in Cameroon where young talents can come together and network and build up their contact list. Great initiative from the ModeMaison PR crew." Stated Jules Nya CEO of MuMaK.


ModeMaison PR (MMPR) is a concept by Cynthia Tabe to provide an affordable service to the fashion, music, film and lifestyle brands within Cameroon and on the international front. The agency provides online and offline services, public/press relations, marketing and branding strategies as well as styling and fashion rentals under their showroom "Ward*Robe @ Studio 25". Current clients on the MMPR list include music brands Stanley Enow, MuMaK, Nabil aka Nabstar, fashion brands Liiber London, Mina Evans, My Miry as well as charity Path to Possibilities. "Our aim is to ensure visibility for our clients as well as ensure they are well branded and well represented in the market. We strive to make a difference to their brands on the local and international front" states Cynthia.


For more information, contact:

Karen Ayungwa (PR handler): This e-mail address is being protected from spambots. You need JavaScript enabled to view it "> This e-mail address is being protected from spambots. You need JavaScript enabled to view it

Facebook: https://www.facebook.com/ModeMaisonPR

Twitter: @ModeMaisonPR

Blog: www.modemaisonpr.wordpress.com