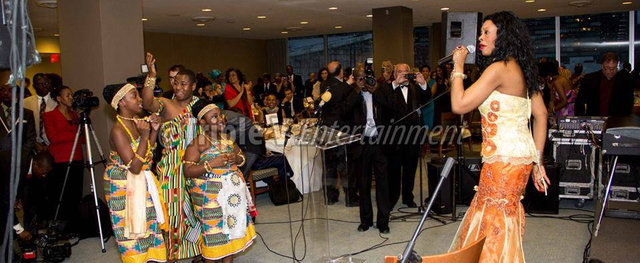 Rewards from hard work may delay. But when they start showing up, they may pour like rain. This assertion can be best when describing Maybelle Boma's career as an entertainer, promoter and gospel artiste. If the New York-based Cameroonian singer has been in the headlines these past weeks, it is because she has been experiencing the height of her success.

"God is so wonderful and I'll continue to praise him for what He's been blessing me with," Maybelle told TIPTOPSTARS Editor during their last conversation. The talented musician was reacting to a surprised recognition she had on the night of Friday June 28, 2013, at the Afrika Brave Awards in New York. She was awarded for her relentless contribution to the growth of the African gospel music industry. "It was a big surprise Ernest and honestly, I wasn't expecting this," Maybelle went on. She was overwhelmed, the singer told us.

Still at the red carpet event which took place at the Columbia University, the Cameroonian singer performed one of her tracks, accompanied by her fast-becoming-popular kid dancers Bella Achu, 10 and Bella Reina, 9.

Prior to the Afrika Brave Awards achievement, Maybelle had been one of the guest artistes at the Bhywlas Fashion Show (we shall be coming back to this event in subsequent updates), staged in Arlington Dallas, Texas. It was yet another sensation as the singer held guests spellbound.

Perhaps, one of Maybelle's greatest showdowns, at least as the artiste herself confirms is her performance at the 2013 Millennium Development Goals, MDG Women Progress Awards that took place in New York recently. Performing at the awards gala, the Cameroonian gospel icon turned out to be the baton holder at the event as she pulled every attention. And if some people were thrilled to an extent they where they couldn't hide their feelings, it was the African First Ladies – ten of them in the hall.

"They were greatly marveled and hailed me openly," Maybelle reported. This reaction from the wives of the African leaders fetched Maybelle just more than applause and standing ovation. Some of them did not hide their quest for yet another showdown. "The wife of the Swazi King for instance promised she was going to invite me to come perform in her country," she revealed. And how did that make you feel? "Quite blessed by God whom I will praise," Maybelle told African Cocktail (show hosted by Ernest Kanjo on Afikka Radio. The gospel music star also had brief conversations with the First Ladies of Equatorial Guinea, Constancia Mangue de Obiang, Mali, Mintou Doucoure Traore, Tanzania, Mama Salma Kikwete and Burundi, Denise Bucumi Nkurunziza.

Meanwhile, Maybell Boma will be one of the Guests-at-large in the July 6 edition of African Cocktail to through more light on her recent award. The show will run from 9am to 1130am Eastern Standard Time (2pm to 430pm Yaounde time). Tune in to Afikka Radio by clicking on www.afrikkaradio.com or dial 832-280-0016.