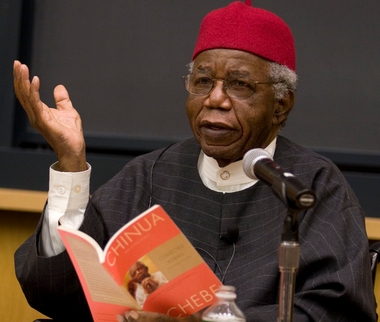 Shocked! That's how I feel. That Chinua, the giant Achebe has fallen is no sweet news to me and surely to millions of literature lovers and fans of Achebe's works. If you hesitate to eulogize Chinua Achebe (in writing), then writing is not your passion. It's hard for any passionate writer to stay mute after learning of the fall of a baobab like Chinua Achebe. I started writing this brief eulogy less than 20 seconds after the picture of the great writer and fallen bombed on my facebook page with a shocking RIP caption underneath. "Oh!, this is unbelievable," I screamed. This has no doubt been the sudden reaction of others.
My relationship with Achebe dates back to the late 80s when I first read Things Fall Apart. That was the first of Achebe's novels I was reading, but with a less critical literary mind at the time. I had just started secondary school and found myself falling in love with Literature.
However, my understanding of Chinua Achebe and the wit vested in the writer took off by 1993, when as a High School student in the Cameroon Protestant College, CPC Bali, I had Arrow of God as one of the Literature texts for the GCE Advanced Level examination. We had something like three novels, covering the prose section and my teacher, for some reason, decided to kick off with Arrow of God. That was Lower Sixth.
I don't vividly recall how long it took my class to complete the text, but I remember I was not at all pleased the day we folded up the novel to take on the next text. The reason was simple – you missed every line in Arrow of God when you finished reading it. Luckily, you could be caught reading the masterpiece again and again, even after completing the text for purposes of exams. I'll surely go looking for a copy of that novel again.
For one thing, Achebe, in Arrow of God is able to completely situate the reader into his setting. And if you have never been to Africa, you get the real feeling of a typical indigenous and/or community life by just going through the lines in the novel. At one point you feel like you are watching the story on the screen, at another moment, you see yourself being part of it.
I vividly recall how I visualized the colonial days, the black man servant - the White administrators dishing out instructions to traditional authorities - how the custodians were resisting. I could visualize the warring villages - I could see the chief priest – I could see Obika and his wives. Thanks to Achebe descriptive power, I could visualize the story in Arrow of God.
Perhaps, what fed my heart and probably that of others during my Arrow of God High School days was the effectiveness with which Achebe would use African proverbs. "You do not by-pass a man and enter his house" – "A handshake that goes beyond the elbow is considered to be something else". Irresistible!
You can discuss Achebe's literature forever. I leave that for literature experts.
Though a Nigerian by birth, Chinua Achebe cannot be narrowed down to one country. He is global. He was (may be not the case today) a popular author among Cameroonian students from the 70s to the mid 90s or so. His novels occupied a comfortable place in the GCE syllabus and they were among some of the stories students would always love, talk about and remember. His stories were most often acted on stage, even when they were prose.
Unfortunately, many of Achebe's Cameroonian fans never had the opportunity to meet the man behind the big name. I understand as a seasoned professor in African Literature, Achebe sojourned campuses to either give lectures or conferences on invitation. It would have been a big one if he made it to Cameroon. It never happened.
However, some Cameroonian fans of literature with luck shinning on them succeeded in meeting and even talking with the literary hero. A case in point is Dr Joyce Ashuntantang, University lecturer in the US who spoke at length with the fallen intellectual. Their conversation was published in one of the best selling editions of Summit Magazine three years ago.
It is no doubt one of my biggest regrets that I did not meet the man in person, whereas, as I learn, he passed on just at my backyard in Boston, Massachusetts. Achebe was a man to meet, talk with and be talked to by him – and behold you were going to count yourself. Perhaps, that's the kind of feelings running in Dr Ashuntantang as I write. She was indeed lucky.
That Achebe has passed on is simply sad. We are going to miss him, but his works will stay around for us to keep savouring. Did Achebe nurture others to wear his shoes when he is gone? Sure, he did. Let's keep his art alive – the art of writing wittily - Chinua, the wise Achebe, write your wisdom, even from the world beyond – your legacy is right here!