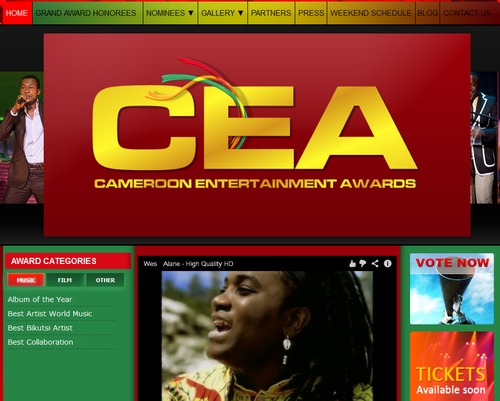 After a well deserved recess, organizers of the Cameroon Entertainment Awards, CEA are back on the rails. Preparations for the second edition of the coveted event have kicked off in the United States of America. As the people behind the CEA scene build up to the next edition, one thing keeps animating their minds – innovation. "It's just normal that we should innovate in a bid to bring in more life into the CEA," Maybelle Boma told us. The CEA Executive President intimated that the recognition event has to move forward and meet standards set from its inception.
As an initial step towards achieving that goal, the CEA website has been given a gorgeous facelift which observers and CEA well wishers insist, befits the organization. The said change takes the site from a soothing green to and exceptionally captivating and imposing red home page bar. Upon logging in, visitors to www.cameroonentertainmentawards.org are welcome by a popular soul-reviving track that shot the world music icon and Cameroonian-born Wes Madico to stardom in the late 90s. Though entertaining, the CEA website serves salient and first-hand information on the event, its sponsors, partners and the people who toil behind the curtains. "As things unfold, we shall be feeding visitors with more information," said Boma of the site.
Organizers say a pre-nomination night is billed for April in Washington DC. There are talks being held at various levels pertaining to the venue and the exact date of the event which comes up in August. The categories set out for grabs will be made public in the coming days.
Meantime, Executive Producers Maybelle Boma and Anne Ngone Etape are currently undergoing a-meet-the sponsors tour in the United States and Africa.
The Cameroon Entertainment Awards, CEA was first held in July 2012 in Washington DC. It is an initiative with the objective of paying tribute to deserving Cameroonian talents (in the entertainment domain) who have contributed enormously and are still doing, to ferry their country to the world stage. Pan African categories were also accepted.
More on the CEA in subsequent updates!