Collywood, CAMFILMS, Cam Mungo Films are names proposed by Cameroon Film Industry (CFI) delegates at the Yaounde convention that held recently. One of these names will be retained after the Ministry of Culture would have studied the CFI file containing the report of the meeting. It is then that resolutions taken at the various meetings of film makers would be implemented. However, branding of the industry was not what preoccupied delegates at the Yaounde convention.
The film makers agreed that professionalisation was their main goal. "This can only be achieved if we consider specialisation," said Waa Nkeng Musi, national co-ordinator of CFI. Already, film makers have broken themselves up into sections; producers, directors, actors, script writers, technicians. They are meeting in the various groups and will converge on Kumba in the coming weeks to form guilds.
The Yaounde convention was attended by film makers from Bamenda, Buea, Limbe and Kumba.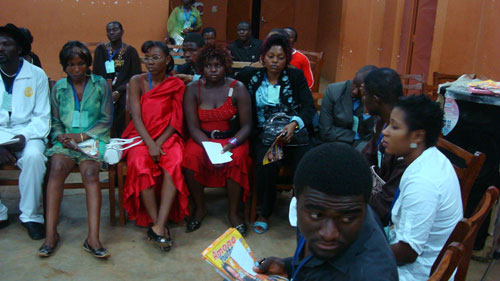 Other delegates came from Europe.
Among the speakers were renowned film
maker Basseck Ba Khobio, CRTV's director of fiction, Christopher Selambi and Among Youths' Ernest Kanjo.