During this period of the year, news publications have the applauded habit of saluting women who have delved into daring ventures and made it. They do this by writing stories that reveal or recall success stories of some women/girls who have pointed their heads out of doldrums of unpopularity. These publications usually say it is their own way of joining the womenfolk in celebrating March 8, commemorated the world over as International Women's Day. This year, TIPTOPSTARS pays tribute to some women who have created an indelible mark in filmmaking and movie acting.
EARLY GENERATION
The pioneering Sita Bella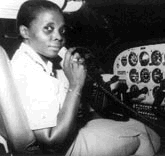 A young Sita-Bella, working as a pilot.To talk about the early generation of female filmmakers in Cameroon, the name Sita Bella is mentioned in the first position. She was Cameroon's pioneer female journalist who took interest in filmmaking as well. In 1963, Sita Bella produced one of the earliest documentary films titled Tam-Tam a Paris which featured at the maiden edition of the Week of African Cinema (today known as FESPACO) six years later in 1969.

The legendary Margaret Fombe

Margaret Fombe is yet another big name in the Cameroonian female filmmaking landscape. Today the most senior female TV director, working for the State-run television, CRTV, Fombe produced documentaries as far back as the 80s. She has produced countless documentaries screened over CRTV over the years. Some popular ones include Sirri Cow, Femmes et Hommes en Milieu Rural Camerounais, Ces Gosses Qui Bossent, etc.

CURRENT GENERATION

There have been a good number of female filmmakers after the Sita Bella and Margaret Fombe generation. We will try to establish few categories to which they fit and try to remember these them.

PRODUCERS

Josephine Ndagnou: From TV hostess to filmmaker

Among the producers of the new generation, we can mention names such as Josephine Ndagnou. Formerly working as TV presenter at CRTV (presented Tam-Tam Weekend), Ta Zibi as she was easily called following her role in Gervais Mendo Ze's Etoile de Noudie (telefilm) became one of the most popular female filmmakers when she released Paris a Tout Prix four years ago. The film fast became a hit, stormed cinema halls and grabbed several awards including one from FESPACO.

Ariana Astrid Atodji and the AMAA eye opener

While Ta Zibi made strides with Paris a Tout Prix at FESPACO, Ariana Astrid Atodji did same at the annual Africa Movie Academy Awards, AMAA held in Nigeria. Her film Kondi Et Le Jeudi National became the first ever Cameroonian production to grab a prize at the prestigious awards in 2011.

Naah Joyce: Short films heroine

On her part, Naah Joyce has been on the limelight for quite some time with seller productions. Perhaps what will forever remain the Yaounde-based female filmmaker's most memorable things in her career is Rape, a short film which has bagged home countless awards. Her latest production, First Cry is making its entry into the film landscape.

Sunjo Petra's sound film education background

She is one of the best things happening in film education in Cameroon. Petra has a sound educational background in filmmaking, having amassed a wealth of known in filmmaking from one America's most renowned film schools. She is the producer/director of Bongfen, a short film that swept awards.

Nintai Vivian with Facts and Fun

Almost rounding off her Masters in an aspect of cinematography in the University of Yaounde I, Vivian Nintai is a well-known producer/director of short films meant for TV. She is the brain behind the Facts and Fun projects by Jedida Pictures. The said short films were screened on CRTV for quite some time.

Ayi Chatou Inoua: Destined to succeed!

Based in Yaounde, Ayi Chatou will be remembered for being one of the most daring female film producers of her time. In 2009, the UNIYAO II Law graduate flew in some of the most sought-after Nollywood actors, Emeka Ike and Tonto Dikeh. The resultant production Royal Destiny also starring Solange Yijika and directed by Neba Lawrence became a sellout.

Itambi Delphine: Mistress of the camera

She normally had been quite involved in filmmaking, but it was the release of A Woman's World, her maiden production that shot Delphine Itambi to the elitist ranks. She has always yearned to know more, reason why the Buea-based female filmmaker opted to go for further film studies in Dubai where she was enrolled in an American film institute. Earlier, Itambi made a few trips including to Tanzania where she shared experiences with colleagues from other countries. She just returned to Cameroon after several months away and will surely be coming up with yet another hit.

Ngassa Nina: Youngest producer with unbroken record

In 2011, Ngassa Nina, then putting up in Buea (recently moved to Yaounde) created a yet-to-be beaten record by producing a feature film in just three weeks. Vanity Fair, directed by Neba Lawrence was a well admired piece. It won the CAMAG fatest production awards in May 2011 in Yaounde.

Quiniva Dinga; Daring as well

Limbe-based female producer Quiniva Dinga is making her debut into the seventh art, yet she is doing good. Her movie, Caught Within is at the verge of being released. She promises to get to the apex of the art/business.

THE ACTORS

Some of the most competitive actors in thee Cameroonian film industry have been women.

Solange Yijika: Most sought-after

She came on board in 2005 and soon became the female actor every producer wants to have in their movie. Solange, a talented match has featured in some of the best-selling productions – Royal Destiny starring Emeka Ike and tonto Dikeh, Land of shadows starring Jim Iyke, Great Pain, Trials of Passion II, Troubled Kingdom (yet to be released), etc.
Quinta Eyong aka Mama Queen: Queen of her art
She is easily assessed to be one of the best-selling female actors. She has featured in virtually all the biggest productions in the country including Royal Destiny, Before the Sunrise, The Blues Kingdom, Land of Shadows and Nexus. Quinta lives in Mamfe.
Madaleine Agbor (Mama Meg): Making great strides
Buea-based Mama Meg as the civil society activist is affectionately called is a female actress of high repute. Her mastery of the Queen's language puts her at the top. Watch her in The Blues Kingdom, Land of Shadows, just to name these.
MUST-WATCH FEMALE ACTORS
These are female actors who are extra-ordinarily talented and need to be watched. Their featuring have given movies the artistic coloration they deserve. The list in inexhaustible – Ruth Nkweti (ZAFAA 2011 nominee), Rita Zembe (2009 ACE Awards laureate), Ebot Vera, Fri Louisa, Maureen Abia, Nchin Mabel, Awubang Perine, Dinga Noella, etc.
THOSE CAMEROONIANS WITH NOLLYWOOD EXPERIENCE
This group is made up of Cameroonian female actors who have performed in Nollywood movies. Sylvie Mbuta leads this chart. Currently in the USA, Syl Anim as she would love to be called has featured in several Nigerian films including Mamush , Saving Sarah, Broken Edge, Last picnic, The Mistress, Jardon, Mask of death, The wrong woman, Without sham, Cyberia and My Mum and I. Other Cameroonian female actresses with Nollywood experience include Inorie Fotso, Tita Matilda and Yuh Solange.
THE USA MOVIE QUEENS
It's certain there is a crop of talented Cameroonian female actress making great inroads of late. They are fast winning the admiration of movies lovers in Cameroon and throughout Africa. Taka Tanni, Trina Takoh and Mairo Sanda are now household names.
Happy women's day the girls!!!!!!!!!