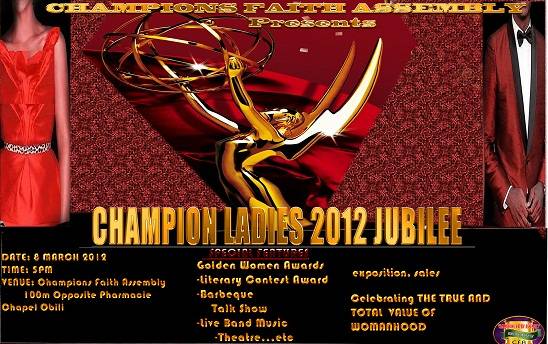 When Solo Mouna, one of Cameroon's leading makossa artistes in the 80s said in a famous track that the woman is the mother of humanity, little did he know the world was going to open up more space for gender balance sooner. The same singer went ahead to enjoin his fellow male counterparts not to be hard on women. Today, the world has not only reconsidered the need to be soft when approaching women, but has gone beyond to consider recognizing and appreciating what they do. Amazingly, women have been putting up an extra-ordinary performance in virtually all fields they are engaged in. They have even competed stiffly with men in domains hitherto considered reserved for the latter. This new dispensation has not left the world indifferent. Rather, it has attracted immeasurable attention and provoked the irresistible zeal to gratify women.
One of the organizations that have been keen on the progress made by the womenfolk is The Champion Women Dynamites. The one-year-old organization and its dynamic President Fri Ngu are doffing their hats to women and girls who have displayed exceptional qualities in their work. This will happen through an awards ceremony dubbed Golden Women's Awards, billed for 8 March 2012 in Cameroon's capital Yaounde.
According to Fri who doubles as Director of CFA Connecta Plan, another Cameroonian NGO, the red carpet event is meant to create awareness of the enviable values women possess and propel. "They are quite inspiring and are mothers who deserve society's attention and respect," Fri told TIPTOPSTARS editor on the line to her Yaounde abort. But what inspired the idea of organizing the awards? "I'll say ever since I met and started working with Kah Walla, my perception of the Cameroonian woman has been greatly illuminated," the young female promoter of gender balance told us. Fri went on: "However, it is a mail this dynamic politician sent to women, reminding us to get inspired by golden women Cameroon has had that rang a bell in my mind." "I then vowed to henceforth honour women," Fri said to explained the reason for her up-coming recognition event.
The president of The Champion Women Dynamites revealed that laureates will be awarded from 20 categories including politics, business, media, philanthropy, fashion, movies, music, Christian Ministry, rural development, public service education, sports and health. "We'll also use the occasion to launch Eve magazine, our maiden publication," Fri who is also the Executive Secretary of FC Bamenda announced.
Meantime, the red carpet event will be graced by music supplied throughout the evening from a band playing live. "There will also be stand-up comedy to entertain our guests," said the organizer.