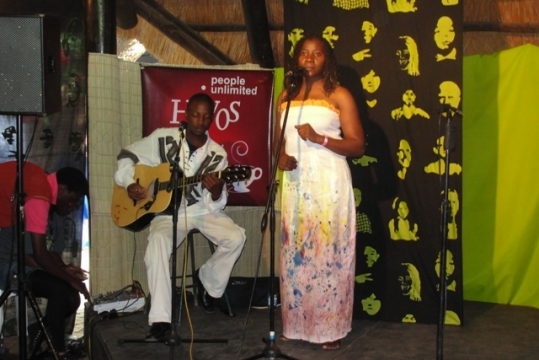 -Batsirai Chigama, Zimbabwean performance poet
Zimbabweans may have little interest in written poetry because of a general lackluster reading attitude. But, for some time now, there has been a silver lining to this problem - oral poetry. With the proliferation of performance poets in the country, many more people now find time and space in their hearts for poetry. This has been thanks to the incredible talent, displayed by some of the country's performance poetess, among them, Batsirai Chigama. At one of the Harare International Festival of Arts (HIFA) poetry cafés, the young poet from Murehwa, gave spectators a reason for their entry tickets. TIPTOPSTARS' Ernest Kanjo caught up with Chigama soon after the show. Excerpts.
After such a wonderful performance, do you think your day has been fulfilled?
Certainly! Each time I perform and received such positive feedback, I go home feeling really proud of myself.
For how long have you been doing poetry?
Four years. I started way back in 2006.
What motivated you into poetry?
For me, it is the most appropriate means to vehicle a message across. I think I have a lot to tell the world and need such a forum to express myself.
How do you get inspired?
I gain inspiration from everyday experiences. It could a conversation in a taxi cab, a book I read or other happenings in the society.
How many poems do you have to your credit?
I have written more that 200 and performed quite many. I have published 96 in a collection. Some of my poems which are not available in Zimbabwe have been published in the UK.
Have you ever been reprimanded for performing critical poems?
No. We got real freedom of expression.
As a woman how do you find the task?
Quite easy for me! Many girls are getting inspired by what I do and are coming on board. I have always encouraged them to join the few of us who are in the art.
Which is the poem you will always be caught performing?
Braille, The Art of Feeling is my favourite piece. It is so inspiring to me and talks about a way of expressing oneself when one faces certain challenges.
What else does Chigama do apart from poetry?
I do gender project writing for a civil society organization, based in Harare.