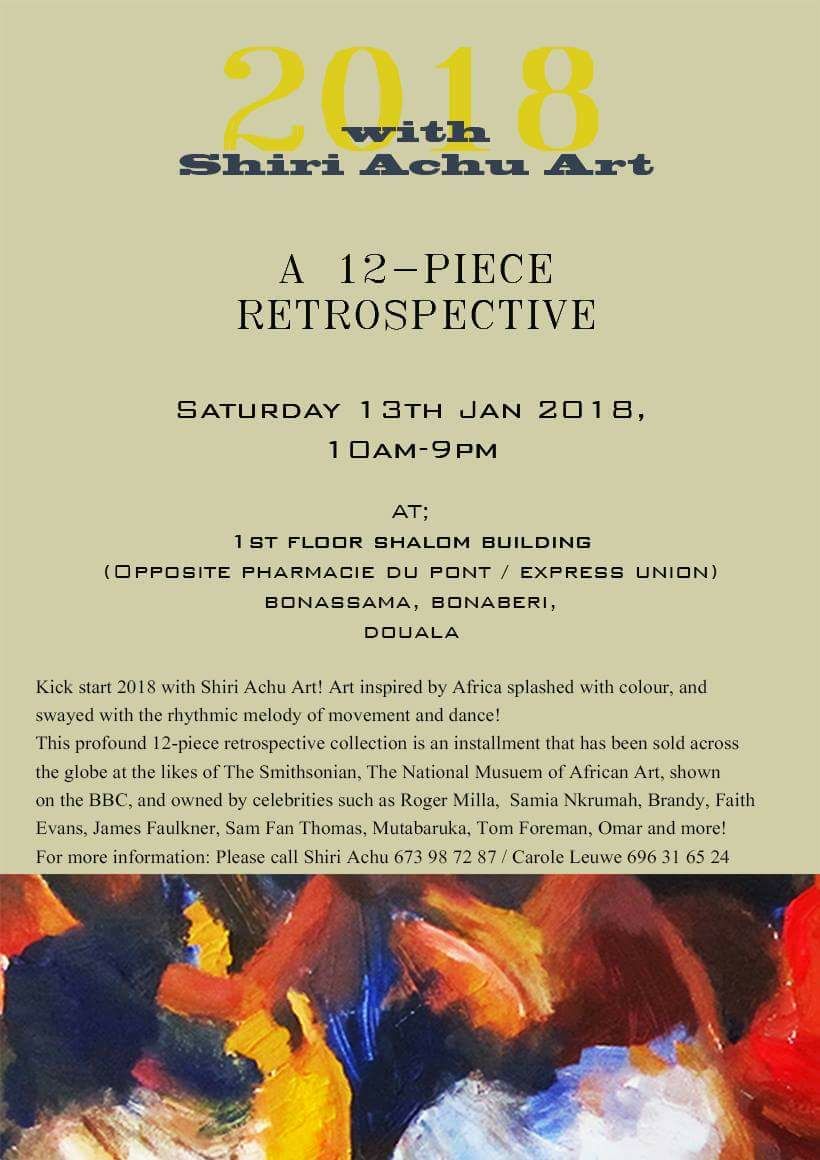 Shiri Achu is without any doubt one of the most prolific African fine artists of modern times. No sooner she closes up a chapter in her painting career, than she opens a new one. And for one thing, the artist is not physically stagnant. Her works have the propensity to move from city to city and across continents. Not long ago, the painter whose paintings reflect the beautiful simplicity of Africa, was in Australia as part of her mission to encourage understanding of African culture by the western world. Prior to that, she had engaged a 35InPrint exhibition ride in the United Kingdom where she lived before relocating to the United States. As we write, Shiri Achu is in Douala-Cameroon, bracing to exhibit her works to visitors at her next outing dubbed "A 12-Piece retrospective", billed for Saturday, January 13, 2018. Ahead of the Douala exhibition, the painter spoke with Editor Ernest Kanjo and amongst other things, she outlined the benefits visitors to this cultural event would derive from attending. Excerpts!
Ernest Kanjo (EK): Hello Shiri! How're you today?
Shiri Achu (SA): Great! And you?
EK: Good! Your next exhibition is dubbed "A 12-Piece Retrospective" - confirmed?
SA: Yes! This exhibition marks the beginning of 2018 and will run through the year. I'm exhibiting in two locations. I actually started on the 4th of January at Thought Pyramid Art centre in Lagos, Nigeria. It was great. This second exhibition takes place on Saturday on the 13th of January at The Shalom building in Douala, Cameroon.

EK: Does it mean you will only be exhibiting 12 pieces of fine arts works?

SA: Correct!

EK: What do you mean by retrospective here?

SA: I'm looking back at these specially selected pieces and speaking about them. In a way, I am bringing to the interesting facts to the foreground such as why they were produced, where they have sold, which celebrity owns them and so on.

EK: When and where were these paintings done?

SA: These paintings were created in Cameroon, London and Washington DC.

EK: Select two or three from the lot and briefly explain what each of them stand for...

SA: Distant butterfly is unique to the collection but I needed to add the colour and spirit of the moment to the 12 piece exhibition. Along 2 was created in Cameroon, and these prints have been selling pieces at The Smithsonian and The National Museum of African Art. It is also owned by Roger Milla and is the piece for the month of May, 2018. What does that mean? Each month, a different piece is highlighted and some of the proceeds of sales go to The ^Raise The Roof^ campaign which we talked about on Apex 1 Radio some time ago. Consequently, '1.1.11 Baforchu big men celebrate! is highlighted for the month of January. Shiri Achu Art 2018 Calendar also runs along this 12-Piece Retrospective exhibition as each piece is highlighted at the bottom of each month. The calendar is now available for purchase.

EK: Have these paintings been exhibited elsewhere before?

SA: Yes, during the InPrint series of exhibitions.

EK: Who are these paintings meant for?

SA: They are meant for everyone who loves and appreciates the value of art and culture.

EK: Any extra benefit for whoever will acquire any of the paintings at the Douala exhibition?

SA: I will be there all day and will be able to talk at greater length about each piece. I will be answering questions and I think that would be a plus on those purchasing on that day. No regrets for visitors to my exhibition!

EK: Is this the first time Achu Shiri is exhibiting her works in Douala?

SA: No, it's not!

EK: Could you remind us of the date, venue and time for the exhibition?

SA: Saturday, the 13th January 2018 at Shalom Building, first floor. The building is opposite Pharmacie du Pont and Express Union, Bonassama, Bonaberi in Douala. The exhibition kicks off at exactly 10am and will run till 9pm.

EK: Thanks for talking to TIPTOPSTARS Shiri!

SA: It's always a pleasure Ernest!

Some major Shiri Achu Arts Exhibitions:

§ The 30th Act - London, UK (2014)

§ 35InPrint - London, UK (2014)

§ 36InPrint - Washington DC (2015)

§ Artomatic 2016 art exhibition

§ 37InPrint - Adelaide, Australia (2016)

§ 38InPrint - Jamaica (2017)

For purchase, go to https://www.shiriachuart.com/2018-with-shiri-achu-art-calendar