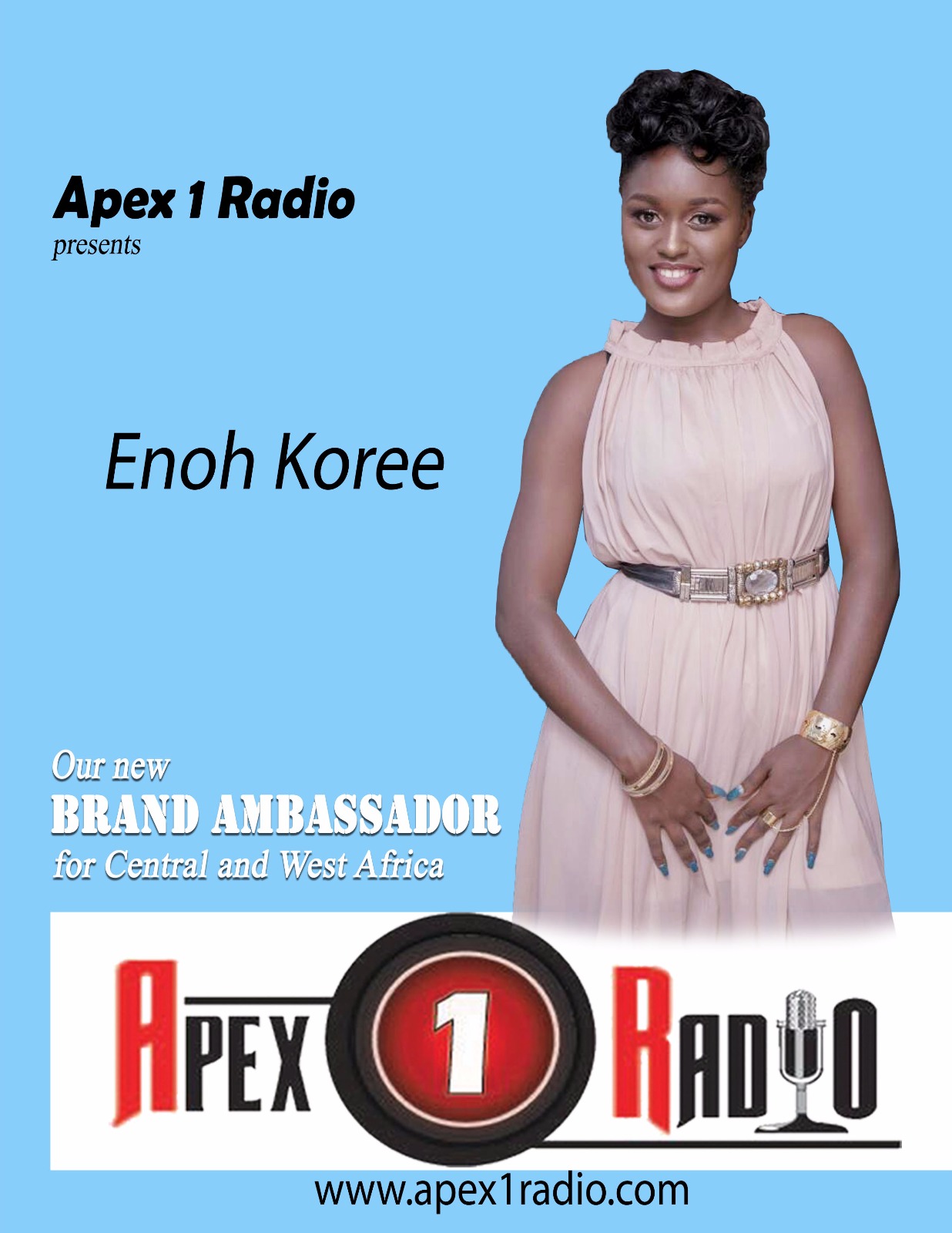 Scouting for the worthwhile personality who would carry the aspirations of Apex 1 Radio across the Central and West African sub regions was to say the least, the most effortless task the station has carried out since its creation in 2015. It would have been, if Enoh Emilie Faith Koree was out of the picture. However, the Performing & Visual Arts graduate from the University of Buea squarely fitted into the job, upon the initial snapshot on her profile.
In a deliberate option to transform Africa by connecting the continent to the contemporary network where youths and their visions reign supreme, the station had little choices left on its table. Picking Enoh Koree (as the leading make-up artist who doubles as an actor as simply called) only goes to buttress this ideology.
"I haven't come across a youth who is so purposefully focused and does her job with amazingly exactitude such as Koree. She's one in a million," Winny, an Ohio-based beautician told TIPTOPSTARS. The beauty specialist, who told us she has been carefully following up Koree and her works, explained that naming the young, yet talented artist as brand ambassador for Apex 1 Radio was the wisest decision the station ever made. "She is an asset and would definitely be a good one for Apex 1 Radio," said the beautician.
To Pridel, a marketing expert for a Columbus Ohio-based fashion outfit, Koree is a great revelation, if she only goes by her works. "I noticed she is extraordinarily talented," she indicated. "I'd equally have had her to model for my products if I were to select a face for them," she confessed.
In Cameroon, the reaction has been the same. "Apex 1 Radio went for the best, I'm not surprised," Sherilline Queen, Cameroonian actress who has starred in Bollywood films opined. She went on: "Koree's humility beats anything else – I'm happy for her."
To the new brand ambassador for Apex 1 Radio, executing the task for which she is hired is primordial. "In as much as I'm glad and feel really honoured to have been given this opportunity, I look forward to performing my duties so assiduously," Koree told TIPTOPSTARS. "I'm one person who never lies on their laurels - I have an uphill task – upholding the good values Apex 1 Radio professes is my biggest responsibility. I'm therefore settling for work in a bid to give the station the most deserved image out there," the corporate image worker told us.
Amongst other things, the new brand ambassador shall represent the station at public events – conferences, seminars, workshops, music concerts, movie premieres, trade fairs, etc. She shall present the station to individuals, new audiences, the business community, officials and other groups of interest. In the same light, she shall carry out Apex 1 Radio's humanitarian/charity activities to less privileged populations.
Koree who is at her best when she is carvings out SFX wounds on the bodies of movie actors as they brace to go on set, is a fascinating stage performer. She did scores of plays during her University of Buea days, including Obsession, written by Anne Tanyi Tang and directed by Ade Joseph and Nkumah written by Patricia Temech, Green Hills by Ayang Fred and Gaining the Game by Mathew Takwi. She has featured in a number of movies as well.
Enoh Koree becomes Apex 1 Radio brand ambassador at a time the station seeks to expand its scope of community outreach in a bid to achieve the radio of proximity mission it set from the onset. A new app for the station is on its way, but for now, Apex 1 Radio could be listened to at www.apex1radio.com or download the Tunein app and search Apex 1 Radio.
Enoh Koree will be guest on a special edition of Apex Snapshot later this December.


FACT FILE
Enoh Emilie Faith Koree

Artist name: Enoh Koree

Apex 1 Radio Brand Ambassador for 2018

Central & West Africa
Profession 1: Make-up artist

Profession 2: Actor

Origin: Cameroon
EDUCATION
BA, Performing & Visual Arts (University of Buea)
Complexion: Dark

Height: 1.63m

Hobbies

Eating, dancing, singing, swimming, travelling

Movie featuring

§ Rumble
§ Our Wishes
§ Silent Road
§

My Defendants

Movie make-ups
§ Rumble
§ Life Point (SFX make-up)
§ E Do
§ Muwelle
§ Silent Road
§ 40-Years-Old Virgin (Nollywood movie)
§ Baby Daddy (Nollywood movie)
§ Portal
§ Mabe Mabore
§ Our Wishes
§ The Day After
§ Little Cindy
§ The Other Side
§ Shrill (SFX make-up)
§

The Message