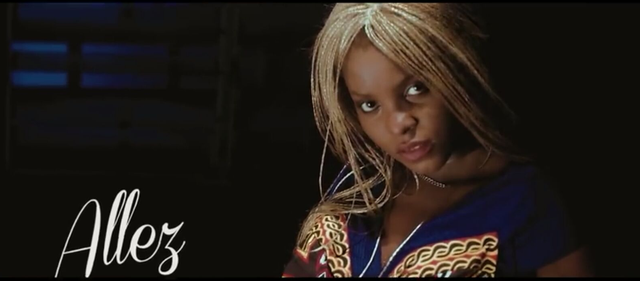 Stunning! That's how a Daphne fan described Mother's Love, the artist's previous track that sent young girls regurgitating their filial love for their mums. More than stunning! The same fan came back, this time giving Daphne's latest single, a bigger qualifier. Allez, the said track that arrived in the music market on Wednesday, April 13, 2016 like a shooting star, has already permeated Cameroonian circles abroad with immeasurable vigor. This is a clear indication that the author of Rastafari and Ndolo has kept to her tradition – crafting only the kind of songs that possess the capacity to move their consumers.

If we go by the rhythm, words and dance flare in Allez, then the fervent Daphne fan who sees Allez beyond just being a stunning track is unarguably on point. But let's stay with the third aspect – the dance. Allez by every ramification, spots on a front seat position when it comes to comic dancing in videos released in Cameroon of late.

In a rare occasion, the singer, known for her glaring seriousness while in activity, is noticed in an exciting comic mood as she displays the 'Bend Skin a la Daphne et Les Featurists'. This is certainly resulting from a video set inspiration from the starring clown duo whose ingenuous approach in dramatizing the story in Allez, gives the video the grandeur it is now feasting on.

Described by its makers as fun and playful, Daphne's Allez, produced by Mr. Winney and AnyKindBeats, is dance-in, dance-out, with the potential of mobilizing much more attention than could be remotely imagined. The song/ video features Les Featurists, a Cameroonian band that has been in the headlines for quite some time now. "It was a lot of fun working with Les Featurists, both in the studio and on the video set," Daphne said. She added: "I hope our fans will have as much fun, listening, watching and dancing to the Allez just as much as we did while making it." To Steven's Music Entertainment (SME), Les Featurists' role in the project was a great asset. "They add a balanced touch to the story of the song," the production outfit wrote in a release sent to TIPTOPSTARS.

Allez is directed by Dr. Nkeng Stephens who has done previous Daphne jobs, including Mother's Love, Gunshot and Rastafari.

Meantime, Daphne is currently nominated for the 2016 edition of the prestigious KORA Awards.