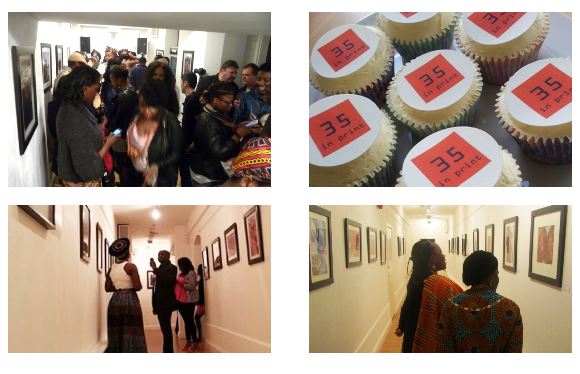 Washington DC, the world's strongest political capital, is a very beautiful city. DC, as it is affectionately known will be more beautiful as from May 15, 2016. This will be soon after Shiri Achu would have run her fine art brush across this great city, painting the beauty of life as she knows best.
For the first time, the venerated painter whose artistic attitude of rubbing cities with the brightest colors they deserve is focusing on Washington DC. That the painter is ready and will transform the minds and perceptions of DC dwellers towards paintings is no doubt. "I'm really excited and looking forward to this debut in Washington," says Shiri.
In what has been dubbed 36InPrint, the May 5-14, 2016 art exhibition will give room for visitors to view, touch, appreciate and purchase one or more of what the artist describes as 36 framed signed limited edition Shiri Achu Art Prints. "They'll be gotten at very affordable prices," she told TIPTOPSTARS.
According to the programme, 36InPrint will begin with private viewing on Thursday May 5, during which a raffle will produce three lucky winners of signed limited edition framed prints worth $400 each, as well as a copy of Naomi Achu's (USA-based Cameroonian rapper and sister of Shiri Achu) new album. The exhibition's public opening party takes place on Friday May 6, 2016 at the Gallery a – 2106 R. Street, N.W Washington DC, 20008.
Before 36InPrint, the painter, under the watchful eyes of the Mayor of Harrow, registered a resounding success at the 35InPrint exhibition that took place in London April 19 – 25, 2014 at the Strand Gallery.
Shiri Achu's art paintings have attracted enormous attention over the years. According to the painter who just relocated to the US from the UK, her inspiration is broad - from her travels, to natural moments captured in Africa and still objects, from the human form to the human in action. "I capture the spirit of my subjects and make them come alive through form, colour, texture and tone," she says.
The USA-based Cameroonian painter insists that her works are aimed at showcasing African cultures wherever she and the paintings go. She finds beauty in the woman carrying her child on her back and going her way, just like the typical Ngemba (ethnic group in the North West region of Cameroon) woman, making achu (a traditional delicacy) in her dark outdoor kitchen for her grandchildren. Shiri admires the beauty in the African fabrics, just like the young girl climbing a tree. She cannot let these great moments pass by without interpreting them with the use of her brush. That's the meaning of arts to the artist. And that's what has kept her waxing and maintained her works veritable masterpieces.