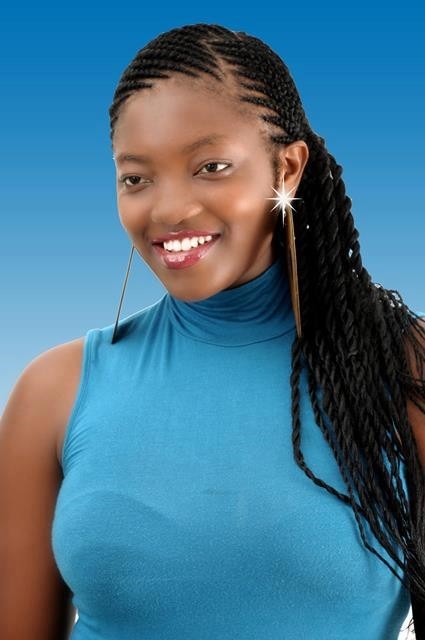 One of the leading Cameroonian actresses, Adela Elad, has hailed her colleagues for making film lovers convinced about the performance of the country's actors. Speaking to Apex 1 Radio (www.apex1radio.com) recently, the Limbe-based actress conclusively described some actors as great talents of her time.
Specifically assessing Ade Kelly, her co-actress in Bad Angel (TV series currently going on CRTV), Elad described the former as a great actress who would go beyond set performance to display a pleasing humility throughout a production. "Kelly is very accommodating and would won't give you any trouble on set," she told Apex 1 Radio. "She is the type of actress you would love to work with any day, anytime," Elad went on.
On Jeffery Epule, Cameroon's male sensation, Adela Elad was on point with what any other observer of the Cameroonian movie landscape would have opined. "He's everything a producer would need from an actor," said the Limbe actress who is playing Inspector Patience in Bad Angel. She said further: "Jeff is a seasoned and intelligent actor who would use words in their right context. With him, you can never be a bad actor." Elad also mentioned that she admires the talented actor in his role as an MC as well.
Describing Libota McDonald, another frontline Cameroonian actor with whom the 1m77-tall actress features in Bad Angel, Elad said the actor is a piece of talent whose hilarious nature makes working with the latter a great pleasure. " He's a well-oiled machine and an actor you would love to work with again and again," she remarked.
During the two-hour-long radio show that focused on the star in University Girls (a 2012 production) and Wrong Combination, produced and directed by R.N Seehofer, the actress made positive remarks about Moma Pascal aka Bob, Quinta Eyong alias Mama Quin and Ruth Nkenti as well. To Elad, Bob is the 'Le Creme de la Creme' (the cream of the cream) of the Cameroonian acting corps. "He masters his craft and a nice person to work with," she indicated. "Even in his strictness, I enjoy working with him," siad the young and talented award-winning Elad.
Even though she has never worked with Ruth Nkwenti in a project, Elad thinks the Douala-based actress is amazingly eloquent and brilliant. "She is smooth in her speech and I'd love to work with Ruth some day," she said. But for Quinta Eyong Ashu, Elad sees everything motherly in the elderly actress, playing Christine in Bad Angel. According to Elad, Mama Quin has always been her source of inspiration and the Mamfe-based actress would advice her on how to make her performance much more sassy all the time.
It should be noted that Adela Elad has starred in a good number of Cameroonian movies after officially joining her country's film industry in 2012. Apart from Bad Angel, University Girls and Wrong Combination, the completely bilingual (speaks English and French fluently) actress has starred in Invisible Eye, U-Turn, Envious Minds, etc. She doubles as a producer (upcoming Night in the Grasssfield is her maiden production) and a philanthropist.