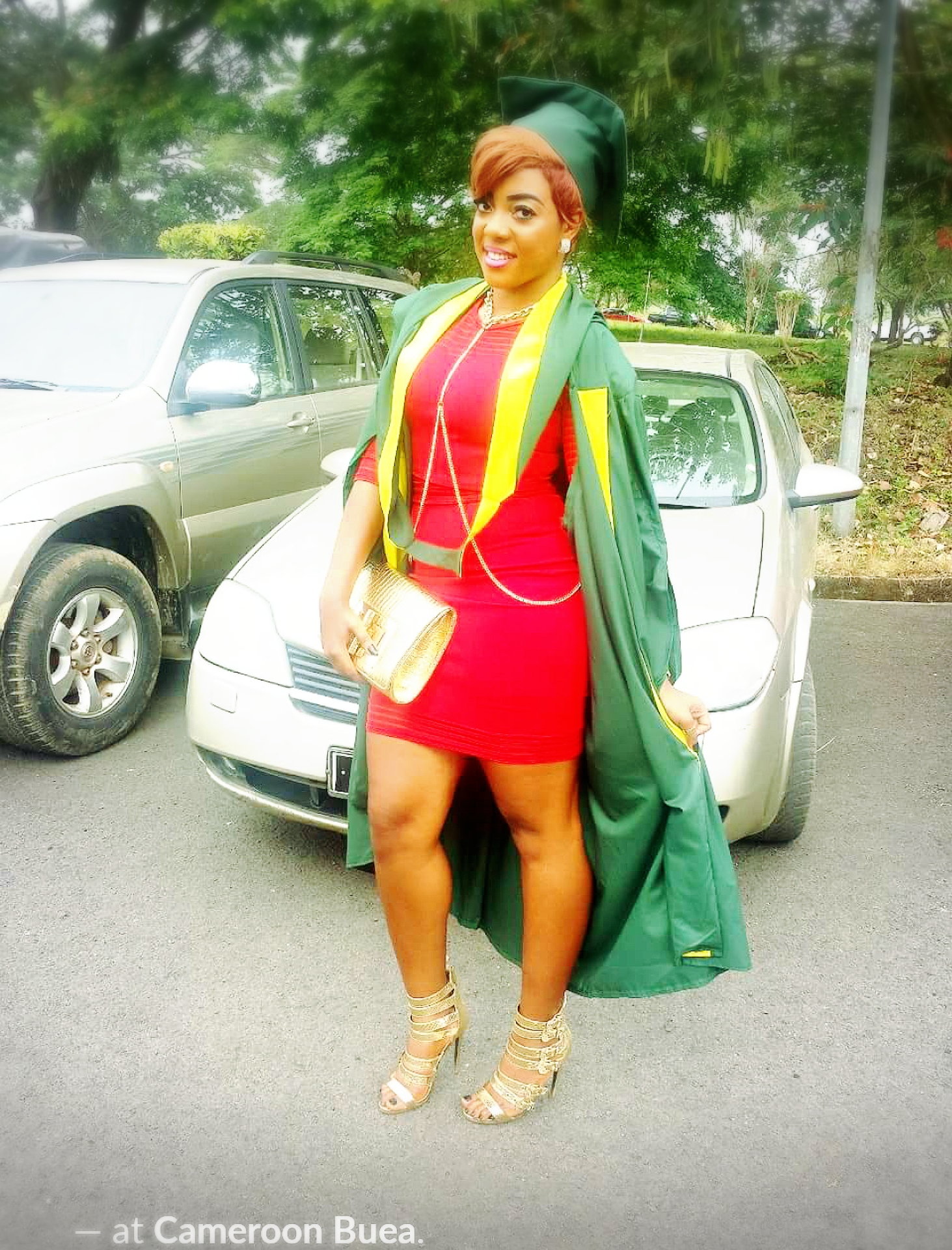 2015 came with sufficiently good tidings for Cameroonian actress Ade Kelly. The Buea-based star in Bad Angel had not completely recovered from the joyous stupor of a TV series accomplishment when yet another remarkable achievement came beckoning – a Bachelor of Arts, BA in Bilingual Letters from the University of Buea in Cameroon.
"Yes! Finally, it went down today," Kelly wrote on Facebook on December 19, 2015, the day of her graduation from Cameroon's first Anglo-Saxon university. "I thank God for giving me the strength to pull through," she went on. Understandably, the movie actress whose recent strides have conveniently placed her on the front roll of her country's film industry, had to ingenuously interweave acting and studies, one would conjecture. But her conscious attachment to both lanes, hard work and the support from her peers, ferried Kelly across. "Thanks to everyone who believed in me," she wrote.
Congratulatory messages from colleagues, friends and even news editors have since thronged the actresses social media space. In one of such messages, the editor of TIPTOPSTARS wrote: "TIPTOPSTARS is usually proud of young people who genuinely display mastery in their respective gifted areas of art. We are glad and ready to encourage them when they make limitless efforts in exploring these talents as a way of contributing their own little quota to the country's art and culture development. We are even more pleased when these young and dynamic people show proof of a sound academic backing. This helps us defend our thesis that music/movies/fashion designing/modeling/painting, etc, are not for unfocused people. In fact, artists are some of the most brilliant people we can think of. It takes ingenuity to be productive. So, as you guys help us in dislocating such erroneous claims, we wish to extend our heartfelt congratulations to actress Ade Kelly…"
Ade Kelly who now becomes a first degree holder in Bilingual Letters told Apex 1 Radio (www.apex1radio.com) recently that language versatility is one of her acting strengths. "I can perform in both English and French with no difficulty," she had stressed. Bilingualism is naturally an added impetus to Cameroonian performing art due to the country's linguistic background and actors such as the new grad would easily cut across both divides.
In recent months, Ade Kelly has become even more familiar to the ordinary Cameroonian TV viewer through Bad Angel, a Premier Films series, currently being screened on CRTV and directed by Elvis Tanwie aka De Dadies. Before the series, the young actress who draws inspiration from Solange Yijika featured in other movies including My Gallery, A Little Lie, A Little Kill and Coffee for The Dead. She has also starred in Chasing Tails, produced by Syndy Emade and directed by Elvis Tanwie.