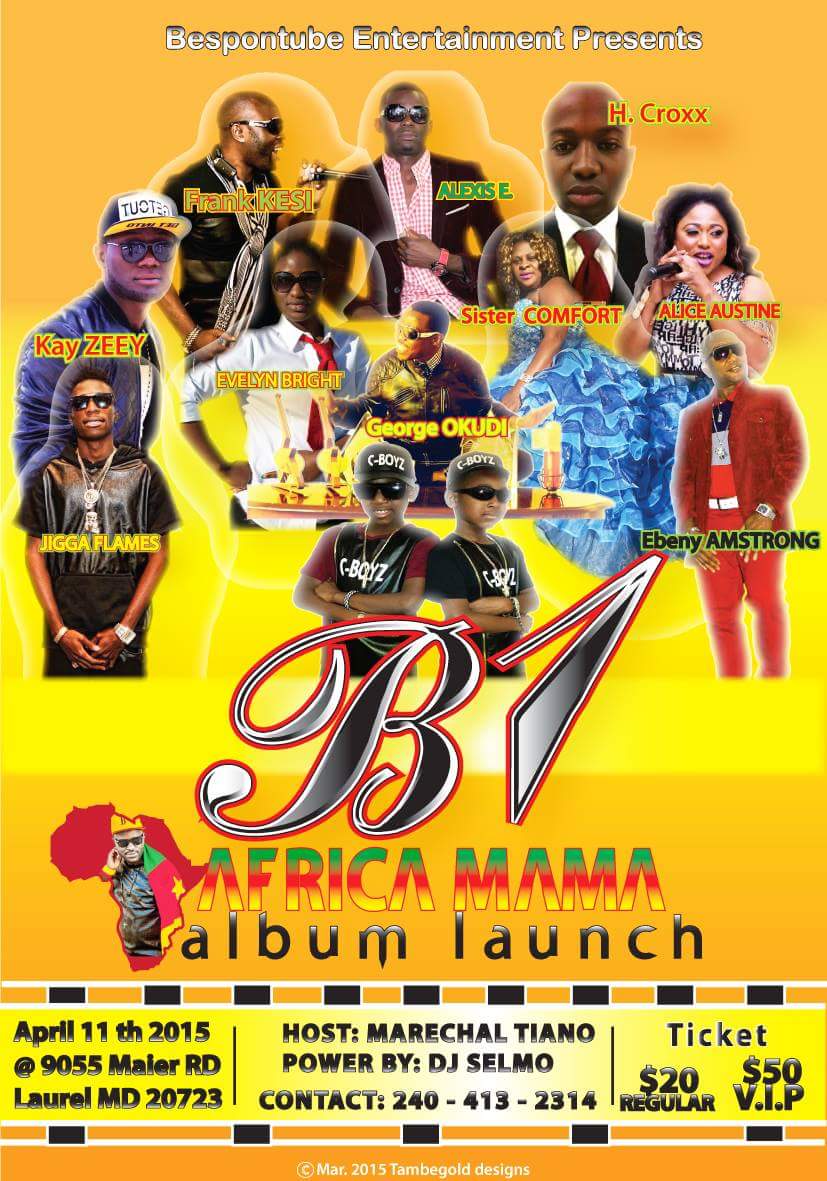 Africans in the United States who have a penchant for entertainment and Cameroon in particular, with the same taste buds for showbiz, are about now pulling themselves together, ahead of what observers here describe as the most-awaited event of the year - the launching of Africa Mama by B1. B1 is a frontline African musician of Cameroonian origin.

The said event, billed for Maryland on Saturday April 11, 2014 has been highly publicized and this is being followed by endless excitement and anxiety. "I can't wait to be in MD on that day. I'll be there not only to enjoy the great songs B1 is known to always produce, but to support my brother," Ajong, a Cameroon movie actress living in Columbus, Ohio told TIPTOPSTARS. "He's always been a great musician, I admire his talent and zeal in the art he knows best," the actress cum B1 fan went on. Just like Ajong, scores of other entertainers are set to hit the road for Maryland come April for the album launch whose echoes are fast penetrating all corners of the globe.

According to the celebrant artist, there has been confirmation that some of the USA-based Cameroonians who matter in the domain of entertainment will be attending the event. "A lot of them will be making it to Maryland – in fact, as we speak, they have their tickets in hand," B1 told Editor Ernest Kanjo, when we reached the singer to find out how ready his team was for the event. The said august guests include amongst others the President, Secretary General and Public Relations Officer of the National Actors' Guild of Cameroon, NAGCAM– USA, Terence N. Limona, Beatrice Nwana and Edith Pikwa respectively who will be flying in from Texas, film producer/ writer and producer Ken Shally Monette and Elian Mambo respectively from Minnesota, co-producer of the Cameroon Movie Merits Awards, CMMA Mairo Sanda from Atlanta and the CEO of the Africa Gas Association Anne Ngono Ngozi.

The Maryland-based author of Africa Mama, popularly known and admired for his Ndolo Dance creation said he is particularly impressed with the immeasurable support he has had from peers and fans vis-à-vis the upcoming event. "It's really been a wonderful feedback and I'm convinced that more concern and support will be displayed on April 11," Bi said further.

Meanwhile, scores of other singers have announced their participation at the B1 album launch. On the list, we have B1's longtime music associates such Alexis Emile (with whom the artist did Les Lions Sont Forts, a 2014 World Cup track), Jigga Flames, Ebeny Amstrong, Alice Austin, George Okudi, Evelyn Bright, Sis. Comfort and Kay Zeey. Perhaps, the sensation guests singers for the event are Bonaventure Jr., 11 and Denzel, 9, who make up the C-Boyz child band. "The boys are set for the event and have been very excited about it," Marie Ndapqwe, mother of the two up-and-coming urban music artists told TIPTOPSTARS.

Organizers of the B1 album launch have told us that the event which will be hosted by renowned USA-based Cameroonian promoter, Marechal Tiano, with Dj Selmo as main sound system man, starts at 8pm and will run into the early hours of April 12.

Made up of eight tacks (Africa Mama, Na Only You, Ngondere, Ndolo Dance, Move Ya Body, Soul mate, How We Go Do and Pretty Lady), B1's new album features other singers such as Evelyn Bright (the artist's biological sister), Vreezy Ville, Alexis E. and Kay Zeey. It comes after some of the songs, inclusive, were produced as single tracks, including the famous Ndolo Dance.