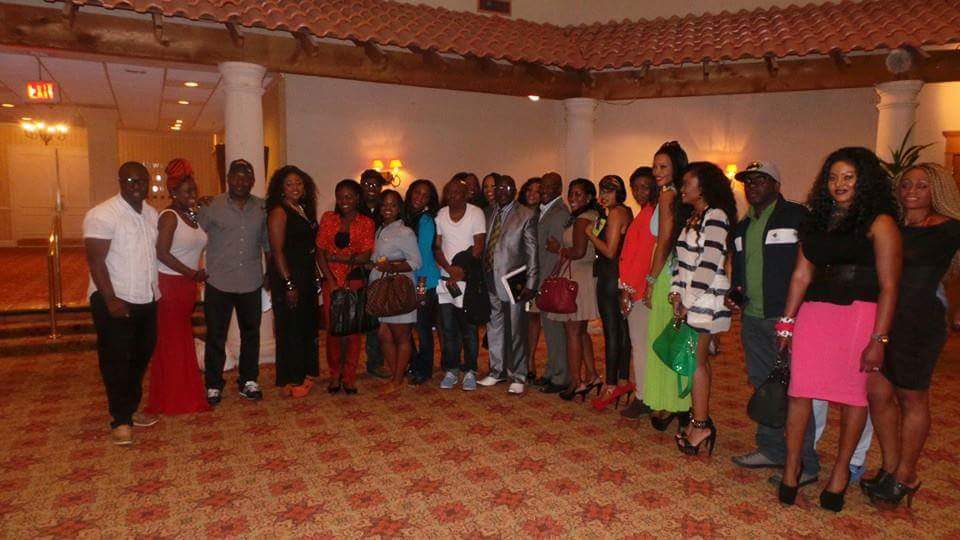 February 28, 2015 has been described as a Saturday to remember for Cameroonian movie actors living at home and abroad. Under the banner of the National Actors' Guild of Cameroon (NAGCAM), it is a day they have set aside to choose the ones amongst them, who will ferry the aspirations of the group to the greatest height within the film industry in Cameroon.
In Cameroon, the February 28 NAGCAM election has been the talk of the industry, perhaps because the actors' guild is the most vibrant within the industry, at least as far as ordinary observation is concerned. TIPTOPSTARS was told all roads will be leading to Buea's famous Hotel Residence Carlos, situated in Muea, venue of the elective General Assembly.
"We had some delays obtaining permission from the Buea Administration, but I just got a call that the file is ready and we can now secure a pass," Ala Leo, interim NAGCAM President told us, when we contacted the Bamenda-based actor who is at the head of the GA organization. "We are now set to go with the accord of the Buea D.O," Ala Leo went on.
The acting NAGCAM President however explained that the apparent silence of Moma Pascal (NAGCAM President said to have been deposed) and Otia Vitalis (actor and current Board chair of the Cameroon Film Industry, CFI) has a psychological toll on the group. "I have tried severally to reach both of them, but neither Moma nor Otia would pick up my calls," the NAGACAM interim boss reported. "Even when the Cameroonian Ministry of Culture asked us to have a meeting with Otia Vitalis, he would not,"
TIPTOPSTARS wrote to Otia Vitalis and Moma Pascal via Facebook for their reaction to the allegation, but by press time, both personalities had not responded.
According to the acting President, this however, hasn't stopped the NAGCAM elective GA from taking place. Reports indicate that actors Fred Takum and Kesha Kena are vying for the post of president of the NAGCAM.
In the diaspora, the same exercise has been billed for Saturday. Cameroonian actors, under the banner of Actors' Guild of Cameroon – USA are gearing towards having new leaders. "Preparing is going on smoothly. I have noticed a lot of enthusiasm amongst members," Mat Atugon, current acting President of the Actors' Guild of Cameroon – USA told this reporter. Logistically, all is set, the agenda is ready and venue for the GA arranged, Atugon reported. He further explained that a Constitutional Committee will be set up to work with the elected officials in view of adapting the NAGCAM statutes to suit the USA branch.
So far, Terence N. Limona has publicly declared his intension of becoming the USA branch actors' guild boss. Fondly called T-Boy by film industry folks, his candidature has already been endorsed by a good number of USA-based Cameroonian actors. It is little of a surprise. The Houston, Texas-based actor has demonstrated militated love and interest for film industry issues to the point where he is ready to bear every weight.
Talking to this reporter on the line to Houston, Limona said he was motivated to run for the presidency because he has come to terms with the fact that Actors' Guild of Cameroon – USA is an elitist group, with people who need to be considered as such. In such a group therefore, communication has to prevail, which communication, the young actor intends to provide through his leadership. "To that effect, we will talk, criticize constructively, bring forth development-oriented ideas and fix the basics that are required for us to advance as performing artists," he told us.
Limona told us that he will be encouraging his folks to do entertainment with a lot of fun, but committed to those things that truly define their careers, professionally speaking. To that effect, their rights as actors will not be joked with. "We will create a very professionally liaison between producers and artists and make sure excesses are thoroughly controlled," he explained. "We want quality work, either in the administration of the group or the performance we will be dishing out as actors on set." Limona went on: "I'll be a president with an open-door policy, accepting everyone as we share our goals in total trust of each other."
Limona, who is also a certified and practicing Accountant acknowledged that it will not be chocolate running the group from its top position. "But, we will achieve our goals if we work together," he cautioned.
Meanwhile, Maryland-based actor cum singer, Ntube McBright Powell aka B1 and actress Edith Pikwa are postulating for the position of Public Relations Officer (PRO) and actress/model Nathalie Bih has declared her wish to be the Cameroon Actors' Guild – USA Treasurer.
These elections (first official for the USA branch) come at a time actors in Cameroon are in dire need of branding following recent concerns that they are not creating any impact neither at the home front nor abroad. They have generally been acclaimed for their giftedness and brilliance in their performance, yet very little is known about Cameroonian actors by their country folks, let alone the rest of the world.
In a 2009 interview with Emeka Ike, one of Africa's movie acting legends, endorsed, Solange Yijika, Moma Pascal aka Bob, Lynno Lovert, just to name a few and told this reporter he was ready to work with them again and again. Other foreign actors have given their Cameroonian counterparts an excellent score, yet the latter have not progressed to the front seat of the bus.
Who has to brand Cameroonian actors? Is it the media? Is it the industry? Do the actors have to settle on self-branding? These questions have lingered around for so long and seem to be the most pressing issue at hand as NAGCAM goes in for election. Meantime, efforts are being made in the direction of branding with the creation and running of multiple social media platforms to sell the image of Cameroonian actors.
TIPTOPSTARS comes back to this story after Saturday's election.