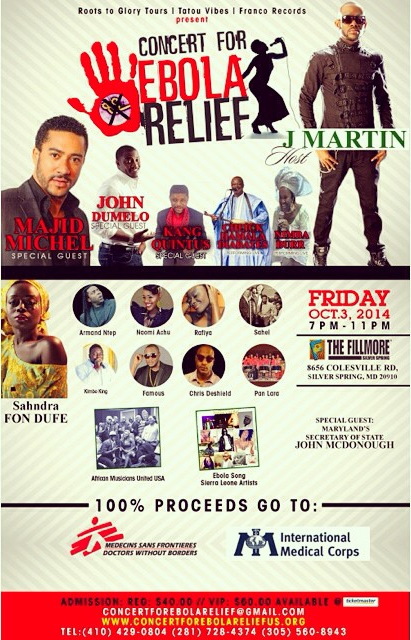 Scores of young African singers living in the United States and others visiting will be thrilling music lovers in Maryland this Friday, October 3 in a mega spectacle dubbed Ebola Relief. Jointly organized by Franco Records, Roots for Glory Tours and Tatou Vibes, proceeds from the event will go directly to the organized support for victims and countries suffering from the Ebola disease.

The artists signed up for the concert have been taking turns to promote the event on social media, urging the residents in and around the DMV area to come out en masse and show their support to victims of the health crisis that has hit parts of West Africa for the past couple of months.

Speaking in a promo video ahead of Friday's concert, USA-based Cameroonian rap star Naomi Achu and movie actress Taka Tanni have insisted they are part of the event not to make money for themselves, neither do the producers/organizers have any financial benefits at the back of their minds. "It's our own contribution towards helping the victims of Ebola," both artists said. The artists urged fans to come expecting to pay a fee since the raison d'etre is provide relief to suffering people.

Other artists programmed on stage include J Martins, Pbrodaz, Vreezy Ville, B-1. Ghanaian movie stars Majid Michel and John Dumelo are also expected to be at the "stop Ebola" event billed for The Fillmore, 8656 Coleville Rd, Silver Spring, MD, 20910.

About 3,338 people have been killed since the outbreak of the Ebola virus. According to a BBC report, five cases of Ebola infection are recorded every hour in Sierra Leone, one of the countries affected by the epidemic. Efforts have multiplied to combat the disease, especially in the diaspora.