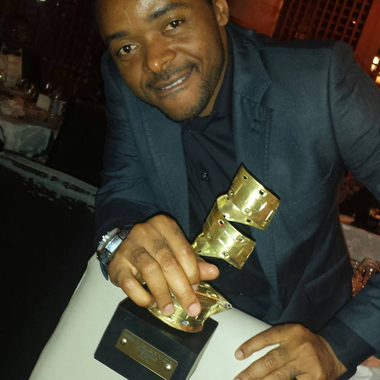 Someone confided to this interviewer that if humility and a good-heartedness were all needed to qualify a filmmaker/actor as the best, then Nkanya Nkwai is the best. His ever-smiling nature literally translates into his career which from every indication is growing richer and richer. As we write, the young Cameroonian filmmaker/actor is one of those the industry now depends on when it comes to quality work. His most recent movie VIRI is a true representation of this assertion. And even Nkanyaís recent recognition as 2014 best actor at the annual African Film Festival, Ecrans Noirs only comes to spice up his ambitions Ė getting to the apex of the art he knows and loves best Ė the seventh art. Soon after Nkanya lifted the trophy for the best actor at Ecrans Noirs, TIPTOPSTARS contacted him for a chat. In the following interview with Editor Ernest Kanjo, he talked about his reaction to this latest glory, his career and other things. We spoke to him while Nkanya was still in Yaounde. Excerpts!

Ernest Kanjo (EK): What was your immediate reaction when your name was pronounced as winner of the best actor category at Ecrans Noirs?

Nkanya Nkwai (NN): It was a gut wrenching form of excitement that rendered me bewildered. For one thing, I was sitting close to Epule Jeffrey, Desmond Wyte and Nchifor Valery who are some of the household names and most appreciated actors in Cameroon Film Industry. It became a difficult thing for me to see myself as a merited winner among them. Secondly, I didnít imagine myself winning the best actor in The African Guest movie. I thought it would be a more deserving award if it were for my performance in Viri movie. When I left my hotel room that evening, I thought if I were to win anything from The African Guest, it would be best movie award and from Viri it would be best actor, but it appeared I was naÔve. These reasons led to my difficult emotions that overwhelmed me at the pronouncement of my name as the winner.

EK: What do you think would have been your strong point that caught the juryís attention?

NN: The strongest point that led to this award is the story. The movie has a real story - actor plus goal multiplied by obstacle, written out of reality. The story is clear, creative and concise. That is what gave me an edge over great actors who were in competition. However, as an actor, I make an effort to interpret my character diligently and keep a high level of character consistency - and not try to impress. I think these are what make a story believable and thus a movie.

EK: Could you briefly describe your acting career Ė when it started and what inspired you into it?

NN: My acting career started in 2008 in Limbe. My inspiration came after watching lots of Nigerian movies over a decade, critiquing and imagining myself in some of the characters, etc. When I discovered a venturing movie making group in Limbe known as Sea-side movies, I immediately ran in for auditions. Of course, I was not the best, but I was selected as second up-runner and the director wanted the three preselected to come for rehearsals a couple times a week. After the first week, I grabbed the first spot and that is how I featured in Becky Diana which was my first appearance in a movie. Later that year, I travelled to South Africa for studies and for a year my movie activities were on a pause. A year later when I went to Europe to further my studies, auditions were made in our university for a play Ė The Crucible which was to be directed by Dr. Luttrell Briley Rebecca. I was the only selected African out of nine who went in for the auditions. The play featured nationals of seven European countries then USA and Africa, which was me. That was not only a come-back, but an opportunity to enter the real acting world. For the next two years while I was in LCC International University, I became a natural candidate for most plays done in our university like one of the Wisemen, one of the Shepherds, and at some point, I featured in a play in Lithuanian which was a language I could barely say good morning in. Later, I went to the USA and I started taking online studies on writing because I had started writing The African Guest before I discovered Boulder Digital studios from where which I benefitted quite much. I also attended a series of acting classes before the big thing happened - meeting Robert LaRue who has invested a lot in my career. We actually met on a movie set as fellow crew members for an Indie; Joshua Tree which won Best Director at Mexico International Film Festival this year. We later worked as co-writers and producers of The African Guest before I came to Cameroon where I have been active in the industry till now.

EK: Which are some of the movies you have featured so far?

NN: Far, co-produced by AGE and Cradle Rocks Productions Intíl, Bemsi by Itambi Delphine, My Gallery by Gold Age, Viri, The African Guest, The Crucible, If Jesus Would Be Born Today, The Walking Stick and Becky Diana.

EK: Who are some of the prominent actors you have worked with?

NN: In Cameroon, Iíve been privileged to work with actors of high repute such as Epule Jeffrey, Nchifor Valery, Desmond Wyte, Solange Ojong, Lynno Lovert, Stephanie Fonachi, Itambi Delphine, Alenne Menget, Otia Vitalis, Ebako Derrick, Adela Elad. These are actors I have learned a lot from. Now, Iím looking out for opportunity to work with other great actors such as Ivan Namme, Anurin A., Solange Yijika, Kelly Ade, Ruth Kwenti, Ernest Arthur Iyok, Moma Pascal, Libota McDonald, Syndy Emade, Ala Leo, Kwah Kingsley. The list is long. Cameroon has amazing actors. Out of Cameroon, I have worked with great Colorado-based actors such as Ketrick Jazz Copeland, Christina Berry Green, Daniel Seifert and Alfred Feraris. I have also worked with John Dumelo who is just amazing on set. Dumelo and Epule make acting so easy.

EK: To whom do you dedicate this award?

NN: First and foremost, to Tanyi Melvis Bechemyo, Eyikeshi Fred and Steve Kamdeu for their ceaseless support and encouragement especially during my most challenging times. Then, to friends and family who support me in this venture. Lastly, to those who criticize and challenge me - they have been very vital for my tenacity and self improvement.

EK: What is your next acting project?

NN: We have a couple big movie projects lined up for September which are going to be the next level in our industry and Iím so happy Iíll be taking part in them. We have Rose on a Grave by Syndy Emade, Smoked Screen by Ivan Namme and Night Fall which Iíll be producing. Iím training, rehearsing and meditating while I await these projects.

EK: What has been the reaction of Cameroonians to this latest victory?

NN: Well, it is difficult to know what someone else feels, but judging from most of my friends, I would say they received it with warmth and positivity. I equally know some might have been disappointed not because I won, because others they hoped would win didnít. I understand and sincerely share in their disappointment but that does not make me better. I won, but I do not I see myself as a better actor than their preferences but judging from the objective criteria that was put in place, certain conditions fetched more points for me.

EK: One last word for your fans?

NN: Excuse me; please I donít go by that sir. Anyone who makes that effort to appreciate what I do, such is my source of inspiration and deserves respected acknowledgement and the least I should do is qualify them as supporters and backers. My last word to them is thank you and they should know even the shortest man can see the sky.

EK: Thanks for talking to us Nkwanya Nkwai!

NN: My great pleasure Ernest and TIPTOPSTARS!