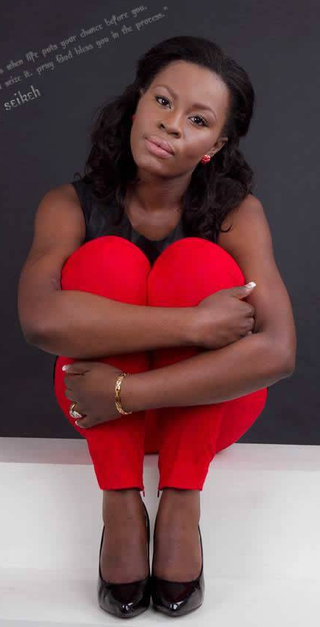 Within Cameroon, there are scores of performing artists who have won great admiration and recognition. A greater number of these artists have been Cameroonians from the French-speaking halve of the country, especially the ones who rose to glory thanks to the coming of independently-run television stations (Canal 2 International being a point in case). Yet, few, if not none, had created an indelible impact on the international front. Making a courageous headway at the international level would surely have sounded like a fairy tale to actors of the English-speaking divide of the country, especially with the knowledge that theirs was still a dormant story. If they hadn't made it in smaller Cameroon, would it be the bigger world outside? Such defeatist imaginations might have at some instances blown across Mbufung Seikeh's minds, leaving her with nothing, but a last aorta of hope for an eventual miracle. This hope might not even have existed prior to her filming of Ninah's Dowry. And even after shooting what is today Africa's most appreciated production, at least for 2013, the 1.69m-tall illustrious daughter of Bamessing (a village in Ngoketunja Division in the North West region of Cameroon) might not still have thought that the hope of the movie catapulting her to fame was necessary. One or two people around the actress might have prophetically foreseen something sassy coming Seikeh's way, but this needed to happen for the now celebrated actress to nod her head in confirmation. Still at that, the eventual outcome remained in oblivion until such oblivious reality finally became the brightest light. That light is what has shown the Linguistics (she minored in Journalism and Mass Communication) graduate the way to several recognition platforms. And even as we write, the lead character in Ninah's Dowry is yet to come out of the stupor of surprise. That red carpets are rolled for her is a great revelation. That her name is now sung like a sweet old song within the seventh art circles is an amazing tale in Seikeh's life. That she reigns top at continental level is a great achievement. Then, with the thought that things may never be the same again, Seikeh would definitely never miss a chance to pay tribute to Ninah's Dowry and the movie's author. Recently, the young Cameroonian actress flew to Ireland to be special guest at the Dublin African Film Festival where the projection of the award-winning Ninah's Dowry was top on the line-up. The Irish visit was the initiative of Africability (an entertainment promotion outfit) and one of its frontline promoters Diamond Ebs Esoh. While there, TIPTOPSTARS reached the new movie queen. On the line to Ireland the Mbufung Seikeh spoke to Editor Ernest Kanjo. Excerpts!

Ernest Kanjo (EK): You just recently visited Ireland as special guest to the UK première of Ninah's Dowry, how did the visit go?

Mbufung Seikeh (MS): It was wowderful! Permit me use that coinage. Though I missed the crowd at the airport, I still had a hilarious welcome. The euphoria was great at the hall of the film premiere. Let me say here Ernest that I enjoyed the treatment of a diva in Ireland and I must extend my sincere gratitude to everyone who turned out to welcome me. Special thanks go to Diamond Ebs Esoh. He is a great Cameroonian.

EK: Describe the reaction of the Cameroonian community when you just arrived and throughout your stay there.

MS: They were very welcoming and made me feel like a heroine. I felt royalty. Even elderly persons within the Cameroonian community in Ireland came out for me and for the movie. At the event ground, it was a come-and-see-like scenario. It was a whole hall that left their seats and came to welcome me at the red carpet. It was so touching. I quickly became emotional.

EK: While in Ireland, you watched Ninah's Dowry being screened entirely for the first time, were you amazed with what you saw?

MS: Surprisingly, I didn't get to watch up three quarters of the movie because every member of the Cameroon Community had a question for me before I got into the hall. On their part, the journalists would not let me go until I had satisfied their curiosity. By the time I got into the hall where Ninah's Dowry was being screened, the movie was already rolling towards its end. Well, for the second part of your question, I don't like watching myself because I always feel like I could have done better. However, Ninah's Dowry is the most professional project I have worked in and I'm proud it has made this change in the history of the Cameroonian film landscape.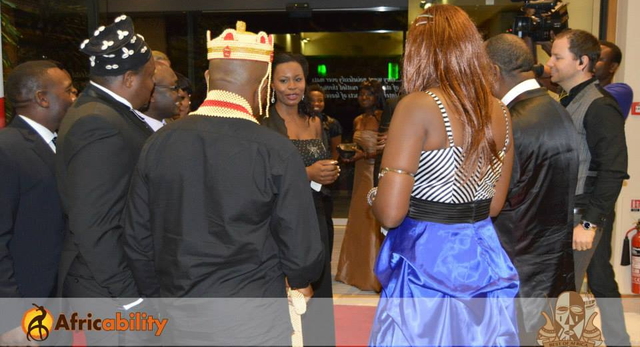 EK: What is it that marked you about the film, first as an actor and secondly, as an ordinary viewer?

MS: Ninah's Dowry has been an eye-opener. It has tutored me into professionalism. The director Victor Viyuoh has re-defined film in my mind. What marked me more was people's reaction to the film. When I got into the screening hall, I saw people crying after being moved by emotions. They were so concerned and asked me a lot of questions about the real Ninah and her kids.

EK: When you sit back and watch your performance in Ninah's Dowry, would you say it was that which would normally have fetched you the best actress award you have had severally?

MS: Sincerely, I'm still waking up gradually to that reality. Anurin, the lead actor in the movie and Willston kept telling me I was going to have an award for that character I played in the Ninah's Dowry. The director told me that they would just be just hanging on to the trail of my dress when this gets out. Well, I came to accept it and it was only then that I realized how much work we did.

EK: How would you assess the performance of the other actors in the film?

MS: Great! Great! and great!. You know I won't even be having these awards if they weren't great. Every other person in the cast gave it their best shot. Anurin did beautifully well - the kids, Norbert, Kingsley, Eka and the others had a palatable performance. Everybody was wonderful.



EK: Let me take you a back - tell us how you were contacted to do the lead character in Ninah's Dowry and why you decided to accept the script or be part of the project…

MS: Anurin called me on a day I decided to slot my sim card into my sister's phone. My own phone had been a little stubborn. For the few minutes I did, his call came through and there I was auditioning for the character Nicholine which was later changed to Ninah. Acting is something I'm passionate about. When Anurin spoke to me, I knew it was something serious. He is someone I have worked with for quite some time, especially in our varsity days and if you hear he is involved in something, go for it without a second thought - it must be something good. I didn't know much about the story until I was given the Ninah's Dowry script. It was professionally written and it was a great story aside from the fact that it was a true life story.

EK: After shooting the story, did you at any moment conjecture that Ninah's Dowry was going to turn out a big success as it is happening today?

MS: Deep down, I knew something good will come but this big…eeeemmm I could not have predicted. I trusted that this will be a milestone and that it will go far because it carries a message that cuts across ethnicity, race and cultures but trophies and nominations every month was not what I could quickly think about.

EK: What was your reaction when Ninah's Dowry won its first award and how have you been feeling after the numerous ones that have followed?

MS: When the director called and told me that I had won an award at the Fort Lauderdale International Film Festival, FLIFF I was speechless, yet humbled. I was happy with the feedback I got from Victor himself. People were able to relate to the story and kept asking me about Evelyne and the kids. That's the kind of reaction that makes me feel even fulfilled. All the nominations and awards I have gotten so far only make me understand that I was able to tell Evelyne's story in a way that every woman or human can feel her pain and understand her plight.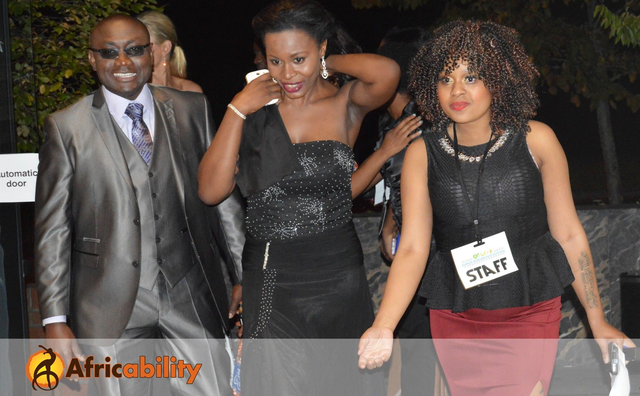 EK: What do you tell yourself each time you learn that Ninah's Dowry has been nominated or that it has emerged victorious again?

MS: well, I will say sometimes we do certain things and we are not sure if we did them right or wrong, but with the feedback we get each time the film premiere's plus the nominations and awards, I think I did something right this time. I only tell myself that with this, I need to work harder because with great power comes great responsibility.

EK: What have the people around you been saying – how do you manage the new status of stardom you definitely would have acquired?

MS: Most people who know me are surprised at my performance. They keep asking if that really was me, doing it the captivating way. Ninah's Dowry has changed my life. My friends encourage me. Well, thank God I have friends and colleagues who help me stay the pressure. Willston and Anurin have helped me out with this pressure, though the latter himself is pretty much in the same situation.

EK: After Ninah's Dowry, have you shot another movie?

MS: No, I haven't. I'm still anticipating a new project. Studies occupy most of my time now.

EK: What do you have to tell the team that brought you over to Ireland for the grand premiere?

MS: Wow! It's a lot of people to thank. I will like to express my appreciation to the Dublin African Film Festival and the Africability team for giving African films much exposure in Europe. They are actually giving us an international forum where we can showcase our African culture, promote the African lifestyle via a very innovative way as well as creating awareness and bridging the gap between the two worlds. I also which to appreciate Diamond Ebs Esoh, he has and is still doing a great job in exposing us out there. To the Cameroonian community in Ireland, I would say thank you all for coming out on that memorable day to support the film. My wish is that they get together and support Diamond Ebs Esoh in every little way they can. I would want to appreciate Tina W Helena Kambelle for being there at such short notice. She had to dress me up in her designs since Air France decided to bring in my luggage a day after the premiere. Now, I would like to say a special thank you to the Mbikakeu's family, my adoptive family in Ireland. They made me feel like family. They were awesome. Thanks, thanks a million to you all who loved me so much for your first time of meeting me. I'm marked eternally by it.

EK: You sure would have something to say to the director and producer of Ninah's Dowry…

MS: I would want to thank the director for believing in me and trusting Anurin's judgment that I could deliver. The director lifted me up with his bare hands. I am looking forward to working with him again and again.

EK: And to the rest of the cast and crew…..

MS: Hmmm! I would wish to say good job and thank you to the entire Ninah's Dowry cast and crew; it was a lovely experience working with everyone on set. It was family. We were a great family. Each time I get a nomination or an award, I think of all what we had to put into this to make it a successful project. It's my name and the movie's name they call but, it is our success, all of us. I would want to express special gratitude to Anurin Nwunembom, for being a wowderful colleague, coach and friend. It was really nice working with him again with him as co-actor. He made the job really easy for me. I'm looking forward to working with everyone in the Ninah's Dowry cast and crew soonest. Nkwah Kinglsey, Kena Nobert, Dianne, Eka, Adambi, Lucy, Hilarius, Jedi and Ancestor, please do not be offended if you do not see your name, these awards are for us all.

EK: What do you do apart from acting?

MS: I'm holder of a degree in Linguistics and would love to pursue my studies in International Relations. However, acting and I have an unfinished business…hahahahaha!

EK: Who are your role models?

MS: Angelina Jolie and Denzel Washington. And did you know Angelina Jolie and I actually have the same height…hahahaha! That's how big a fan I am of her.

EK: What Cameroonian traditional delicacy would you always love to be served?

MS: Achu

EK: Seikeh, thanks for talking to us.

MS: My pleasure Ernest! TIPTOPSTARS has been so productive, I wish you all the best.