If you have visited Belgium's metropolitan Antwerpen and haven't had the chance to watch The Brothers United on stage, then you have missed out on one of the things that make that city tick. You may just want to go back purposefully for that – and if you do, there is no way you would harbour regrets. Witnessing such a show is a great experience, just like The Brothers United itself is an acapella band to reckon with.

Since its creation, the acapella band consisting of five young Cameroonians has limited its activities to live music performance at community events and during Church services until consistent pressure from fans compelled it to get into the studio. Within the past coup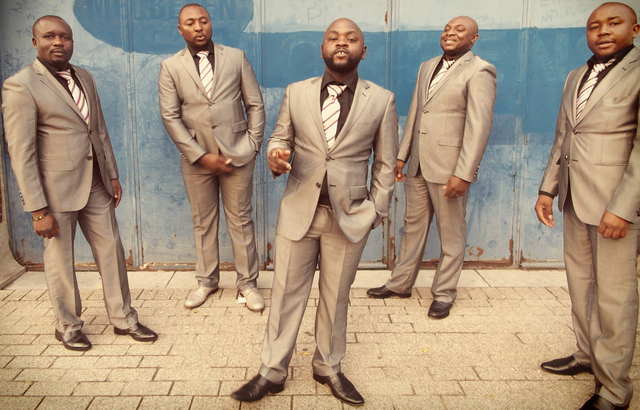 le of months therefore, Ngassa Winstin (The Brothers United band leader) and co have spent tireless days as well as sleepless nights putting the beats and voices together in what will later be presented as The Rebirth, a much-awaited maiden album. The album will officially reach the public in a grand launching billed for Saturday November 2, 2013 in Antwerpen-Belgium.

"It's not been a piece of birthday cake putting things together," Ngassa told TIPTOPSTARS. "However, we have gotten to where we intended when we launched this maiden album project and we are glad we'll meet the needs of our fans," he went on.

To the band's soprano guru, the new product is a diametrically opposite match to initial impression some observers held about The Brothers United. Said Ndamnsa Chepnjie: "They took us for crazy folks when we started this idea, perhaps because it was born from a snack bar. But here we are today with an album people would love to procure and jealousy preserve. It makes me a happy person."

For one thing, fans and potential followers of The Brothers United will have the chance to savour the seven beautiful songs that make up the album without necessarily waiting for the boys to physically make it to stage. That also means that the band's works will automatically be exported to other places for consumption.

Comprising of six professionally crafted songs, The Rebirth is an album gospel music lovers would bet for any time, any place. The album's hit track Take It To The Lord testifies to this. If faced with trials and tribulations the song proposes, take it to the Lord and leave it with him.

Created in 2006, the Brothers United band has been constant with its fast pace in ascending the ladder of greatness, gospel acapella wise. Songs by the band are done in several languages including English, French, pidgin (lingual franca) and mungaka (a Cameroonian mother tongue) with themes that revolve around faith in God. The band has transcended the African community boundaries and now enjoys the acclamation of citizens of the Kingdom of Belgium including the newly enthroned Queen who on the last lap of a Vorselaar (a locality in the country) visit as Princess, had a taste of what the five dynamic young men know best.

Ahead of Saturday November 2, 2013, The Brothers United leader hereby invites all Africans and non-Africans alike who would be in Belgium to make it a date with the band. "The launching which will take place at Mariastraat 10, 2160 Wommelgem, Royal Antwerpen Tennis Club begins at 8pm and will round off the following morning at 6," Ngassa Winstin announced. "Tickets could be gotten for just seven euros," he added.

These Cameroonian song ambassadors are poised to go places!