Sarah Batumbu is the name that will reign, at least for the next 12 months throughout Africa in the area of social development. The Cameroonian-born beauty queen has emerged as 2013 Miss Elegance Afrique. She was crowned last weekend in Belgium amidst great excitement from guests to the event which took place in the capital city of Brussels.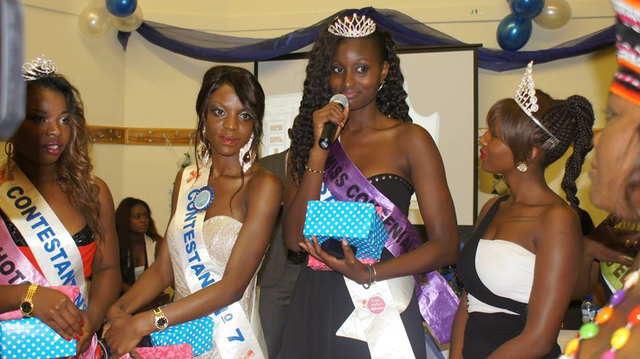 Picked from an armada of participants between 18 and 30 years of age and drawn from eight African countries, Miss Batumbu will have the herculean task of raising funds to support educational initiatives in Africa. She will be assisted in this huge assignment by Ingrid Diawara of Senegal, crowned Miss Congeniality and Vanessa Yindjeu, second runner-up who bowed her head for the crown of Miss Photogenic.


During Saturday's event, funds were raised, which funds will be channeled to Africa for projects in education. "Some one hundred primary school children in Cameroon have already benefited from our scholarship scheme and we would love to expand it and keep it going throughout Africa," Thecla Mbunwe, CEO and founder of African Beauty International, ABI (organizer of Miss Elegance Afrique) told TIOTOPSTARS. "With the growth of the ABI profile, we have been lucky enough to have some individual sponsorship and goodwill from well-wishers of the show. Some corporate organizations have indicated interest and are watching to come in at the appointed time," she announced further.

Participants to this enriching 2013 beauty contest came from Sierra Leone, Cameroon, the Democratic Republic of Congo, Congo Brazzaville, Senegal, Nigeria, Rwanda and Djibouti.

Present at the event were representatives from the embassies of Cameroon, Angola and Nigeria. The presence of Miss Ghana in Belgium added colour to Miss Elegance 2013.



Meantime, the Miss Elegance Afrique beauty contest is is designed to highlight and showcase natural African beauty with a purpose of to creating entertainment and at the same time raising funds to support education in Africa. It also provides a platform for young Africans living in Belgium to showcase their God-given talents especially in the field of music. Organizers say next year's edition will be more electrifying.