When this interviewer (then Editor-in-Chief of Among Youths) described him as an oral artist par excellence way back in 2007, in one of the best-selling editions of the magazine, Alenne Menget had not revealed all his skills. Today, the multi-talented young Cameroonian now stands tall as a documentary film producer/director and narrator you would fall in love with soon after savouring one of his works. Since we first spoke with Alenne, on his life as an artist, the Douala-based media executive has progressed ten folds, winning in every venture as he goes along. He has easily caught international attention and would be spotted partnering with several highly recognized projects including Planet Imageís Good Morning Africa broadcast daily on Africa Magic TV and Sama Ndangoís The Fix It Show. His own projects are just as brilliant as the artist himself. Alenne (musician) does not only sing, but does it well. Alenne (journalist) does not only cover news but reports brilliantly. Alenne (radio host) would not only talk, but would cause his listeners clinched to their radio sets. Alenne (actor) does not only deliver his lines accurately, but puts up an admirable performance on set. Alenne (MC) would not only speak, but would moved the hall. He has a voice that wins heart. We can describe Alenne further and further. Six years after Ernest Kanjoís first interview with Alenne, we went finding out what he has progressed into. He spoke on the line to Douala and for the sake of those who have never known Alenneís background, we began by letting him tell our readers more about himself. Excerpts!

Ernest Kanjo (EK): How did Alenne grow up?

Alenne Menget (AM): I was born into a very modest family but was privileged to have educated parents. Iím a true son of my father. I grew up watching my artistic dad play with words. Although highly literate, my father was amazingly down-to-earth and related well with people from all walks of life, regardless of their social status or other affiliations. He welcomed the homeless, including foreigners and that explains why there is a Menget surname in Ghana. My dad, in his linguistic and artistic nature unconsciously instilled in me a fervent love for arts and everything that goes with it. Iím and always will be proud of my up-bringing because it set the pace for the person that Iím today!

EK: What is Alenneís educational background?

Besides kindergarten and all, my education kicked off at GS Atuakom where I had my First School Leaving Certificate. I then proceeded to the very prestigious PSS Mankon for my secondary education, and later obtained my Ordinary Level at GBHS Bamenda. Two years later, I had my A Level at PHS Batibo. With the ambition to move further, I enrolled into the World Bank Institute where I read History, but all this is as far as formal education goes. The greater part of my education actually did take place outside the walls of a classroom, where I taught myself in the studios and newsrooms, and pushed my way up in the world of media and journalism.

EK: For how long have you been a journalist?

AM: My experience in journalism dates as far back as my teenage days when I was a major participant in my dadís radio programme on CRTV Bamenda known as Literally Workshop. At the tender age of thirteen, I was reading poetry, drama and prose for radio and by the time I was in Lower Sixth in 1994, I already had my own TV programme called Infortainment. This programme was aimed at informing and entertaining lovers of music by bringing updates on the lives of celebrities. Infortainment became very popular and put me on the limelight to the extent that in 1997, Michael Ndze, the then Station Manager of CRTV Bamenda signed me up to replace Divine Nchamukong on the prime time show, North West Family Show.

EK: What inspired you into journalism?

AM: Hahaha! Music was actually my first love. I decided to show some people my music skills for professional reasons. I studied journalism as a bridging course so as to be able to articulate my music career. Then I fell in love with journalism and it just kept growing.

EK: What are the media outfits for which youíve worked?

EK: In my university days, Wirsuiy Charles and I corresponded and started the Ocean City Radio in Limbe which also happened to be the first ever private radio station not just in Limbe, but in the South-West region. In a bid to expand our horizon, I moved to Kumba to open the Ocean City Radio but this did not materialize. I brought in new investors and we opened Lake Site Radio in Kumba, with my humble self as the manager in charge. Five years ago, I was called to Douala by the manager of DBS TV, Nyoh Moses and appointed Editor-in-Chief. All this was fun till last year when I thought it was time for me to focus on the bigger picture. It was then that I decided to concentrate and build my media company ATS production.

EK: How would you remember your radio days?

AM: My radio days were filled with glitz and glamour and above all lessons that I will keep for a life time. At the beginning, I thought I knew a lot but later realized I knew nothing. I was just the big hero who got carried away by excitement, to the extent that I stopped work and went for the praises. My voice fetched me scores of fans and that put me in a world of my own. I donít like those days because of the excitement both in my career and social life, but it was just the right platform from where to kick off. My radio days gave me the experience I have today but almost diverted me from my career. I do miss the microphone though. I will only talk again on my own personal radio station.

EK: What is your most memorable moment in your journalism career?

I enjoyed the coverage of the fiftieth anniversary celebrations of the independence of Cameroon. It afforded me a chance to socialize with fourteen African Heads of State and that was one of the highlights of my career. But the most memorable moment of my journalism career is when I did my first documentary in 2003. It was on the state of the road from Kumba to Ekok. It took my camera man and I five days to get to Ekok from Kumba, a distance of less than one hundred and fifty kilometres. I witnessed a decomposing corpse on my way to Akwaya, a situation caused by the bad state of the road. That documentary was never edited but the simple fact that I did it proved to me that with a little bit of effort, I could accomplish almost anything.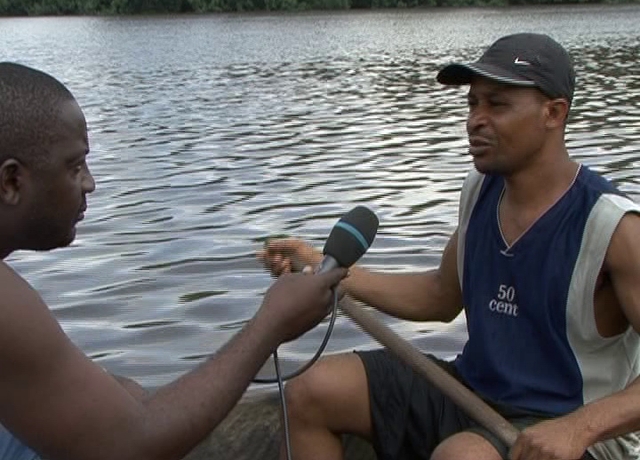 FILM MAKING

EK: For how long have you been a film maker?

AM: Since 2008.

EK: Which are some of the films your have produced?

AM: I have produced one home movie, a comedy titled The Return to Batibo. In addition to that, I have produced a number of others including The Semetery, Living on water, Come Rain Come shine, Clando, The Cameroon Mountain, Web city, Kalabout and 60 other documentary films.

EK: Have you ever directed a film?

AM: I directed all my products.

ALENNE THE ACTOR

EK: For how long have you been an actor?

AM: I first featured in a movie 2006.

EK: Cite the movies in which you have either starred or featured.
AM: Iíve been part of a couple of film projects such as Sacrament, Murder in the Police Station, Viral ad. I have worked with veterans such as Stella Damascus, likewise Abgor Steveís movie starring Jim Ike. Also worth mentioning is Return to Batibo where I did two major roles. I also did the yet-to-be released Pink Poison Re-loaded and a couple of others.

EK: How would you assess your career in acting?

AM: Iíd say it has been oK thus far. When we did Sacrament in 2006, a Nigerian, Ghanaian, Cameroonian joint venture, I was the protagonist. It brought me a lot of fame. I think I was the best in the country at the time but then, I dropped acting to pursue TV production training. Iím back and itís even more exciting but Iím still to get a good-enough role that will properly launch my come-back.

EK: What has been your memorable movie project and why?

AM: My first movie project the Sacrament still remains my most memorable. I was the then managing director of Lake Site Radio in Kumba and would always criticize Nigerian movies a great deal. I really used to dislike some Nollywood films and everyone around me knew it. So when auditioning for Sacrament came to Kumba, many wanted to see what the number one critique of Nigerian movies could do. I did it and became their hero. I love the experience!

EK: What makes Alenne a good actor?

AM: My versatility makes me an adorable artist. Iíve been able to stand out in diverse roles. The pastor, the gangster, the village headmaster, the elder, gateman, bush faller etc. More importantly, Iím the only Cameroonian who has done two major and opposite roles in one movie with different back grounds, voices and accents.

RETURN TO BATIBO

EK: Tell us more about Return to Batibo

AM: Return to Batibo is the first ever Cameroon pure comedy film. Itís a story that exaggerates the habits of the first Cameroonians who came back after a long stay in Europe and North America. The been-to as we refer to him in the movie, makes use of the valuable currency of his host country and brandishes untruthful stories to influence his home community to his gains. As usual women and weak men fall prey to his tricks until he is discovered.


EK: What inspire the movie and where is it circulated at the moment?

AM: I got my inspiration from this whole concept of bushfalling. I saw a lot of talent being exported out of Cameroon. I saw it as the second phase of slavery but this time, Cameroonians freely moving to do work for the white man. In the late nineties and early two thousand, the gap between Cameroonians in Europe, North America and Cameroonians back home was too wide. Ability was not seen talents in Cameroon. Thus, I wrote The Return Batibo to express my idea of building a Cameroon from within and exposing the exaggerations of bushfallers who came home making Cameroonians believe in non-existent things. Iím happy that the average Cameroonian knows the reality of what is going on with their brothers living abroad. You can grow from wherever you are if you work hard. Thatís the morale of the story.

ALENNE THE WRITER


EK: Tell us about your writing skills

AM: Writing is part of my talent. The truth is that you cannot be the true blood of my father and donít write. He wrote till his last day on earth. He even did the injury time publications when he was aged and got sick. Iíll never finish his unpublished works, the stories he recounted to me before my own stories. Thatís why itís easy for me to narrate documentaries, write news stories within very few minutes. I think Iím the fastest news writer amongst all I have worked with. I used to finish my story go home in traffic and call a colleague still writing the same story. Iím very creative and know how to play with words.

EK: What are some of the stories youíve written?

AM: My most intriguing story is the House of Cards which is based on local politics and back stabbing. I have others such as The University Professor which depicts part of the Anglophone problem in Cameroon, The Return to Batibo which is social awareness comic piece, The Bail. In fact, there are many and I wouldnít want to talk about all yet.

ATS
EK:The ATS is one of the leading independent audio-visual production outfits in the country today. For how long has it been existing and how did it come about?

AM: Hahahahahaha! Never tell anybody what Iím about to tell you. Iíve hardly told anyone the meaning of ATS, even on interview because of what we have become today. The name doesnít reflect us anymore, but I insist on the name because it tells the story. In the secondary school we lived under serious class distinction circumstances. I was a child of mere teachers but with plenty of talent and so I decided to tell all that talent and ability was stronger than background. Thatís how I became Alenne Too Strong, thus ATS. ATS Productions existed since 1994 and it was the name of my rap musical group. When I got to the University of Buea, I did many events under the banner of ATS, but only registered it as a company last year.

EK: What does ATS produce?

AM: We are an audio-visual production company specialized in the production of documentaries, movies, talk shows and spots. We produce billboards, do event management and other things. We also consult and help to set up private television and radio projects.

EK: How is ATS organized?

AM: The ATS Productions is a private limited company that is run from an advisory board with me at the forefront as CEO. We have partners in the USA. Fru Nicks is our main partner for this year. We are also partnering with Rainbow Limited Group, an international sports and entertainment group. We are working on many things. We have employees and our head office is situated at Rue de Galle, Akwa, Ancient Immeuble Elf, SEREPCA, P.O Box 533, Douala, Cameroon. Our telephone number is +237 33 08 81 51.

EK: What is your goal and vision for ATS?

AM: We want to do the best sports and entertainment Radio and Television in Africa. You shall see signs just very soon.

EK: One of the best things happening now in the area of documentary films is the ATS docs with Alenne Menget as main narrator. Could you tell us how this whole idea kicked off?

AM: Someone had to do it. I noticed how our media is not changing. Instead it is degrading daily. I decided to start producing programmes for TV, including documentaries. I started working with people on the documentaries and somewhere along the line I realized we didnít share the same vision. You would have noticed that I almost did all the work for our first thirty documentaries. From the back of the camera, writing, narrating, tape editing and financing was just my family and me. Today, the team is full again with people sharing the vision.

EK: Just how far do you take these docs to, any festivals?

AM: We decided to put our first set of documentaries on YouTube for free viewing. We needed a fan base and to let the world know we are able to do what we do. In a space of ten months, we have had more than sixty nine thousand views on YouTube with less than five hundred from Cameroon. The good news is that the national television has seen some good in us and will start broadcast of some twenty six of our documentaries very soon. We wanted to have about three seasons, comprising eighty eight documentaries before we go marketing and targeting festivals. Today we have over sixty and we are doing at least fifty two this year. We are also building a PPV, that is pay per view channel where our works could be watched in the near future.

EK: What has been the reaction from the audience?

AM: Part of our equipment is from our audience who have become our fans. We have never met some of them before, but they decided to support us. So you can imagine the impact our works have on the audience.

EK: What is the criterion for selecting topics for your docs?

AM: There are many stories in our country that are not documented. Most journalists are interested in what ministers have to say. We select social themes that affect human existence directly and investigate on them.

EK: ALENNEís STAR
EK: You always refer to your dad, of blessed memory as your star. Tell us more about John Menget whom you told me some time ago was your inspirer.

AM: I use to call my father, John because he was one of the closest friends I had. He died more than a year ago and every day I remember some of the wise discussions we had. One time, as a teenager I came home on holidays. John called me for a discussion. He told me there were two fools in our house and I told him that there were more than two. He said the fools he was referring to were him and I. I told him I was not a fool and he was very wise because many people came to see him daily for knowledge. He told me he was a better fool because he at least knew he was a fool and was learning every day, but my case was worse because I didnít even know I was a fool. That day change my life and from then, I knew even the mad man would say something reasonable and important. No one knows everything. Even your pet at home is saying something. There are many sure fools today who feel they know everything whereas they know nothing and canít learn because they donít know that they donít know. The best way of life is not to know so you can learn. John, my dad is no more but everyday he still teaches me how to walk just as he did when I was still an infant. Talks to your children so they may never realize you are dead when you die.


ALENNE AS CFI BOARD MEMBER
EK: You were recently selected to be part of the CFI board, what is your initial take on that?

AM: We need a more vibrant film industry in Cameroon. Iím sure your ears are on the ground. For just two weeks, the CTI new board has already gone places.

EK: What contribution do you promise to make to the development of the industry through this new function?

AM: Iím one of the public relations officers. We have already started. We will take Cameroon productions to the world through every possible means. Iíll be back to tell you what we would have done.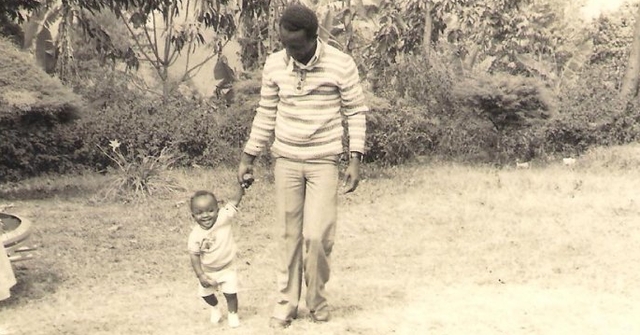 VISION
EK: What are your ambitions as a polyvalent artist?

AM: I want to take it step-by-step. The most important thing is that I know who I am and Iíve come a long way and now know how to manage myself. I know where I am from and where Iím going to.

EK: One last wordÖ

AM: If you discover that you are good in doing something, develop it. The government cannot employ everybody. You just need to know what is in you and you will make it.

EK: Alenne Menget, itís been a long one, thanks a million for accepting to talk to TIPTOPSTARSÖ

AM: Itís been a great pleasure Ernest, kudos for the great work you guys are doing.