Blessed are those who answered present at the Hotel Residence Carlos in Buea on Saturday November 17, 2012. For, they experienced wonders of the fast-growing Cameroonian film industry. The event was the highly publicized Hang-Out Party which culminated in the maiden edition of the Cam Movies Merit Awards.
There was pump! There was pageantry! To say glamour characterized the showbiz event is not an exaggeration. Once more (after Sama Ndango's Fix It Show), the people in front the cameras and those who play the game behind the scenes felt they were people who make things happen – they got the honour they have always deserved.

Even movie stars like Kang Quintus who flew in from Europe and others from the United States, Nigeria and South Africa had every reason to feel proud of bearing Cameroon's flag on the international front. To many observers, the party flashed a light of hope that the apex is closer to reach for the country's seventh art than originally expected.
TIPTOPSTARS saw them – the big names – Solange Yijika, Epule Jeffery, Nchifor Valery, Agbor Gilbert, peter Ndjodzeka aka Penjo, Alenne Menget, etc. That Mr Fix It, Sama Ndango came down from the UK for the event only went a long way to grace the Hang-Out and make it an event worth the salt. As usual the august UK-based guest was gorgeous in his outfit (as pictures on facebook already show).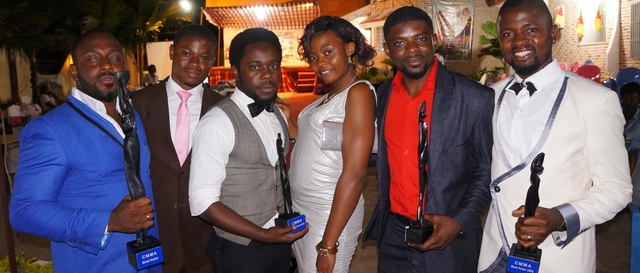 As if that was not enough, former Indomitable Lions goalie, the legendary Joseph Antoine Bell showed up to share his love with the screen heroes and heroines. Bell was in the right place, no doubt – the goalkeeper-turned media consultant is also an artist. Not only is he a writer (published a book last year), Bell is also a musician.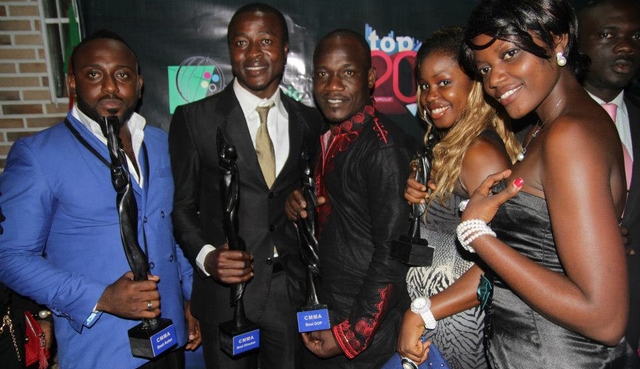 And so since Fred Kenyati and team (organizers of the party) have insisted they are bent on making training, learning and constant improvement in the art a main focus, their event had to have a component that sells this vision. That is why motivational talks constituted part of the event. In the first of the paper presentations, former CRTV journalist and editorialist Nyoh Moses who doubles as a cinema analyst, traced out ways of marketing Cameroonian movies. In another inspiring delivery, John Ngu in "Movies and African Development" looked at how the seventh art has and can still contribute to the development of the continent.
These keynote talks were watered down by soothing music and captivating dancing from some of the bests in the RnB/Hip-Hop genre – JOVI, Tony Nobody, Dr Sley, Stavo and a host of others.

But hostess Josian Ayafor (one of the best selling event communicators in Cameroon) had a bigger challenge – that of pronouncing the winners of inaugural edition of the coveted CMMA. They were however declared publicly and they each went home an award richer. Perhaps, actor Kang Quintus was the most overwhelmed. He was just fresh from two awards, picked up in the US and Europe respectively before being declared the CMMA best diaspora actor. Even her absence was not going to stop Taka Tanni from liking herself for having done it again. She must have shed tears of joys back in the US where she has been living for more than a decade now. She became the first CMMA best diaspora actress winner.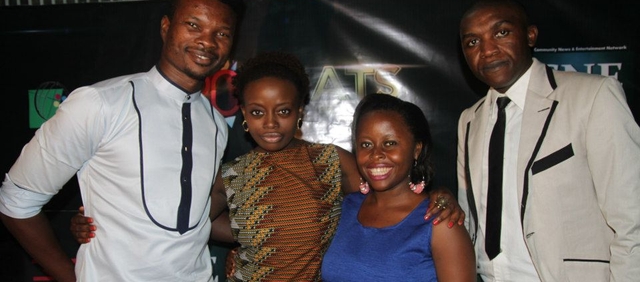 For Solange Yijika, it was a deserving reward. The star actress in Royal Destiny (one of her earlier movies with Nollywood actors) has been everyone's dream artist for quite some time. She won the best actress awards. Then, it didn't surprise any guest at the event when Epule Jeffery mounted the rostrum to receive the best actor award. The rising star has been writing some of the most beautiful pages that would be read on the Cameroonian film industry. "It's a good feeling. I feel like am being appreciated for work well done. I think actors and actresses have been given their due respect," Jeff, as the lead actor is affectionately called told us.

As the screen stars streamed out of Buea to start celebrating this end-of-year gift with fans and family members, one thing hovered in their minds – the country's film sector is making great in-roads and it is just a matter of time, juicier fruits would be reaped. However, none of them indicated they were going to lie on their laurels. "We are rather going to work harder and win more awards, after all, we chose to get into movies," one of them said.
Meantime, organizers of the Cam Movies Merit Award (CMMA) have already launched the 2013 edition by calling for film submissions. Here are some of the 2012 CMMA laureates:
Best Cameroonian actor in a lead role – Jeffery Epule
Best Cameroonian actress in a lead role- Solange Yijika
Best Cameroonian actor in the Diaspora- Kang Quintus
Best Cameroonian actress from the Diaspora- Taka Tanni
Best Cameroonian film director – Anang Johnscott
Best Cameroonian film director in the Diaspora-Akim MacCauley.
Best film editor – Achille Brice.
Best Cameroonian producer- Delpine Itambi.
Best DOP- Penjo Baba
PICTURES COURTESY PENJO , SAMSON T., FB