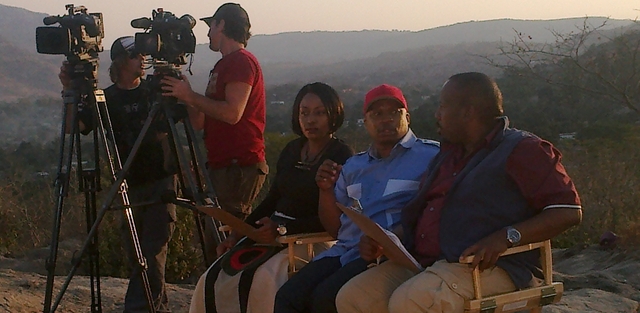 Show host Desmond (Centre) Dube and Show Judges, Thuli Mahlangu, (Left) and Timm Vellem (Right)

Those who have followed the development trend of television technology would agree with this reporter that South Africa is a force to reckon with. It is an indisputable fact that some of the best things that have happened in television have come from this country. Then, that some of the people behind the scenes, making this industry tick are Cameroonians is what makes the story even more exciting. A good number of Cameroonian film makers involved in TV production in South Africa are creating a mark. This leaves observers with the belief that they are eventually going to become some of the best people making things happen in South African television.

Results sequence being filmed in Hammanskraal
One of such Cameroonians is Solomon Atah whose handiwork is the reason millions of viewers have switched to ETV and made 1pm on Saturday their prime time. At that time, their now much-cherished reality show, Jack Up Your Shack, JUYS comes up with exciting sequences that thrill them. JUYS is a contest on home renovation, which pits families with the winners bagging up to R20000 worth of building materials to renovate their homes.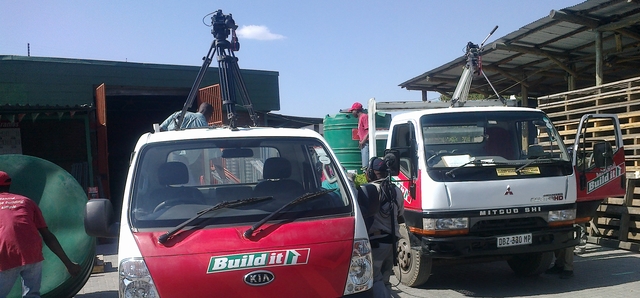 Running timelaspe cameras as families collect building material from Build It
According to JUYs' production manager, families whose homes needed renovation were selected through a vigorous process. For six weeks, a huge crew including hosts sojourned South Africa and even Namibia shooting. "I helped to coordinate the smooth running of all facets of the production process, ensuring that crew, cast, contestants and the sponsor worked seamlessly," said Solomon Atah. "All along, we brought exciting surprises to viewers, inspiring them to consider home renovations by themselves," he went on. During initial contacts with shortlisted families, the producers of JUYS report that they the visited more than (30) families from whom the finalist were selected.
Judges inspect the house after completion by family members
Conceived and directed by Lee Doig, Jack Up Your Shack was filmed between July and August 2012. The show is sponsored by Build It, a South African building materials' supply franchise company. Observers believe it stands out tall among home renovation TV shows produced in South Africa.


Filming a public vote plea from winning family in Windhoek Namibia
"Unlike other home renovations show where the families are taken away and their houses are renovated for them, JUYS goes further allowing the family members to do the work on thier homes themselves. This becomes the niche element of the show concept," Solomon Atah explained.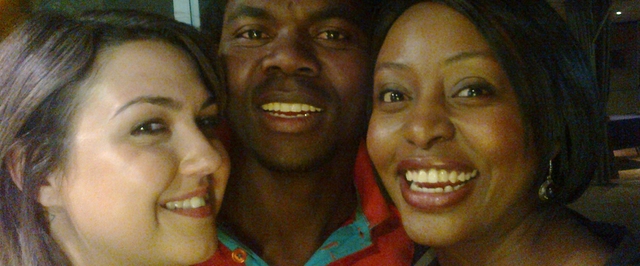 Left to Right – Sandra Govedarska ( Stylist) Solomon Atah (Production Manager) and Thuli Mahlangu (Interior Designer Judge) at wrap party in Namibia
"This means that after the show is done, the family members can look at their work and be proud to say they did it by themselves and everyone of them would have had a role in making the renovation a dream-come-true. "JUYS also cements family bonds as they work together to achieve the tasks," the filmmaker explained further. The show runs till December 31, 2012.