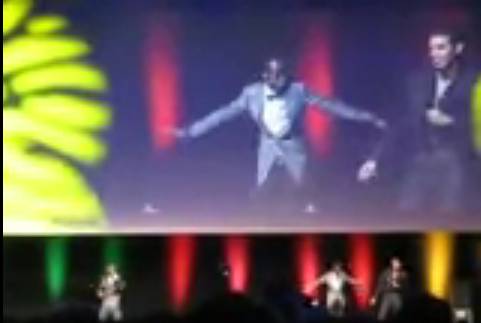 Guests (from other African countries living in Europe and America) to this year's Challenge Camerounaise, CC apart from the spectacular sporting events are going home with Fingon Tralala and X-Maleya on their minds. "Their performance was such that one cannot forget so soon," a showbiz fan and 2012 CC participant told TIPTOPSTARS as she left Stuttgart Monday.
The comedian and the music group had respectively staged thrilling performances to entertain thousands who showed at the event. Fingon is reportedly said to have dished out volumes of stand-up comedy, leaving his audience at long-lasting laughter moods. As if that were not enough, the popular comedian (also a spectacular singer and dancer) performed a series of songs during which he danced skillfully, attracting thunderous applause. This happened at the CC's Open Air Festival and the Gala Night.

On their part, the X-Maleya lads sang and danced to the tune of their beautiful and popular tracks. The climax came when Roger and co introduced partying CC guests to the dancing floor with the famous Tchokolo track. The entire hall was on its feet. "It was indeed great fun and I enjoyed every moment of the show," our German-based friend indicated.

Meanwhile, bikutsi singer Jocelyn Biz-ar , put the crowd in a dancing mood with her captivating tracks the open air festival and disco Night . The Open air Festival moderated by budding Cameroonian Artist and host Menoosha portrayed an ensemble of colorful Cameroonian Fashion ,Traditional / Religious music , Hip-hop and rappers shows during the 3 day event . Various DJs – took turns to give the audience the necessary satisfaction.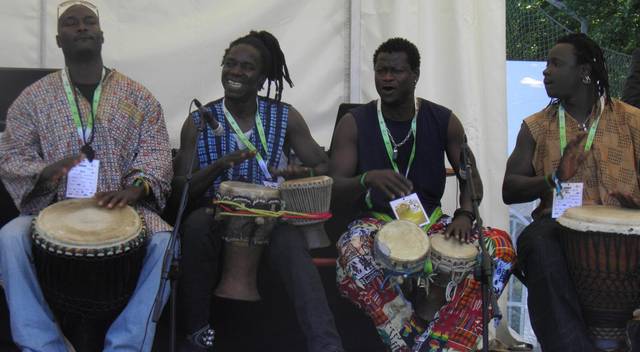 Traditional dances from Cameroon's Western region and Mali graced CC 2012 with loud-sounding drumbeats during the opening and closing ceremonies.The Group Elongi Graced the closing ceremony with the challenge Anthem. These choreographic displays gave the event a good coloration.

On the sidelines of CC 2012, Cameroonian traditional Gastronomy and delicacies were exhibited for savouring.

The Challenge Camerounaise, is a highly reputed socio-cultural event that place in Germany annually, for 20 years now. TIPTOPSTARS will be coming up with exclusive Pictures and videos of the events