News /
Latest /
Wednesday, 23 May 2012 12:11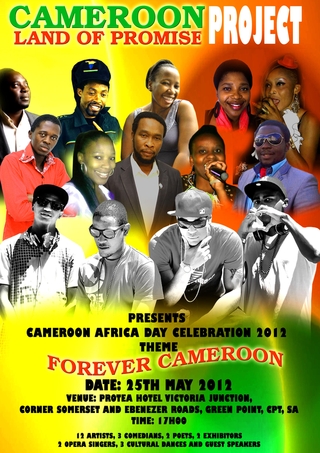 Skeptics to the fact that Cameroon is a miniature of Mother Africa are undoubtedly going to be righted soon after 25 May 2012, when what has been described as a showcase of the country's glittering cultural heritage happens. The South African metropolitan city of Cape Town will be the place. On the said day, mini Africa will be celebrating the continent in the way she knows best – music, dance, poetry, comedy, fine arts exhibition, etc.
Reports say Cameroon Africa Day Celebration will be marked by live song performances expected to attract mammoth crowds. Next to this, spectacular traditional dancers will use their captivating styles to thrill spellbound audiences, just as performing poets are expected to recite salient messages on enviable African values into fans who will show up. Fine arts practitioners will surely rain emotions across visitors to their installations, when they exhibit paintings which will certainly put Mama Africa as topmost celebrant. At the same time, comedians signed up for the event are expected to do their thing, but this time in a special way that befits Cameroon Africa Day, an initiative that is already applauded by lovers of the country affectionately known as Africa in miniature.
According to Solomon Atah, Founder, of Cameroon, Land of Promise Project
and brain behind the up-coming event, Cameroon Africa Day is aimed at unveiling his country's rich cultural package to other African communities in the southern tip of the continent. "We got quite much to show the world and it is important that occasionally, we come out and display this God-given wealth," Atah said. The culture promoter and filmmaker who also writes for TIPTOPSTARS expressed deep appreciation to his host country for providing opportunities for Cameroonians to showcase their artistic skills. "For over a decade living in this country, we have enjoyed the freedom to do this and it's also my pleasure to rally the people of Africa together for some required entertainment and fun," he added.
The founder of Cameroon Land Of Promise Project further announced that artists from other African countries including

DRC, Nigeria, Angola and South Africa
will be showing solidarity with their counterparts from Cameroon at the august event which is in its maiden edition. Prominent amongst them will be opera singers Pisto Msongelwa, Sandile Kamle, Cindy Manciya and Portia Shwana.
As George Arrey (semi-finalist of the 2010 South Africa's Got Talent Show) thrills hundreds who are expected to show up for the event, guests to the Protea Hotel Victoria Junction, Green Point (venue of the event) will be treated to an intellectual discourse to be delivered by Professor Charles Wisonge of the Faculty of Health Sciences UCT. "He is a guest speaker one cannot afford to miss," Atah confirmed.
The various shows and sessions will be free of charge and the public is invited to attend massively to discover what Cameroon has in store. Atah would howver urge potential guests to the event to reach him or his organization via telephone (+27 73 517 6726) or facebook (Cameroon Land Of Promise Project) or Twitter (@SolomonAtah.) if they needed details of Cameroon Africa Day Celebration.
The event comes two months before a similar one, Cameroon Entertainment Awards, CEA billed for the USA and also meant to celebrate the country's wealth of talent and rich cultural heritage.
Last Updated on Monday, 04 June 2012 10:53