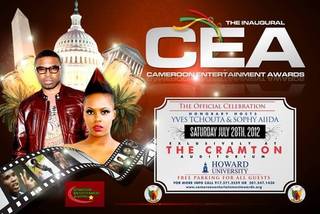 The Executive Producer of the Cameroon Entertainment Awards, CEA has discarded rumours of results fixing, currently circulating in and outside Cameroon. Speaking to TIPTOPSTARS from New York yesterday, Maybelle Boma expressed her disappointment that such rumours should coming at a time she and her team are spending sleepless nights to make sure the event turns out to be complete success story. "There is no such thing as results fixing going on and we are going to do everything to halt any such move, if ever there are attempts," the visibly touched executive producer said strongly. Maybelle went on: "We did not create CEA to turn around and destroy it when the event is yet to happen, unless we are taken for clowns."

Maybelle insisted that the organizing team hasn't got access to the electronic vote control mechanism which is the preserve of the webmaster. "Then how can we manipulate votes?" she questioned. And emphasized further: "By the way, we have been more concerned about working with our sponsors and potential sponsors for the past couple of weeks than on votes which is not the main concern of the executive producers for now."

For one thing, the New York-based Cameroon entertainment promoter, herself a singer indicated, CEA is a Cameroonian event by Cameroonians for Cameroonians. They have the right to enjoy meritocracy and no one should tamper with this. "Winners are not supposed to be Maybelle's friends, but artists who merit winning," she said. "We do not want to have winners who cannot deliver the goods and rather discredit the event, so it is the votes of the people that will prevail,"

The CEA executive announced that in the coming days, measures to prove transparency will be taken and made public so that fans can feel secure to vote their stars. She regretted the inconvenience this might have caused but urged Cameroonians to continue believing in this great vision.

Meantime, behind-the-scene preparations are going on ahead of the July 28 event programmed for the Cramton Auditorium, Howard University in Washington DC. The event has been endorsed by several top officials including the Cameroonian Ambassador to the US the Minister of Culture Ama Tutu Muna who has held talks with the executive producers to that effect.

Several renowned artistes are lined up to perform at the event. A list of those artistes will be yours on TIPTOPSTARS in the coming days.

The CEA was initiated to ferry Cameroon and its entertainment industry across to global recognition. It is going to be an annual rendezvous.