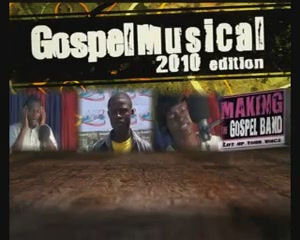 That Cameroon is the new nursery for potential mega stars in gospel music is no longer news. Yet, it should not be taken with a pinch of salt, for, it goes beyond just producing big names and explosive albums. Rather, the Gospel Musical 2010, an initiative of the United Crusade Team for Jesus (UNITEJ) and Dream Foundation (civil society organization) is fixed on giving songs of praise a new twist.
The Gospel Musical 2010, a project aimed at selecting five young and talented singers which has been ongoing since September 2010 has entered its last phase with 20 candidates already drawn to camp in Yaounde. The ambitious youths are vying for five prestigious places in what is going to be one of Africa's most explosive Gospel Bands in recent years. The 20 are drawn from four regions of Cameroon (North West, South West, Littoral and Centre), after song contests organized in each of these places.
Now converged on Yaounde, the pre-selected candidates are bracing up for a TV contest from where their fans will be expected to vote them to victory. Recording of the TV reality show to be broadcast by State-run CRTV and other private channels is scheduled for Sunday 23 October in one of Yaounde's befitting hotels.
According to the coordinator of the Gospel Musical 2010 project, Papa Rolland Dipita, a maiden album with 15,000 CDs to hit the market will be produced. The proceeds will be channeled to the artistes who must find a livelihood from the wonderful gift God has embellished on them. Said Papa Rolland: "We think the time has come for young and talented gospel singers to be identified, projected and given the opportunity to use their God-given skills to put food on their table." Also speaking at a press conference to present Gospel Musical 2010 recently, the coordinator explained that the initiative was equally aimed at encouraging decency and faith in God among singers. "They must not think that to be successful musicians, they have to go on stage half-naked or dance indecently," he emphasized. Papa Rolland challenged potential singers when he mentioned Tony Braxton, Sisqo, R. Kelly and others whose background in the art is Christian.
To Odile Ngaska, the Board Chair of SOCAM, the Cameroonian corporation in charge of copyrights issues, the Gospel Band in gestation will come to add to what has been going on for quite some time now. Ngaska who doubles as a gospel music artiste prided that such an initiative was coming to add meaning to a genre (gospel music) often relegated to the background, perhaps because of ignorance. "Music was created by God for God," she said. Add asked: "Who therefore are you singing for if not for God?"
Back in camp, the young boys and girls have been nursing hopes of becoming the pioneers of this much-talked about band, said to be going international as soon as it sees the light of day. "My conviction brought me here. I'm quite convinced I'll make it and know that my soul-searching voice will lead me through," Philipo Samsino, representing the Centre Region told TIPTOPSTARS. The 26-year-old singer, a student of the University of Yaounde I said it was time to bring out what God had deposited in him and he was thankful to the organizers for such a wonderful opportunity. "It's a unique and exciting experience," the 1.75m-tall singer revealed.
To Achu Joan, 20, it was one of the big opportunities to praise God and even if she was not going to emerge among the top five, she was ready to pray for the project and those who would have won. "I have done back-up for several artistes, but do think my place is in gospel music," the 1.70m-tall University of Buea Accounting graduate told us further.The Limbe-based singer however hopes she will grab more votes from the public.
On her part, 22-year-old Jeanna Ebangha from the South West Region revealed that she didn't believe in herself until she qualified for the last phase of Gospel Musical 2010. "Now I know I can make and I'm quite confident," she said. To the University of Buea Law graduate, she is meant to sing and touch people's lives and would be very privileged to be part of the 'Golden Five' in the making.
Meanwhile, coach Achalle, has been having a new experience training budding singers for a challenging music project. ''It's really been exciting and I must say I enjoy doing it," the pioneer winner of the Stars de Demain song competition told journalists in Yaounde.
The Gospel Musical is going to be an annual event. It has brought on board experts in music and renowned production outfits including the Bright Phase, Emile Ngumba , Weg Muller Ikome, Njukeng George, Steve Micky and the Buea-based M1 and Blue Drops Studios.