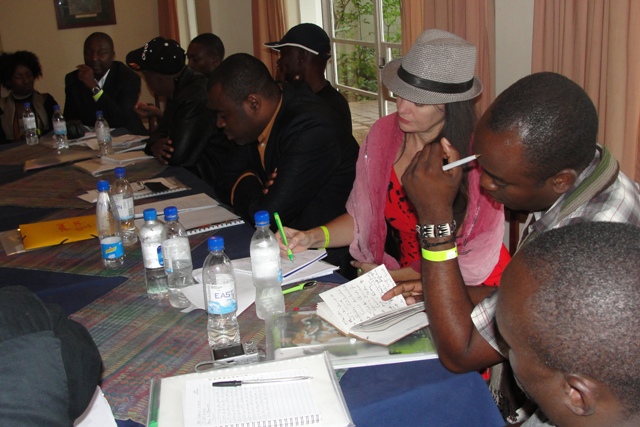 For the first time, a network for arts journalists in Africa will exist. AAJN, African Arts Journalists Network will go operational in the coming months, to cater for the professional needs of the practice of arts reporting, generally relegated to the background.
Meeting in Harare, Zimbabwe, over a dozen and a half arts journalists, coming from across the continent have laid the ground works for the eventual kick-off of the network. A task team has been set up to prepare the requirements for an official launching of the body, expected to give arts journalism a new boost.
In various sessions, the media persons diagnosed the ailments, pinning down the practice of this journalistic genre, to be able to project into possible ways of making it more palatable and acceptable. They all reported that in their various countries and newsrooms, arts reporting was not only relegated to the background, but those practicing were to a great extent deficient, as far as knowledge of the various artistic expressions was concerned.
This, they all agreed had been impedimental on the quality of reporting dished out to the audience. Such challenges could only be dealt with if AAJN, after its birth, embarked on training, sharing information and experiences, lobby for and defend the interest of arts journalists, recognize and encourage excellence and press for the respect of professional ethics.
While working on the AAJN strategic plan document ahead of the network's eventual launching, the pressmen hope this initiative will go a long way to change the current erroneous perception of arts reporting. "We will have to lobby for recognition and support at major summits, why not?" said Chris Kabwato of the South Africa-based Reporting development Network Africa, who was facilitating the sessions.
To Bicaba Ismael, arts journalists from Burkina Faso, AAJN is a welcome move. "I predict a bright future for arts journalism whereby the continent's rich cultural heritage will be valourised through what we do," he told TIPTOPSTARS.
Meanwhile, Arterial Network, one of the continent's most active promoters of culture has acknowledged it was necessary to give birth to AAJN. Explaining why the organization has lent its full support to the creation of a such a body, General Manager Belisa Rodrigues said arts reporting was an aspect of culture usually neglected, despite its importance. "We think freedom of expression is primordial. AAJN should be independent and even have the latitude to be critical of Arterial Network," she pointed out.
The AAJN preliminary sessions took place side-by-side activities to mark the 2010 edition of the Harare International Festival of Arts (HIFA) that attracted thousands of visitors into Zimbabwe's beautiful capital city.