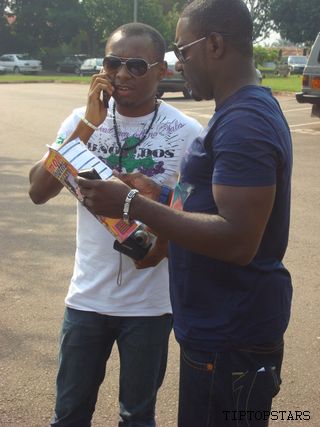 Another Cameroon-Nigeria co-production is at the corner. A movie, whose title is yet to be chosen will be served lovers of home video in Cameroon and beyond in the coming months. The movie, starring Nollywood's Jim Iyke and Zack Orji and Yimbu Emmanuel and Quinta Eyong of Collywood will be shot this month in Bafut, Mezam Division of the North West Region.
According to the producer, Agbor Gilbert, the movie will unfold an exciting Bafut folkloric tale which will surely attract the attention of viewers. "That is why we have chosen the Bafut Palace as the main location," he told Tiptopstars.
Agbor has been in Bafut since last week, negotiating the location with Fon Abumbi II. The traditional ruler, according to the renowned film producer, is quite pleased with the project which will go a long way to market the cultural and tourist potentials of his fondom.
Several other rising actors and actresses have expressed desire to feature in the movie. But to Agbor, they must go through an auditioning, billed for 12 March in Bafut.
The movie comes after two others by the same producer; Before the Sunrise in 2005 and The Blues Kingdom in 2007.
Agbor Gilbert who is gradually making headway into the international scene is famous for nourishing the now healthy partnership between the Cameroonian and Nigerian film industries. He has also posed as a great link between Cameroon and Africa Magic, the famous South Africa-based Pan-African entertainment channel. This has fetched him several awards, including a recent one from the Cameroon Film Industry (CFI).