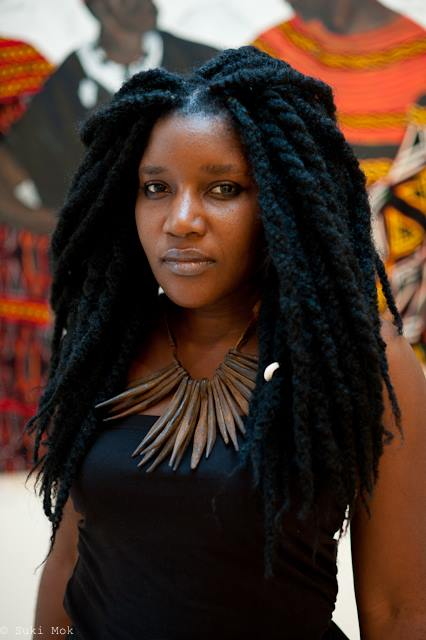 That Shiri Achu is gifted in translating daily life into meaningful painting is no doubt is a perfect reality! Her paintings may not be like the sound-producing guitars, pianos, saxophones, trumpets, etc, but in their silence, they sound louder than these musical instruments. It suffices to be exposed to them and this conclusion is drawn. "I had never fallen for work of art the way I did when I first came across Shiri Achu's paintings," a London resident of Cameroonian origin told TIPTOPSTARS at press time. "I only recovered from the fit caused by the beauty of Shiri's art after I had left the exhibition ground," she explained further.
That is the impact Shiri Achu Art is known to have on its audience/consumers. It is the same effect 35 In Print, the latest collection is expected to have when it is exhibited from April 19 to April 25 this year at The Strand Gallery in London. "I'm not only anxious, but so excited because I know exactly what we are going to get as a treat at the weeklong exhibition," the London fan said.
Meanwhile preparations are heating up ahead of the art exhibition organizers say would not only consist of sight-seeing, but would offer the opportunity for visitors to purchase and even win signed limited edition framed prints worth 250 Euros. The weeklong exhibition will also be spiced by music, organizers have announced.
It should be noted that Shiri is a sibling to Naomi Achu, renowned USA-based Cameroonian Rap artist. Just like her musician sister whom Afrikka Radio's African Cocktail received some time ago, Shiri Achu will be main speaker on the show any time in May, 2014. Then, she will be expected to tell her story in-depth.
Read details of the 35 In Print art exhibition is the following press release delivered to TIPTOPSTARS from the Shiri Achu Art Communication Department.
---
Shiri Achu Art Exhibition; 35InPrint: London
19th - 25th April 2014
The Strand Gallery; 32 John Adam Street, London, WC2N 6BP.
Private view/Opening party; ON; Saturday 19th April 2014; FROM; 6pm-10pm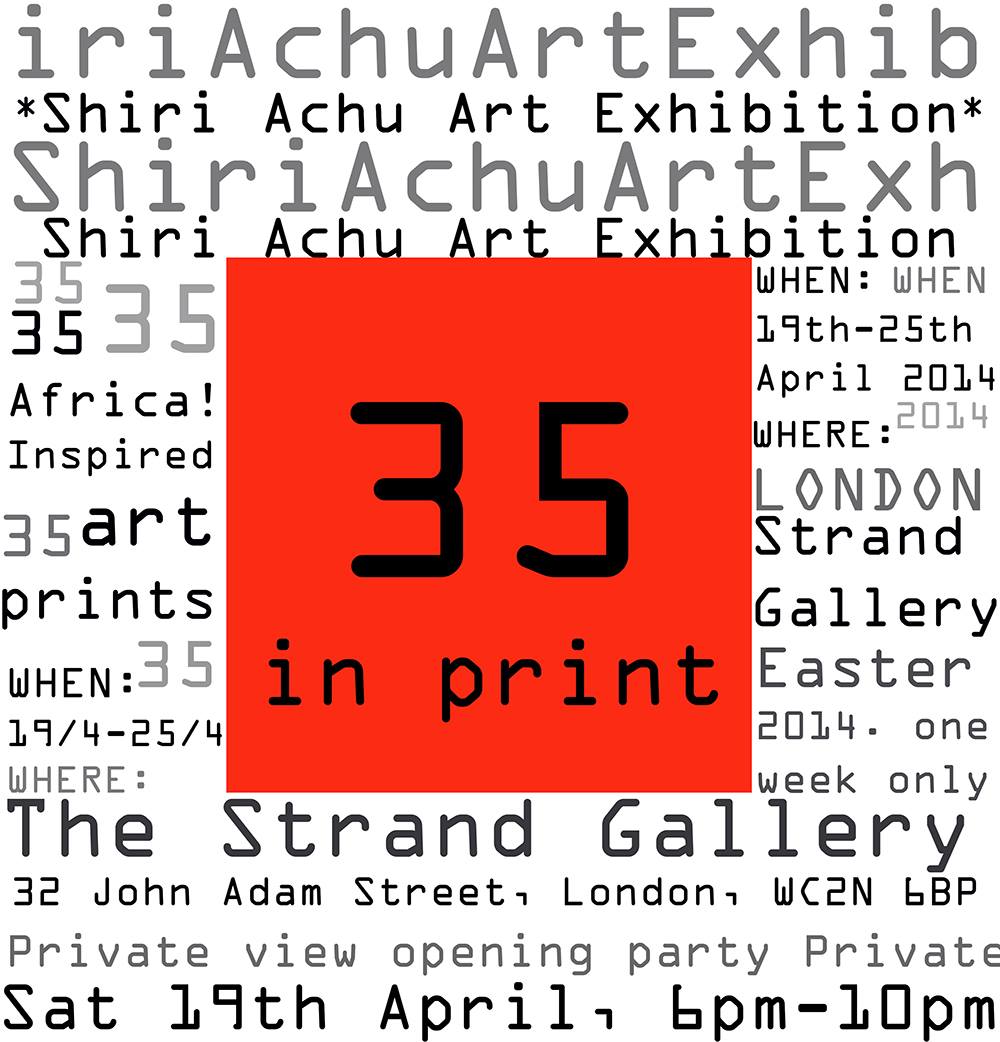 Shiri Achu's art comes from everyday, unsurprising yet unexpectedly vivid moments, times, places and objects. She seeks to capture the spirit of her subjects and make them come alive through form, colour, texture and tone. She draws insight from her travels but in general her inspiration is very broad; from natural moments captured in Africa to still objects, from the human form to the human in action; etc

Ever increasingly so, one of the aims of Shiri Achu's Art is to showcase the African cultures worldwide. She finds beauty in the woman carrying her child on her back and going her way, She finds beauty in the old lady who makes here 'achu' in her dark outdoor kitchen for her grandchildren, She finds beauty in the African fabrics, she finds beauty, envy even, in the young girl climbing the tree!! So she paints these images. For her, they are beautiful moments and for that moment, whilst she works on that piece she buries herself in the story and in the culture.

It's been 5 years since Shiri Achu's first solo exhibition held at St Augustine's tower in Hackney. Since then she has been given the award of 'The best Artist in Brent' by the Brent Council, London and has been fortunate to have exhibited in various exciting places/events/ cities. These include; The Commonwealth Secretariat, The houses of Parliament and The Olympic African Village. Cities include; Adelaide, Lisbon, Barcelona, Amsterdam, Las Vegas and Chiang Mai to name a few.
As well as exhibiting, Signed Limited Shiri Achu Art Prints can be bought at The Smithsonian Institution & The National museum of African Art in Washington DC USA and can also be purchased from Naprstek Museum of Asian, African and American Cultures in Prague.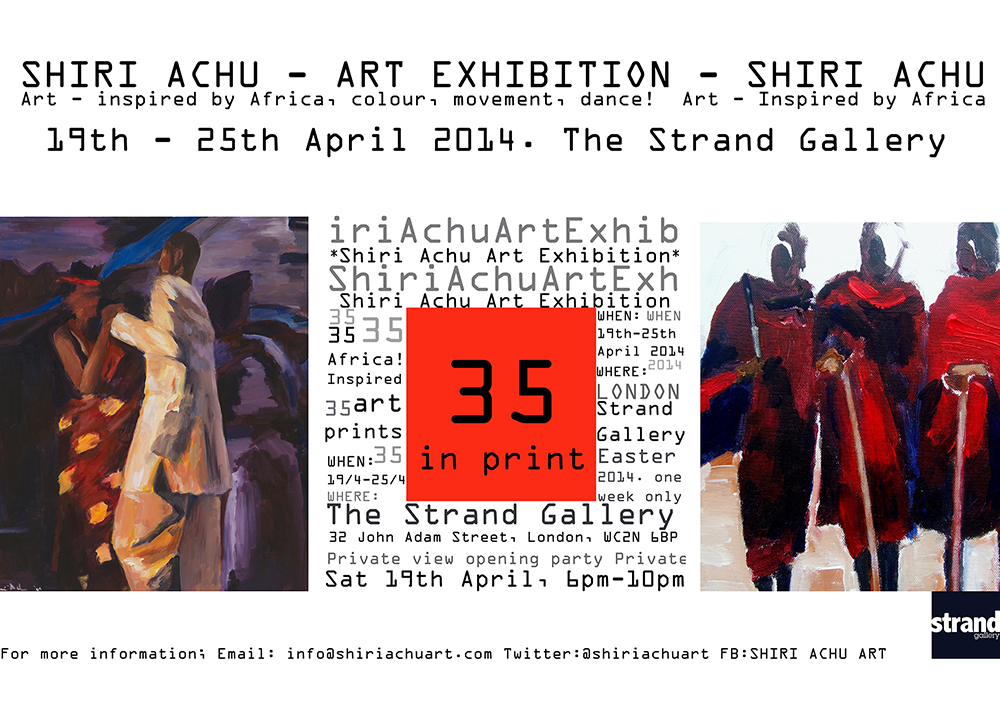 Shiri Achu Art has also been featured in the book ''International Contemporary Masters VII' (Published by World Wide Art Books) as well as in numerous magazines, blogs, TV shows such as BBC TV Show 'Show me the Monet' Series 2.

Today, Shiri Achu is excited to present to London, for one week only '35 In Print: London'.

The exhibition will largely consist of 35 Framed Signed Limited Edition Shiri Achu Art Prints. You will be able to purchase these limited edition signed prints at very affordable prices!!

There will also be a raffle on the night. Three lucky people will win signed limited edition framed prints worth £250 each.

£35 of every print sold and proceeds from the raffle will be used to fund an exciting project in Cameroon. Details will be revealed at the exhibition.

Live music from the fabulous singer Amaka. She will be travelling all the way from Germany to perform at the opening party.

Shiri Achu Art looks forward to welcoming you at 35InPrint: London.



For more information;

Email: This e-mail address is being protected from spambots. You need JavaScript enabled to view it Twitter: @shiriachuart FB: SHIRI ACHU ART - www.shiriachuart.com