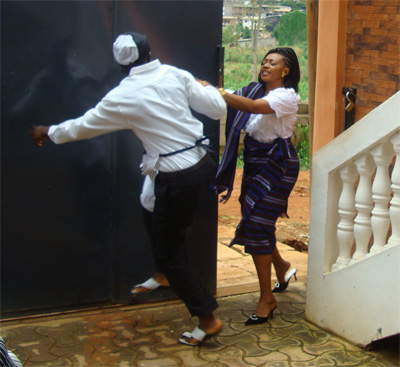 Tunyi Florence aka Renzia Tonishe is a woman every girl would wish to be like. The senior youth counsellor now inspires many young girls including Blessing, a rising showbiz star. "Renzia Tonishe is such a talented and skilful actress who inspires me quite much," says Blessing. "I admire her acting prowess in Ancestral Wrath," the rising actress adds.
To Chi Anthony, the director of the said series, it was Renzia's ability to interpret her script that won her the lead role in the series. "Renzia's diction, voice and flexibility on set were also an added impetus," he says.
To the God-fearing staff of the Youth and Animation Centre, Madagascar, Yaounde, her successful exploits are thanks to divine intervention. The 1.65m-tall multi-talented graduate of the National Institute of Youths and Sports (INJS) also says she owes her success to former minister, Bidoung Mkpatt who drilled her in the organisation of major public events and acting. She has featured in several radio and TV screen plays including Who Well? and Epie Ngome's The First Defence and Social Slot on CRTV's "Hello". She also featured in Asaba Ferdinand's Mark of the Absolute.
What must aspiring actresses do to avoid sex in the movie industry? "They are normally going to keep facing sexual harassment, but young actresses should say 'no' to perpetrators," says Renzia. She adds: "They should believe in themselves, remain focused, work hard and commit everything to God."
The Yaounde-based actress who is 76kg loves listening to gospel music. She hopes to be like Genevieve Nnaji, Stephanie Okereke, Liz Benson and Julia Roberts some day. "They are my models," she reveals.