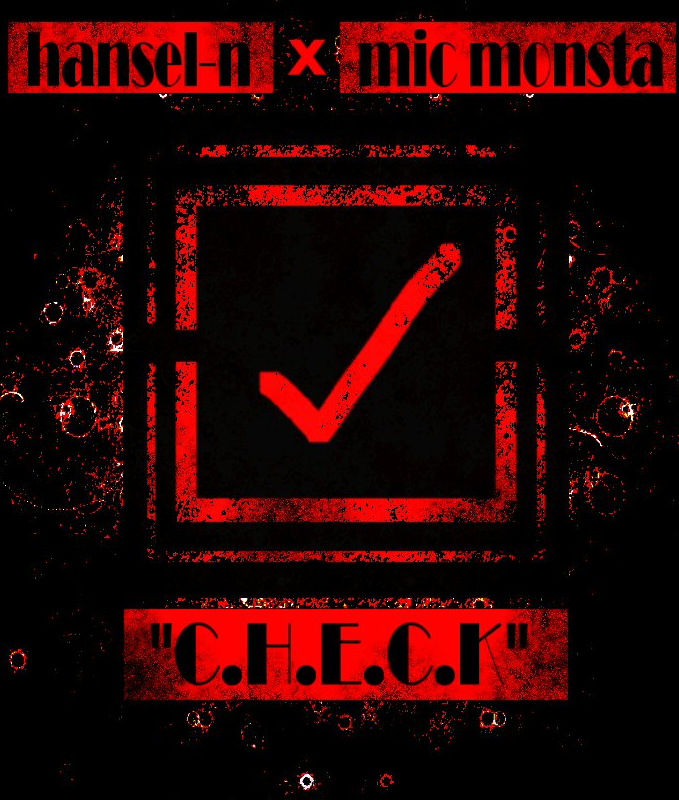 Just as they are creative in their comedy, comedians are generally multi-talented. Within the last decade, scores of African comedians have been noticed, excelling in music. Music is said to be so closely related to comedy. Even more interesting is the fact that music, done by comedians usually presents a different flare, with the strong tendency of inciting its consumer to several different reactions at a blow – laughing, singing, dancing, etc.

Ngwane Hansel and his maiden Hip-Hop/Rap single, Check are not far from this description. Released a couple of days ago, Check has sent the comedians fans in serious amazement as to Ngwane's brilliance in several forms of art. Featuring Mic Monsta and recorded at the No Hitz, N0o Recordz, Cameroon studio, Check (2.30-minutes long) is produced by PhilBillBeatz. TIPTOPSTARS caught up with the comedian whose The Good, The Bad, The Funny TV show continues to provide huge dozes of entertainment to lovers of comedy and sought to know from him how these two get together – comedy and music. Singer Hansel N spoke to Editor Ernest Kanjo on the line to Buea.

Excerpts!

Ernest Kanjo (EK): When did you start singing?

Hansel N (HN): Well, I've been doing comedy for almost seven years now, but before that, I'd been doing music, albeit amateur. But I had had some experiences and a couple of stage performances as an artist in my early years.

EK: How did you get into music?
HN: I had a couple of school friends who were into music. I was reluctant, but they finally convinced me to join them. However, I became the most talented in terms of music production and then progressed to rapping.
EK: Why the choice of urban, call it contemporary music?
HN: Well, I tried Afro-pop, but realised it would take much effort in singing, which I rarely do. Therefore, I had to choose what I know best, which is urban music.
EK: How many songs have you composed so far?
HN: I have a couple of songs done a long time ago, but Check is the first in over five years.
EK: What is the meaning of Check?
HN: Check is used in this context as confirmatory slang. It means to confirm an assertion. For example, you tell a lady she's beautiful. She replies check – hahahahaha!
EK: What inspired it?
HN: I know most people will say I'm doing this to cause more controversy and retaliate at Stanley and Jovi, but that's not true. I'm doing this because I love music and to cause more controversy – hahahahaha!
EK: What did it entail completing this project?
HN: It took us a lot of time, money and energy. Mostly money! I didn't want to do a bad job, and we all know if we want the best, we need to pay highly for it. But so far, I'm grateful it's paying off.
EK: Any official launching plans?
HN: Here's the issue. I'm definitely not a professional rapper, so I don't want to divert from my comedy. Although the song is not a comic one, I want to leave it to the audience to enjoy.
EK: What would be the relationship between your comedy and music?
HN: The mistake people make is labelling me a comedian only. I'm an entertainer. Other comedians do release their songs, although not as good as mine – hahahahahaha! And the song is not going to be "stupid" as some will think.
EK: Are you sure you will be taken seriously when you sing?
HN: The issue of being taken seriously stems from what you do, which transcends into who you are. I believe I'm a comic and not a clown. So, you'd better take me seriously or I'll be soon singing about you – hahahahahaha!
EK: Any last word to your fans?
HN: Yes! They need to know that I'm not giving up comedy, but I'm taking a minor break to promote this song. I also want to thank those who have made this a success - the studio, the producer, Mic Monsta, Slicky and Tabi Dextel, my manager. Of course, all glory goes to God. And I'm available for concerts!
EK: Thanks for talking to TIPTOPSTARS Hansel!
HN: Thanks Ernest – you are the man – keep laughing over this – hahahaha!