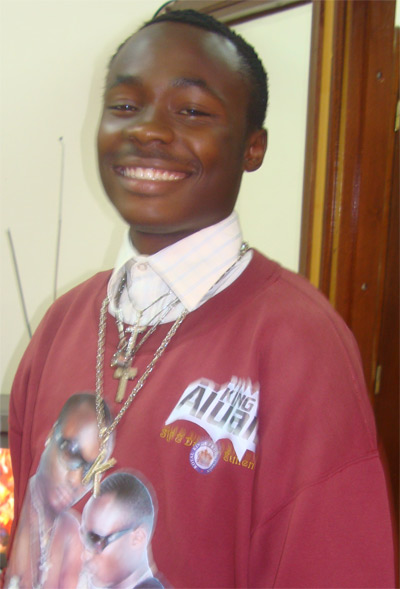 King Aluan is a rising music star in Cameroon. His maiden album was launched a couple of days in Yaounde. His fans in Limbe, Tiko and Tombel will receive SALARY, as the album is called in the coming weeks. To the talented RnB, RAP and Hip-Hop singer, it is his zeal and determination to market the culture of his country that makes him tick. He also talks about his music career, his contacts with world stars and the other skills he possesses.
Trace your way into music
It started way back in my childhood. I had always loved singing and wanted to be a music star. I was inspired by RAP star Sisqo and Michael Jackson who are my role models. As a secondary school boy in Kumba, I would stay back after classes to practise singing with a friend. I became a song composer. In 2003, I recorded Reconciliation which was my first single. Unfortunately, it was never released.
Had you been performing in public?
Yes, of course! I performed on CRTV's 'Delire' and 'Hello' which are popular shows. I also performed at a Brasseries du Cameroun Coca Cola song competition in 2004 emerged second. I later represented my school, AGES Comprehensive High School at CRTV's Evasion show where I performed thrillingly. I also thrilled the public at the K-Town Trade Fair in 2004 before performing at a public show organised by the Tombel Youth Committee. I've had other public performances in the South West and North Provinces.
Tell us about your maiden album
Salary is a result of four years of hard work. It is made up of 13 tracks song in English, French and Pidgin. In the songs, I talk about discrimination, love, revolution, etc. It was recorded in Kumba, Yaounde and Lagos with the assistance of Nigerian famous RnB singer, 2 Face Idibia. I even recorded 'No Kwans' in his studio, based in Lagos. Some songs in the album feature B-S, a Canadian group.
Interviewed by Ernest Kanjo
Who are some of the foreign stars you've contacted?
2 Face Idibia, Florence Anoma, Nkem Owoh alias Ukwa, John Okafor alias Mr Ibu, B-S, Silver Man, etc.
What are your projects?
I'm already working on my next album which will be released in 2010, God willing.