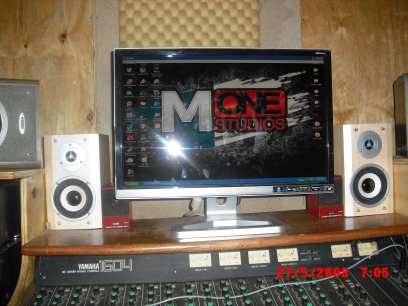 Buea is a fast growing town. This is thanks to the University, which attracts thousands of people each year. With the growing population, one would imagine that the rate of crime, promiscuity and other social vices would increase. Fortunately, the youths of Buea have understood this and are not ready to be victims of the effects of such vices. Such effects include STIs, HIV and AIDS.
One of the youths who cares about the health and social situation of youths in Buea is Emile Ngumbah. He is a Sound Engineer par excellence. Over 8 years ago, Ngumbah set up a music recording studio to help promote rising artistes, many of whom are propping up in Buea today. As if he knew there was going to be an explosive of young singers in this University town, M ONE Studio, the said initiative has become one of Buea's biggest assets for youths. Many of them have barred social ills and have thronged M ONE.
Today a reference, M ONE is well furnished with state-of-the art sound equipment, making it a professional recording outfit. Its sound card, inputs, software systems, etc, are aspects to reckon with. "We also have a well trained staff who manipulate the equipment in a very dexterous manner to produce the best sound," Ngumbah told us in Buea recently.
Apart from recording songs for artistes, M ONE trains them on song composition and arrangement, voicing and other aspects of music production. "We also provide sound system at events and live concerts for our artistes. Just like a school, some of M ONE's products have become Cameroon's music ambassadors - Bright Phase (KORA nominees), BAAM (Nescafe song competition champions, now on TRACE, Channel O, MTV Base and Africa Magic). On the national front M ONE can boast of Achalle (2006 Stars 2 Demain champion), Zinnia (champion of the 2009 National Song Competition) and Thierry Ndinda (vice champion of the 2009 National Song Competition). Buea-based folklore hero, Tata Kingue is also worth mentioning.
"M ONE has helped to conscientise youths in Buea, making them understand that they can explore their talent for a livelihood," Ngumbah explained. The young sound engineer plans to open up branches of M ONE in other towns of Cameroon. "We are also envisaging a hall for live concerts and a label to co-opt as many young artistes as possible," he said.